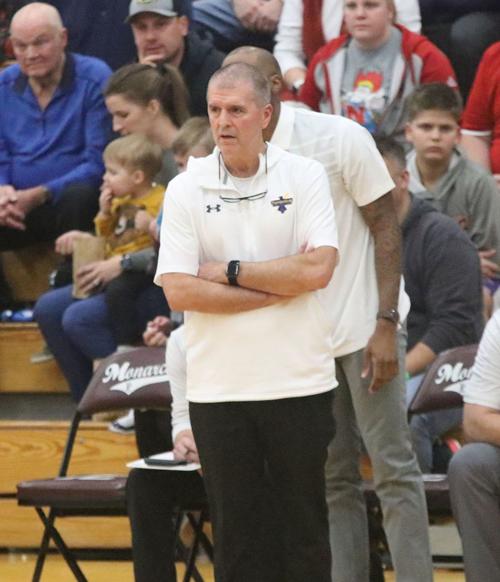 There are a lot things a high school athlete must push through - juggling school and athletics, the pressure of getting into college and, for many, holding down a part-time job.
Another thing some high school athletes have to learn to navigate is their college recruitment. For the top athletes, it can be as early as 13 or 14 years old they start hearing from college coaches. Normally, athletes are sophomores and juniors when they start receiving college letters.
Recruitment can be difficult and hard to navigate at a young age. A lot of athletes turn to their coaches for guidance.
"First off, anyone that is recruiting you make sure you return calls and talk respectfully, even if you don't think you want to go there," said Bellevue West boys basketball head coach Doug Woodard. "Just treat everyone with respect because you never know how the whole thing will shake out and it's the right thing to do.
"Secondly, make sure your academics are where they need to be for whatever school it is that is recruiting you to continue to recruiting you."
"Thirdly, everything you do, whether it is playing for your summer team or school team, be a good teammate because those schools are going to watch everything.
"Those are the things you need before even talking about the skill side of everything."
West football coach Michael Huffman shared similar sentiments.
"The first thing I tell them is to gauge some familiarity with the program," Huffman said. "Do you want to go far away from home or stay close?
"Position coaches come and go sadly, so do you like the head coach? Coordinators tend to stick around longer, so I don't think you can make your decision necessarily on a position coach.
"Do they have your course of study? The number of kids that will be pictured in the NFL draft aren't pretty high so you have to understand what you want to do."
As for social media, Huffman sees the positives of social media in terms of exposure.
"It makes it a little bit easier," Huffman said about exposure. "One thing I say to all the kids is make sure your first and last name is in Twitter handle so you are easier to find. Follow coaches back so they can direct message you."
He agrees, however, athletes need to take social media with a grain of salt and not rely on it.
"Some of these kids will tweet out and they want a certain amount of likes," Huffman said. "I tell them they have to get over that stuff because they will have a long and hard life if that is what you are looking towards for gratification."
The top athletes in the country have to deal hundreds of people in their comment section telling them what they should do. Most athletes brush it off, but some prospects are just 15 or 16 years old and that can be easier said than done.
Woodard has seen it firsthand as he has had multiple athletes play Division 1 basketball, including senior-to-be Chucky Hepburn, who is ranked second in the state in the class of 2021 and committed to Wisconsin.
"Well, I just think it's added a dimension that sometimes makes it really difficult," Woodard said about social media and outside noise. "Kids see these quick takes on them as people or as prospects and it creates a lot of unnecessary baggage that they have to deal with and listen, too."
Another pressure that some kids face is the pressure to stay in state and go to their state school. Huffman and Woodard have had kids take the route of Nebraska or Creighton and also have seen kids take the route of going outside the state. However, it is important that high school athletes make the decision they feel is best for them.
"It's that young person four or five years of life that is very critical," Woodard said. "Any other type of pressure and the message board stuff, that's just ridiculous to me. Kids need to be given the latitude to chart their course in life without those types of things."
From a football perspective, Huffman recognizes that many kids base their decisions off a college's recent success, something Husker football has not achieved lately.
"Iowa has been more successful recently," Huffman said. "That's hard for me to say, but it's true. Notre Dame hasn't won a championship in God knows how long but they are really good every year and they are playing in big bowl games."
Huffman coached two of the top players in the state last season. Running back Jay Ducker is heading to Northern Illinois while receiver Zavier Betts is heading to Lincoln to play for the Huskers.
Another top recruit in the state last season, Xavier Watts, chose Notre Dame to continue his playing career. Recently, the top prospect in the class of 2021 Avante Dickerson announced he would be head to Minnesota to continue his football career and West's Keagan Johnson announced his commitment to Iowa.
Regardless of how an athlete decides where to continue their careers, the coaches agree on this bit of advice: choose the school that makes you the happiest and most excited to spend your college days.
Be the first to know
Get local news delivered to your inbox!