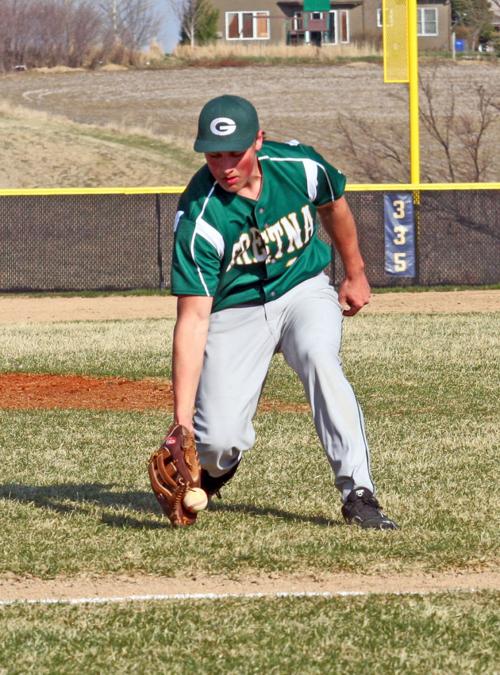 Gretna's charge for the Eastern Midlands Conference tournament title came up a run short in a 7-6 loss to Elkhorn in the finals.
The Dragons (6-5) advanced to the Thursday's final game with wins over Blair and Waverly. Elkhorn upset Norris, the tournament favorite, to advance to the finals.
Elkhorn 7, Gretna 6 - In the championship game, Elkhorn put up three runs in the top of the seventh to push its lead to 7-2.
A sacrifice fly by Nick Fountain drove in Trent Jeary, who doubled, to start the comeback for Gretna in the seventh. Austin Hemphill walked in a run and Jeff Glassburner followed with a two-run single before the inning came to an end with the tying run on third.
Dieter Thamm added an RBI for Gretna.
Gretna 4, Waverly 1 - Zach Howell pitched a complete game for the win and struck out 12 to lead the Dragons to the semifinal win.
Howell added two hits and an RBI from the plate. Jeary also had a two-hit game and Thamm and Eric Soe added an RBI each.
Gretna 6, Blair 4 - The Dragons scored three runs in the fifth innings to put them up 6-2, which would be enough cushion for the win.
Howell had two hits, one a triple, to lead Gretna and added an RBI.
Jacob Blank earned the win on the hill with four innings of work and seven strikeouts.
Gross 5, Ralston 3 - The Cougars pushed four runs across in the bottom of the fifth to erase a 3-1 deficit and get the win at home.
Trevor Nollett pitched a complete game for the win, his fourth on the season.
Jeff Pospichal, Patrick Mruz and Matt Herting each had an RBI for the Cougars in the win.
Jeff Thompson and John Fletcher each recorded two hits apiece to lead the Rams. Robert Cisar added a triple.
Platteview 2, Arlington 0 - Ryan Shipley pitced a complete game shutout for the win. The junior only allowed three hits and struck out five.
Tommy Dalton led the Trojan offense with two hits and two runs scored.
Shipley and Andrew Vincent had the other Platteview hits.
Wayne 3, Platteview 0 - Dalton and Ethen Steinhoff each had two-hit games to lead the Trojan offense.
Vincent had eight strikeouts on the hill in the loss.