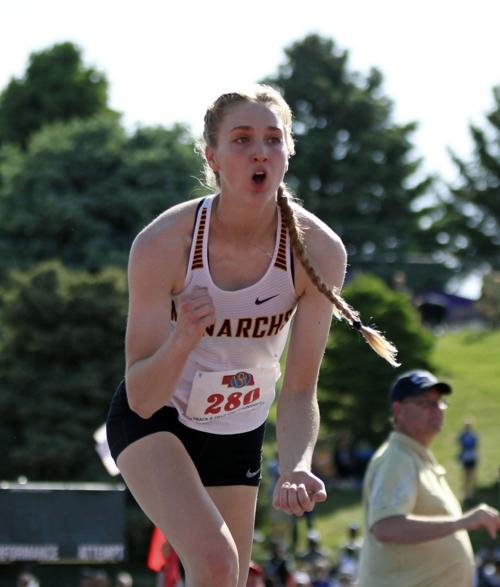 If you were to ask someone where most of their high school memories came from, they would tell you that some of their best ones happened during their senior year.
While the class of 2020 will have memories, some seniors like Papillion-La Vista's Erica Broin feel like this memorable time of life was cut short.
Broin's junior year was certainly memorable as she claimed a state title in high jump. Broin jumped 5 feet, 5 inches at the state meet to take the title home.
However, not having the chance to go for a repeat because of spring sports being canceled due to the coronavirus, let alone defend her title from last season, is another feeling that Broin will remember.
"I was extremely eager for this season and all the potential successes it could have had," Broin said.
"I was crushed when I found out I wouldn't get the opportunity to improve my marks and defend my title. It felt like everything I'd been preparing for was ripped away."
Though Broin's high school career is coming to a close, there is a silver lining that has helped her deal with these emotions.
"I am thankful to know I'll be competing at the next level, " Broin said. "This has really been the only thing providing me peace through this whole process."
Broin will jump at Brigham Young University and is looking to major in political science.
Knowing that her track and field career as a whole has more to come not only gives her peace of mind, but motivation to still get better for what is ahead.
Monarch track and field coach Dana Janssen said getting better has always been a top priority to Broin, regardless of the circumstances.
"Since the season was shut down, we are not allowed to have contact with kids," Janssen said. "So, we have put out workouts from our strength and conditioning program so the kids have workouts to do. She has had a personal trainer that she has worked with as well."
It's not just the workouts and feeling of improvement that Broin misses. Doing all of this with her teammates and interacting with the coaches has also made this lost season sting a bit more.
"I really miss seeing all my friends and teammates," Broin said. "That has definitely been the hardest part of this whole thing. Not being able to work out with them and the coaches that I've worked with for so long one more time, that is what hurts the most."
Broin also was a key contributor on the Monarch volleyball and girls basketball teams, both of which were in the upper echelon in the state this past season.
Be the first to know
Get local news delivered to your inbox!