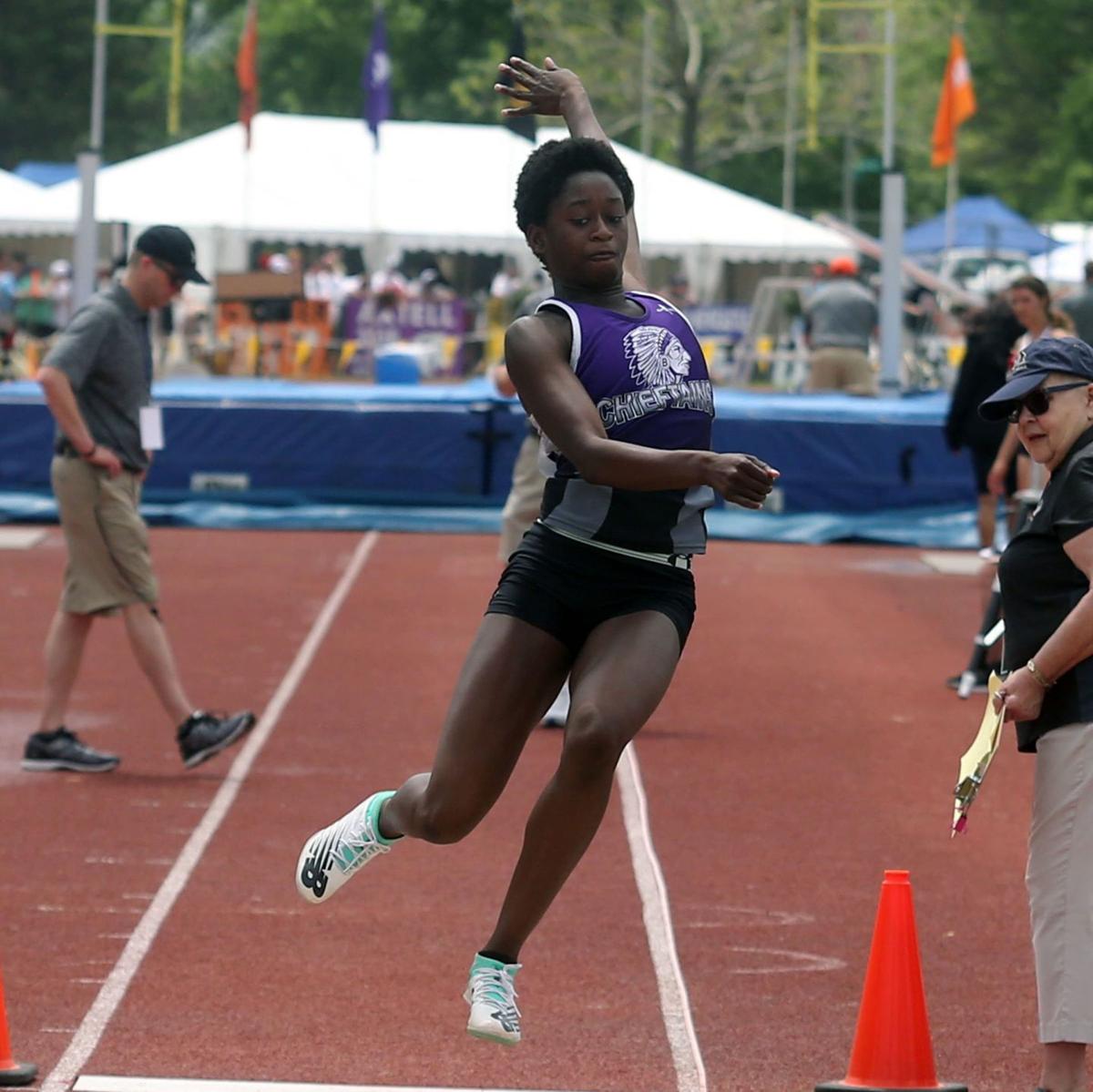 This spring has not been what high school athletes were hoping for.
Despite these uncertain times, one thing remains certain Bellevue East junior Nebtom N'da is finding ways to improve and stay on top of her long jump skills.
After winning a state title in the long jump last year as a sophomore, N'da was eager to chase a second title. Last season, she won state with a leap of 18 feet, 7.25 inches. Unfortunately, with all the Nebraska high school sports called, she will have to wait another year before getting the opportunity to defend her crown.
"At first I was mad that everything was cancelled," N'da said. "I mean, I thought we'd maybe miss a few practices, but I never expected big meets like state and Metro [Conference] to be cancelled.
"That was a shock for me and at first I was really angry, but I also remember it's not just about me, it's not just about track there are definitely bigger things to worry about. But it is really tough just sitting here and not being able to go on the track.
"I feel really blessed that I'm just a junior and not a senior because for me at least there is next year. One of my goals is to do track in college and I know the junior year is a big year for recruiting.
"I have to make sure I come back better than ever and make sure I'm on top of my game and I know already my senior year is going to be a big season, and I expect big things to come out of it."
N'da wasn't the only one excited for this season. Coach Taylor Schultz was eager to get started, as this was her first year as the head coach.
N'da and Schultz both say that this little hiatus in sports action in some ways just makes them even more excited for next season.
"I was really excited for my first year," Schultz said. "I was really looking forward to building off what was left from the previous coaches and make it my own.
"I have a great team of coaches now and we were excited, but now we're sitting and longing to get busy but we can't get out there yet. We'll have to wait another year."
In the meantime, N'da is finding ways to keep herself active and in shape.
"I do make sure that I'm still training at home to improve for next year," N'da said. "It is disappointing that I won't be able to defend my state title in the long jump this year, but I'm already looking to make myself bigger, better and stronger for next year.
"My parents also make sure I stay active every day and have been texting my coach for workouts, but mostly I've just been doing some workouts that I find online. I also have some weights in the basement that I make sure I'm using and I just train. It gives me something to do."
Schultz isn't the only one who's been working with N'da.
Coach Bryan McKinley also has been instrumental to N'da, and though he also is disappointed that N'da won't be going after another title this year, he has big confidence in what she will do once she returns to action.
"The expectations will always be there for her," McKinley said. "I remember in her freshman year where she jumped to around 16 feet 11 inches, so she's always been around that 17 feet mark.
"Then last year she jumped to around 18 feet, 3 inches, and to me it really wasn't a surprise.
"She couldn't believe it, but she has a great work ethic and she has that desire to be the best."
Be the first to know
Get local news delivered to your inbox!