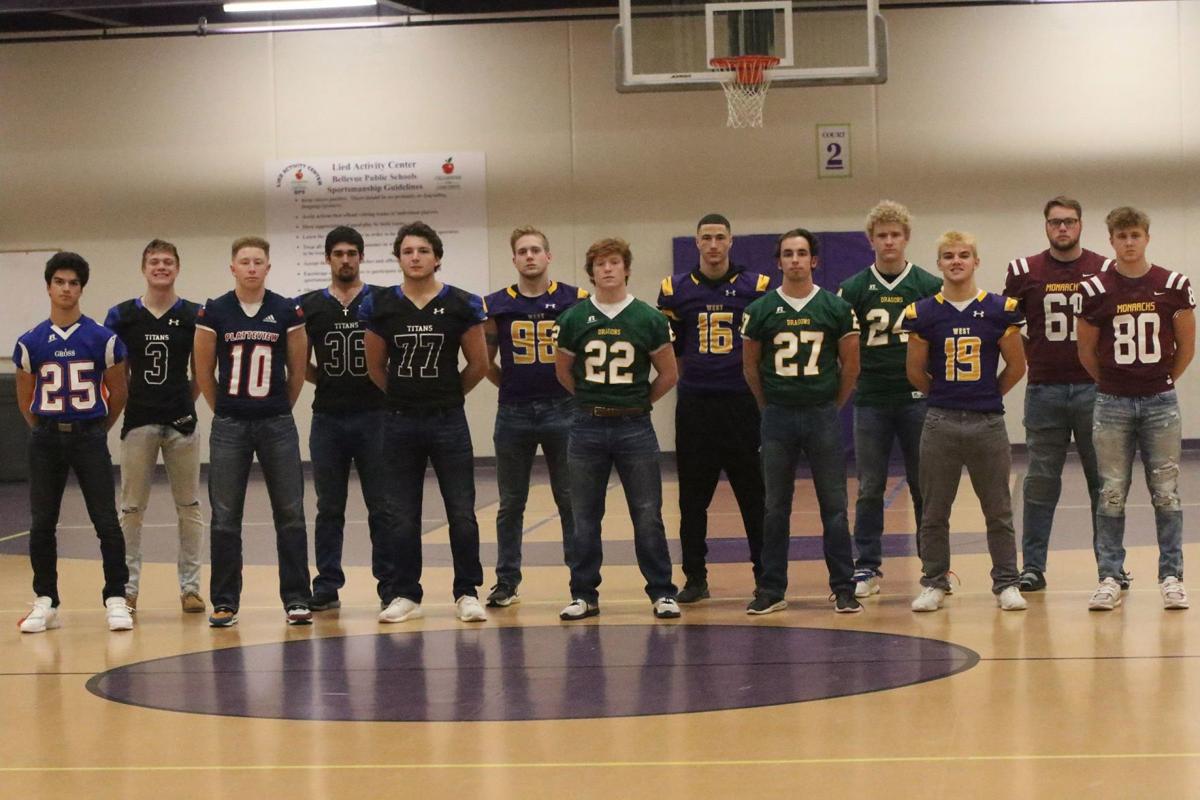 This was fantastic year for the defenders in the All-ITG class. From the top pass rushers, to do-it-all linebackers and lockdown corners, these players were the top at their position.
Bellevue West, Gretna and Papillion-La Vista South all finished with three players on the team. Papillion-La Vista finished with two while Platteview and Gross Catholic finished with one player on the team.
Three defensive lineman were chosen: Matt Thompson from Bellevue West, Tom Rapaich from Papio South and Ben Flott from Papio.
Thompson was a key catalyst on the Thunderbirds' state championship team. He finished with 47 tackles, 15 solo and 32 assisted. He also finished with 21 tackles for loss and seven sacks. The Bellevue West defense only gave up 65 points through their 13 games.
Flott had a similar year to Thompson and was just as dominant on the line. Flott finished with 17 tackles for loss and four sacks. Flott also finished with 46 tackles on the season. The Monarch senior played a key role in Papio's success this season.
Rapaich stepped into the main defensive lineman role for the Titans after star Trajan Linear was hurt in the fourth game and missed the rest of the season. Rapaich finished with five sacks.
The senior finished with 33 sacks and nine tackles for loss. He also recorded 28 pancake blocks on the offensive side of the ball, as he was a starter on both sides of the football. This is a testament to his high drive and motor.
The four linebackers on the team were simply as good as it gets. Tanner Millikan of Platteview, Jack Larchick of Gretna, Jack McDonnell of Bellevue West and Dallas Rogers of Papio South made the 2019 team.
Millikan finished with an impressive 119 tackles, 13.2 per game. The middle linebacker also forced three fumbles and blocked a punt. Millikan was great in the run game and passing game, making it difficult for opposing offenses.
McDonnell was a force for Bellevue West this season. McDonnell finished with 87 total tackles, four interceptions and a touchdown. He also finished with 12 total sacks and 20 tackles for loss.
He was a nightmare for quarterbacks in the passing game, recording multiple interceptions and pass breakups. He also recorded a blocked punt, a blocked field goal and a fumble recovery.
Larchick helped lead a talented Gretna defense this season. Larchick finished with 106 total tackles, 41 solo and 65 assisted. Larchick recorded six tackles for loss and two sacks. He averaged 11.8 tackles per game and was a force to be reckoned with in the middle.
The final linebacker on the team is Dallas Rogers from Papio South. Rogers finished with 113 tackles, 56 solo and 57 assisted. Rogers also finished with nine tackles for loss, two forced fumbles, a sack and a fumble recovery. He also recorded an interception returned for a touchdown and a blocked field goal for the Titans.
The four defensive backs on the team were as lockdown as it gets. Devin Mills from Bellevue West, Lou Carnazzo from Gretna, Kaden Johnson from Papio and Charles Monico from Gross are the 2019 selections.
Mills was a ball hawk for the Thunderbirds' defense. He recorded six interceptions, seven pass deflections and a fumble recovery. He also recorded 79 tackles, 33 solo and 46 assisted.
Mills finished with four tackles for loss. He made it difficult for opposing quarterbacks to establish any type of passing game against this stout defense.
Charles Monico was a key part of the Cougars' run to the playoffs. He finished with 48 tackles, 31 solo and 17 assisted. He also recorded four interceptions and two fumble recoveries. Monico also played receiver for the Cougars, recording 26 catches for 317 yards and a touchdown.
Carnazzo was another catalyst on a talented Gretna defense. Carnazzo recorded 69 total tackles, 27 solo and 42 assisted. He averaged almost eight tackles per game from the defensive back position. He also recorded one interception and two fumble recoveries for the Dragons.
Kaden Johnson from Papio rounds out the defensive backs. Johnson recorded 43 total tackles with 32 of them being solo. Johnson also recorded a sack, an interception, a forced fumble and a fumble recovery.
Gretna's Colby Scholl is the All-ITG punter this season. Scholl had 30 punts for 1,038 yards, which was a 34.6 average. He downed five punts inside the 20 and helped the Dragons immensely in the field position battle.
Papio South's Landon Jewell is the All-ITG returner of the year, but he was also a incredible punter/receiver for the Titans. He averaged 18.2 yards per kickoff return and 16.2 yards per punt return.
He finished with 16 punts for 597 yards, which was good for a 37.3 average. He also recorded 58.8 yards receiving per game.