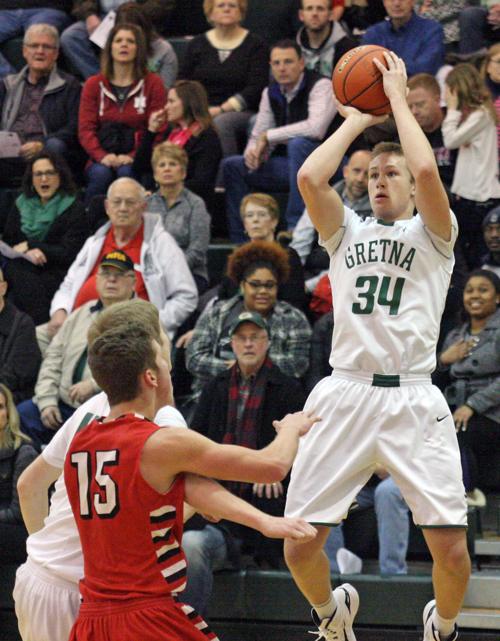 Gretna boys basketball showed Friday night that it can win a game even when things aren't going its way.
The Dragons made 15 free throws in the fourth quarter and Jared Samuelson scored 28 points – 20 in the first half – to lead the Dragons to a 64-54 win over Norfolk Catholic. It marks 17 straight wins for Gretna.
"I could not be happier," Dragon coach Brad Feeken said. "I thought our kids played really well. I thought for us to grind out a win – especially with Skutt coming, which is great – they did a really, really good job."
Leading 45-37 at the end of the third quarter, the Dragons made 15-of-19 free throw attempts during the final frame to preserve the win.
"I will take that most of the time," Feeken said of the free throw shooting. "Our kids do a really good job spending the time working on the free throw line and I don't think pressure is going to bother them."
Both teams got off to a slow starts as the game was scoreless until the 5:52 mark when Emmitt Knight made a free throw. Samuelson would go on to score nine points in the first quarter as the Dragons led 15-12.
Samuelson would stay hot in the second quarter, scoring the team's first seven points and adding a 3-pointer with 52 seconds remaining in the half to give the Dragons a 32-27 lead at halftime.
Joey Johnson and Ty Duin each scored 10 points for the Dragons, who were without starting guard Zach Imig, who was out with the flu.
Even though the Dragons were missing a key player, Feeken said he was proud of the way his the team stepped up and won in the face of adversity.
"It was find a way to win when things aren't going well," he said. "And these are way more valuable than winning by 20 or 30 in my opinion."
In particular, Feeken pointed out the efforts of Tyler Sullivan and Johnson for filling in and making key contributions. Sullivan finished with seven points.
"Those guys got grow up minutes and they did a heck of a job," Feeken said.
Early in the third quarter, Johnson and Sullivan each scored to extend the Dragons' lead to 38-32. As time wound down in the third, Johnson hit a 3-pointer to give the Dragons a 45-37 lead with one frame to go.