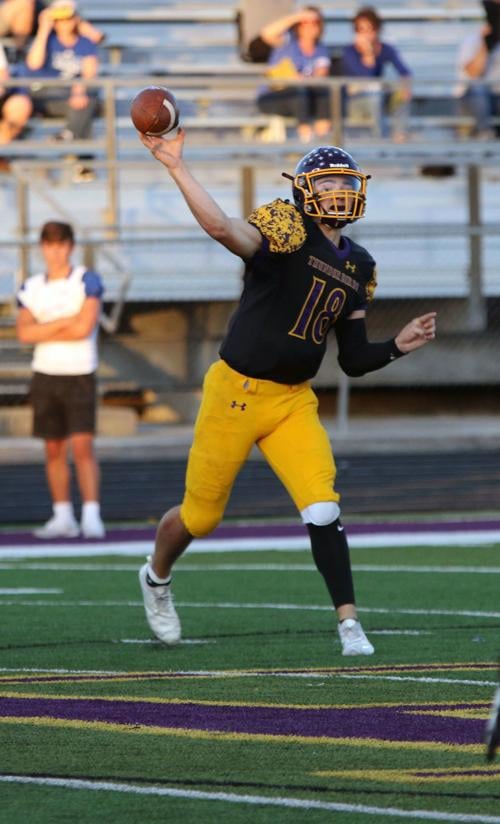 New adventures and leadership are two things that Bellevue West graduate Nate Glantz has grown used to.
Combine those traits with the fact he played a key role on two state championship teams, and that is Glantz has been named this year's In the Game Sports male athlete of the year.
Glantz transferred from Millard West to Bellevue West for the final year of his high school career and it turned out to be a year that many high school athletes could only dream to have. Though there were challenges, from day one Glantz never seemed to have a problem finding his place among the team he played with.
"I think what helped me click on both teams immediately was my leadership and work ethic," Glantz said. "I had my standards set so high with goals that I wanted to achieve. So every single day I worked as hard as possible to make it happen."
That leadership and work ethic helped him become a part of two state championship teams. Last fall Glantz was the quarterback for a Thunderbird team that went 13-0 and lead an offense that never scored less than 35 points in a contest. Glantz threw just shy of 3,000 yards and threw a whopping 36 touchdowns to just one interception.
In the winter he would play key as the sixth man to a Thunderbird basketball team that also went to win a state championship. Thanks to a few friends Glantz had the vision of winning both titles well before either of the seasons began.
"It was one of those things I didn't realize until summer ball," Glantz said. "I knew that these teams were very talented due to always losing to them when I was at my old school. I've been family friends with the Hempburns for a long time, so hearing Chucky and Trey tell me almost everyday that we could go back-to-back made it a huge possibility heading into that year for me."
"I of course knew the talent we had for football. So if we could just put the pieces together with what we had, and do what we knew we were capable of doing, then I knew we would come out on top. It was all about trusting the process and before I went into that year, it was a big thought in my head that I could win two state championships."
Once basketball season came around, Glantz knew he was entering an already highly talented team that won 26 games the year before. When talking with Thunderbird boys head coach Doug Woodard, Glantz told Woodard and his staff he'
"Taking on a new role wasn't hard," Glantz said. "I actually loved it. I talked with Coach Woodard before the season started and said whatever you need me to do to win, I'll do it. Having that sixth man role was something I loved."
"With all the stress I had during the football season, when it came time for basketball it was honestly a relief knowing I just had to go out and hustle, get rebounds, take charges, and hit open threes."
With these memories in the rear view mirror, Glantz now looks forward to continuing his academic and athletic career at Iowa Western where he will play quarterback for a Reiver program that has won 103 games in their 11 season history, thus is seen as one of the elite junior college football programs. With Glantz now playing for his third program in as many years, this fall will give plenty of familiar challenges.
"What I'm most looking forward to is just playing football again," Glantz said. "Especially with what's all going on in the world today, that's something we all are praying for. Also just starting the grind and process all over again. It was a lot transferring over, so I know what it takes and know what I have to do to be successful and get the job done."
Be the first to know
Get local news delivered to your inbox!