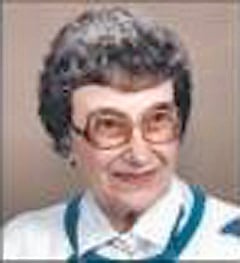 Funeral services were held Saturday for one of Ralston's longest-lived residents.
Marge Blair died Nov. 19 at a Gretna senior living center, surrounded by family, at the age of 102.
"She was ready to go," Blair's daughter, Jan Spark of Orlando, Fla., said. "The Lord blessed her with 102 years and blessed all of us who knew her. I think she was looking forward to being back with her husband."
Blair and her husband, Charles, who ran a well-regarded service station near 84th and L streets, moved to Ralston in 1946 and, from then on, was a visible presence in the town's churches and streets.
The family was one of several to help lay the groundwork for the building now occupied by the Ralston United Church of Christ. Prior to that, the congregation had met at Ralston City Hall.
Blair headed up the church's prayer chain and several women's groups and home Bible studies, her daughter said.
"She was a great prayer warrior," Spark said. "She would always open up her home for people to come to Bible study or to do a prayer group. That was always something she loved."
Blair attributed her longevity to a healthy lifestyle — abstaining from alcohol and tobacco, and always getting plenty of exercise.
"You would see her out there pounding the pavement, walking just about every day, even in her 80s and 90s," Spark said. "She was also an active swimmer and did water aerobics well into her 90s."
Born on July 3, 1911, Blair's parents divorced when she was still quite young and her mother died when she was 19. Spark said in that way, her mother learned about mothering herself and others early and kept it up throughout her life.
"Probably everyone says it about their mother, but she was always a mother to everybody," Spark said. "In a way, she had to be. And she was a very loving, very wonderful mother."
Though she moved out of Ralston in 1997, Blair still remained connected to the city through family — she is survived by two children, nine grandchildren and 16 great-grandchildren and one great-great-grandchild. She was preceded in death by her husband, Charles, and son, Jack.
She also maintained her strong connection to Ralston UCC and got regular visits from churchmembers and clergy.
"Ralston was always home," Spark said.
On the occasion of her 100th birthday in 2011, Blair ruminated on her lengthy life and pronounced it had been a blessed one.
"I've had a very good life." she said at the time. "I have really enjoyed everything."