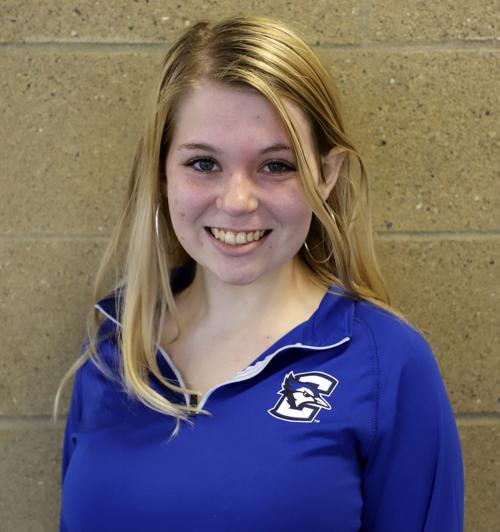 A Ralston High School senior is trading in her hallway stroll for a runway strut later this month as she debuts her own design during Omaha Fashion Week.
Katie McCasland started her final project for her creative textiles class in December, but as her piece came together, she realized it could be much more than a grade.
McCasland made a light pink and dark gray romper complete with ruffled-lace sleeves and a cinched-elastic waistband.
Though she thought her chances were slim, McCasland decided to apply to be a designer for Omaha Fashion Week, a glamorous red carpet event aimed to showcase local designers each year.
When she learned three weeks ago she was selected as one of the designers, McCasland said she couldn't help but let out a scream.
Omaha Fashion Week will take place later this month at the Omaha Design Center at 1502 Cuming St. in Omaha. She will take the stage on Feb. 25.
For years, McCasland said she's wanted to be a model, but because she is 5 feet, 1 inch tall, she said her height has prevented that from happening.
"This is my first opportunity to actually model," McCasland said.
Her design will stand out from the rest because it was made specifically for her body, she said.
"My favorite part is the freedom of picking your fabric and not having a specific size because it's based off your body measurement and not your in-store vanity size," she said.
"I know it won't be like anyone else's because it is made for me."
McCasland said she realized that making her own clothing is easier than trying to fit into non-customized clothing sold everywhere else.
"Once you have your body measurements, it's so easy to make something just for you," she said.
McCasland's grandmother and mom taught her how to sew. Growing up, she said, it was an activity the three used to bond.
When she was little, her grandma turned pictures McCasland drew into blankets, McCasland said, so even at a young age she was designing.
Though she put down the sewing needles for a few years, she'd picked them back up in October.
"I've always loved sewing and when I found out if I made my own fashion design, I could model it, it interested me more," she said.
In the future, McCasland said she plans to continue dabbling in fashion design and hopes to have more designs in future Omaha shows.
As she progresses in sewing, McCasland said her goal is to create formal dresses and ball gowns.
And while others may see her dream as ambitious for her age, McCasland believes you can never start achieving them too young.
"You might as well take the risk when you're young rather than later because you don't want to find out later on that it's something you want to do," she said.
"It's easy to take that risk when you're young rather than trying to figure it out later."
Be the first to know
Get local news delivered to your inbox!