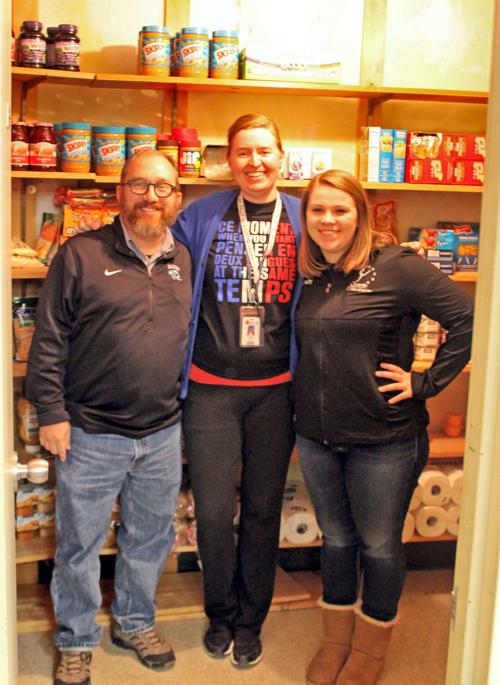 Many students can't wait for the weekend. There's no school, no teachers and no work to be done for a couple of days.
But, some students can wait for the weekend to come. These are the students who might not know if there will be dinner on Friday night or even lunch on Saturday.
Teachers at Ralston High School noticed this and wanted to help those students in need. A group of them got together and opened the R-Pantry, a food pantry that allows students to shop anonymously for food, toiletries and other supplies inside the high school.
The R-Pantry has been a few years in the making. The idea for it came back to French teacher Dene Ogelsby when she and her student group F.A.I.R., were planning an activity before winter break.
"We wanted to a do a random act of kindness," Ogelsby said. "They decided to hand write 1,000 notes and stuck candy to them. They started thinking about how for some kids who leave for break, it isn't a positive thing."
RHS English teacher and National Honors Society sponsor Dan Boster said that students are always looking to help others, but often forget that there are some close to home who need the help.
"In NHS, we think about doing projects to help people," he said. "We thought 'Wait a minute there's kids right here.'"
To start off with a full pantry of mostly healthy foods, staff was asked to make a $5 donation for casual dress or food donations. They raised $800 in monetary donations and hundreds of dollars in food donations in four days.
"Everyone knows there's a need," Ogelsby said.
With roughly 60 percent of Ralston Public Schools students receiving free or reduced breakfast and lunch, they can come to the R-Pantry and get food for the weekend to provide not just for them, but their families.
"A lot of students eat free and reduced breakfast and lunch. But there's still dinner," senior Shelby Rossman, who is also on NHS, said. "There's other people in the family. With this, they can have access to more than just two meals."
"We also have students who are responsible for cooking and providing," he said. "There are students who are parents."
The R-Pantry is open on Fridays after school until 4 p.m. It is anonymous and the names of students who shop there will not be released.
For those wanting to donate to the R-Pantry, contact the school office at 402-331-7373. Food donations can also be dropped off at the high school, 8969 Park Drive.
The R-Pantry is still in its very early stages, but all involved feel good about it being a helpful resource for students.