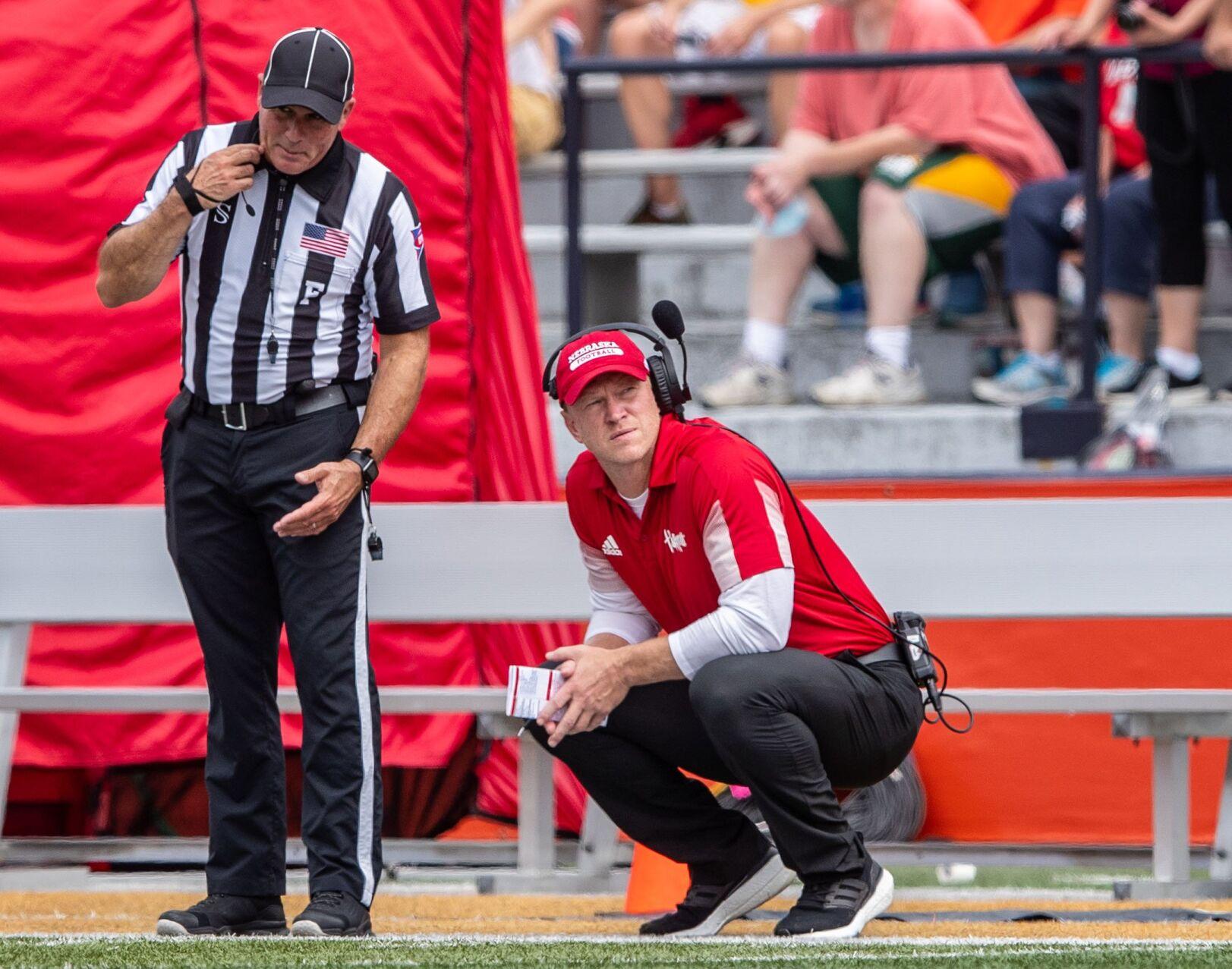 CHAMPAIGN, Ill. — This would be a new low, except there have been too many to count.
Seeing Scott Frost 12-21 at Nebraska would be stunning, except, as the coach said, we've seen this movie before.
There's always hope, and 11 games left, to get things right. Then Adrian Martinez addressed the topic of what keeps going wrong.
"If I had that answer," Martinez said, "it would have happened today."
Meet the new loss. Same as the old loss.
This was the season, and the season opener, for Frost and his staff to rewrite the narrative that they aren't up to the task of transforming Nebraska football.
After a 30-22 loss to Illinois on Saturday, they may have engraved it.
A special teams gaffe that led to a safety for Illinois. A handful of penalties so big they turned the game. A Martinez fumble that Illinois scooped up and turned into six points.
And a team that didn't look any better coached than the previous three seasons.
It should be an unthinkable result for Nebraska, except, when it came down to it, not that many people were surprised.
So what say you, Husker Nation?
Or are you over the whole thing?
There will be talk about the Sellout Streak being in danger next Saturday against Fordham. But this topic is really the furthest thing from being a priority.
And if Nebraska fans wanted to protest, could you blame them?
They saw a Blackshirt defense that looked improved — then get carved up by Illinois backup quarterback Art Sitkowski, a transfer from Rutgers.
They saw Nebraska special teams get in the way again, with mediocre punting and a decision by Cam Taylor-Britt to catch a punt on his own 1-yard line. Then try to throw the ball back over.
The ill-advised decision was ruled a safety.
They saw a running game that appeared to have so much promise end up with 19 total carries by three backs.
Gabe Ervin, the first true freshman running back to start the season opener at NU in the modern era, had 12 of those carries — for 33 yards.
They saw a vast improvement in penalties, with only five flags on Nebraska. But my, do the Huskers make them count.
Two of them came on the same play, when linebacker Caleb Tannor had a questionable personal foul while sacking Sitkowski — then added a taunting penalty.
The flags nullified a Nebraska interception at the NU 45 and was a pivotal play in getting Illinois and its crowd into the game.
Unless it was the Martinez fumble — he had the ball poked from behind — that led to an Illini touchdown and 16-9 halftime lead.
We could argue that Nebraska should have been running out the clock at that point, but what are we talking about?
Just like I could say that Nebraska's offense should be built around Martinez's strength — running — instead of having him stand in the pocket and miss targets.
But, again, the problem here isn't about scheme or play calling.
It's about the same old story, as Martinez put it.
These Huskers still don't make enough plays that win games and make too many plays that lose them.
This was their chance to show otherwise, in a fourth year with all of Frost's players and all that emphasis on special teams and not making mistakes.
Frost said it again after Saturday's loss: "I don't know how we could emphasize it more." And at this point, you wonder if he should really be admitting that.
A former Husker, a football guy, resides in the athletic director's box now. And you know Trev Alberts will not only be taking notes, but understanding all the details of what should be happening.
Now a lot of folks will be writing off Frost. And this felt big, because it feels like he's already in a hole and will be spending the rest of the season trying to rewrite that narrative.
And with Fordham, Buffalo and Oklahoma next, it feels like that process will begin Sept. 25 at Michigan State.
Frost is right: Nebraska needs something good to happen. It needs confidence. But which comes first, confidence or winning?
Good football plays come first.
What the heck happened to Frost in four years? His undefeated 2017 UCF team averaged nine penalties a game. But quarterback McKenzie Milton was that good.
And the Knights weren't playing in the Big Ten.
A wise man once wrote that season openers don't need to define the season. That there is always plenty of time left to figure things out and rebound.
And on Saturday, he heard the four-year starting quarterback say if he knew what the solution was, he'd solve it.
The good news is, there are 11 games left in this football season.
That's also the bad news.