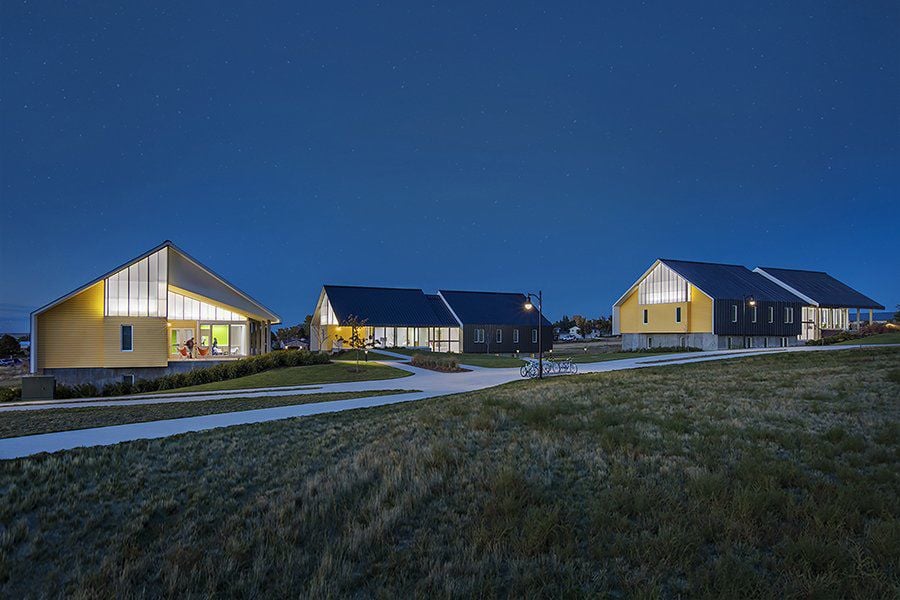 Project name: Eagle Ridge Student Housing
Location: Chadron, Nebraska
Owner: Nebraska State College System
Photographer: Paul Crosby
To accommodate the growth of Chadron State College, the administration desired a new student housing option, the first since the 1960s. A parcel of grassland east of campus was master planned as a student-housing neighborhood complete with outdoor amenities and a community building to support indoor activities. In contrast to most residence halls that house hundreds of students, Eagle Ridge is home to only 23 students per building to support communal living and the development of social soft skills. The housing units are set close together, creating common areas to help foster relationships between students and the community. Pathways between the buildings connect the houses to the larger campus network while also creating fire breaks to safeguard the property.
Jury comments: This innovative housing prototype uses groupings of smaller residential buildings to define strong outdoor spaces that build new community housing for students. The project draws on elements from the local vernacular and distills them into essential architectonic elements of plinth, shroud and porch, and reimagines how they can contribute positively to the students' daily lives. The jury appreciated the clever use of inexpensive materials, skillfully detailed to create visual beacons in the landscape.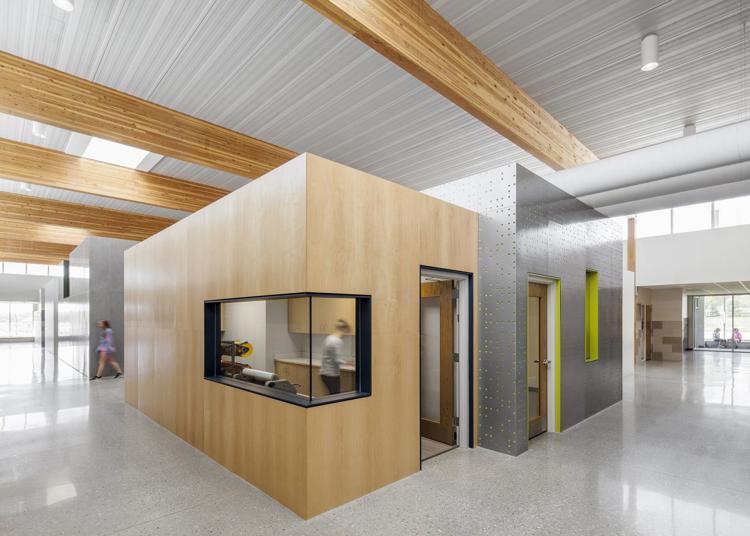 Project name: Wisner-Pilger Public School
Location: Wisner, Nebraska
Owner: Wisner-Pilger Public School
After a tornado devastated Pilger in 2014, BVH Architecture defined an educational strategy to recover the fifth- and sixth-grade campus. From our process, a pre-K to grade 6 model emerged, creating an accessible and adaptable core of specialized education spaces to complement surrounding classrooms. This model was inspired by the specific educational approach Wisner-Pilger utilizes. Inside, upper-elementary classrooms feature breakout spaces to allow dynamic class settings to merge with adjacent student groups. Unique core spaces are highlighted with materials that add visual texture and depth, as well as opportunities for displaying student work. Several metal panels are laser cut with designs inspired by language, math, local topography and the solar system.
Jury comments: This school addition rebuilds community in a powerful way by redefining the role of the classroom and space in between as flexible, multifunctional areas for teaching and social interaction. The jury appreciated the project's thoughtful detailing inside and out, which results in light-filled gathering and circulation spaces for young students.

Firm: Alley Poyner Macchietto Architecture
Project name: The Foundation
Owner: Withheld at owner's request
Photographer: Corey Gaffer Photography
An interior renovation in scope and scale, "The Foundation," is part of an initial phase of the Missouri riverfront master plan in Omaha. The existing building presented significant challenges in terms of structural rehabilitation, irregular footprint, winding and poorly lit corridors, and consideration of the multiple tenants, each of whom needed multiple private offices. The design team focused primarily on improving the existing double-height central atrium through lighting, materiality and wayfinding. The main design feature is a monumental stair hung from the ceiling in the main lobby. The delicate detailing of the stairs along with the restrained material palette of white ash wood slatting, softly backlit ceiling panels, daylighting, white walls and minimal pops of color from furniture and signage all work together throughout the project to enhance the open, airy, warm and welcoming atmosphere of the space.
Jury comments: A labyrinthine existing building is astutely and elegantly transformed through the cutting and carving out of new public circulation spaces to create visual clarity inside and outside. The double height atrium space is transformed by a luminous ceiling plane, syncopated wooden screens and an elegant minimal stair resulting in a rich spatial experience.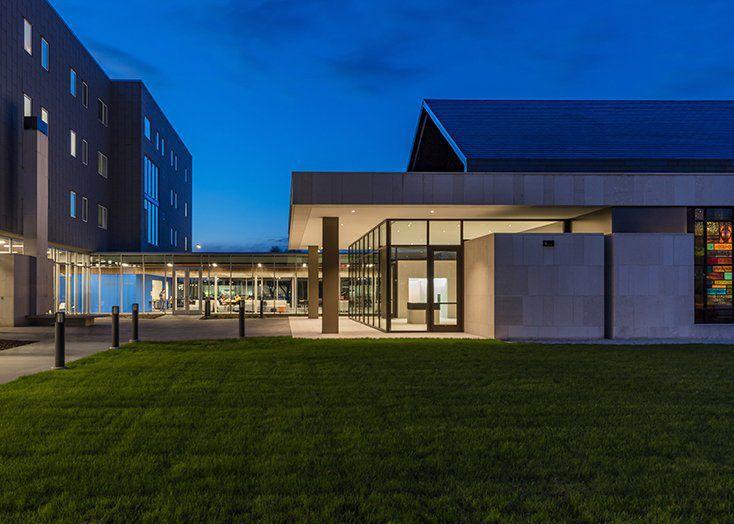 Entry: St. John Paul II Newman Center
Owner: Archdiocese of Omaha
Photographer: Paul Crosby
For the Archdiocese of Omaha, the unique challenge was to create intelligently crafted spaces that support day-to-day student activities, a rectory for the priests along with an oratory to serve as the spiritual nexus. Drawing inspiration from monastic programs, the design respects the traditions and rituals intrinsic to the Catholic faith without connection to a conventional vocabulary of construction or past architectural styles. The programs revolve around the unifying courtyard to endow the oratory and provide a place of contemplation and communal connection.
Jury comments: Limestone masonry for this well-considered sacred space is thoughtfully deployed and carefully detailed to create a strong spatial sequence from outside to inside. The jury appreciated the plain-faced monolithic stone volumes used in the project both for larger architectonic elements and also for liturgical furnishings both defining space and passage.
Be the first to know
Get local news delivered to your inbox!