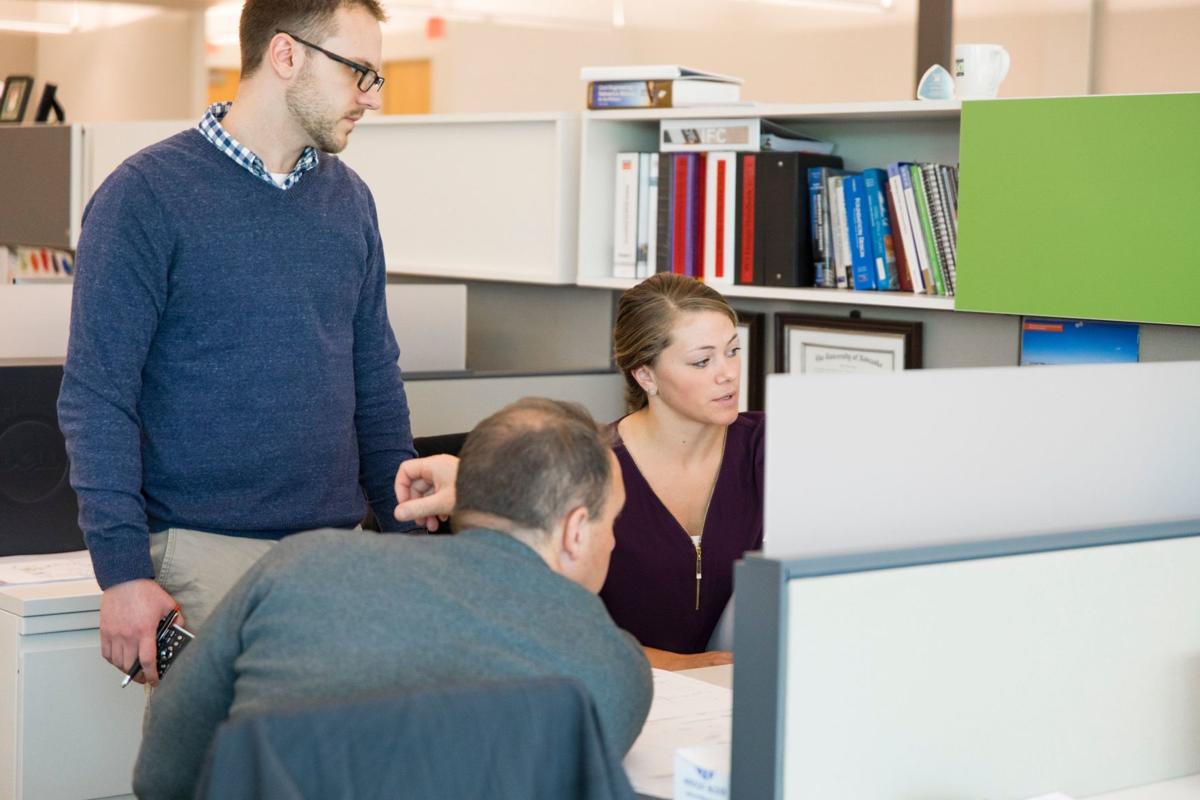 Shane Hennessey looked out at the employees at Olsson's Omaha office. He asked a sampling of those employees what they had said about their company that had rated it so highly.
He heard one answer expressed many ways. The gist: "The people that I work with produce top-quality work."
Employees also noted trust in their leaders, career growth, being able to depend on their colleagues and recognition for their performance, said Hennessey, the Omaha office leader.
Autonomy
Employees work in teams within the offices, he said.
"The teams operate like small businesses" with autonomy, Hennessey said. Each team leader hires and fires team members and works directly with clients. Each team also maintains its own budget, he said.
"Olsson is a performance-based organization," Hennessey said, with employees earning a base pay and bonuses.
Meghan O'Connell, Olsson's human resource area leader, said: "Olsson has a fairly unique culture. We are fairly flat with company hierarchy. Each team operates as its own little business unit. People have a lot of autonomy in their work."
Employees are given a lot of opportunity fairly young, she said.
"It's a very entrepreneurial spirit at Olsson," Hennessey said. "It's kind of that small-business culture in a large firm. We tend to put decision-making in the hands of the team of the people working on the project."
Future engineers
The Greater Omaha Chamber of Commerce sponsors Careerockit, which works with Olsson and other area businesses to expose students and young adults to career options.
Olsson uses its time with the students to give them experiences in engineering, O'Connell said. Employees work with students to produce a three-dimensional scanned print of the group and to try structural engineering by building with toothpicks and gummy bears, she said.
Retention
"We put a lot into employee development so they can grow their career at Olsson," O'Connell said.
Hennessey expanded on that: "As Olsson has gotten larger, we have more expertise and more complex projects." So employees are continually challenged and increasing their skills and expertise.
O'Connell said there's a formal training team onsite and leadership training outside the firm.
Olsson also has a yearlong Young Professionals Training program for employees with less than three years of experience. O'Connell said topics include generational differences and project management.
Community service
The firm's Our Community Builders focus group chooses organizations to donate to, O'Connell said. Currently, she said, "Our whole Nebraska region has come together to help flood victims."
Perks
Work hours have been 7:30 a.m. to 5 p.m. Mondays through Thursdays and 7:30 a.m. to 12:30 p.m. Fridays for about 15 years, she said.
"We try to reward people by doing fun things," O'Connell said. Olsson brings in lunch periodically and celebrates March Madness, St. Patrick's Day and other events.
The company also sponsors a Vala's Pumpkin Patch event for families, a company Christmas party for employees and guests, and office-wide trick-or-treating for employees' families.