You can take your own Jurassic adventure without fear of becoming an entrée for a T. rex at a theme park in Derby, Kansas. Field Station: Dinosaurs offers up-close encounters with more than 40 lifelike prehistoric creatures.
There's a base camp and an archaeological dig. The dino trail is about a mile long and leads through "habitats" of foothills, valleys and greens. As you make your way, various animatronic plant-eaters and carnivores once found in the Midwest move and roar. Not-to-be-missed: the giant Brachiosaurus, whose remains were found in Colorado in 1900, the Tyrannosaurus Rex, discovered in 1900 in Wyoming, and the Alamosaurus, 90 feet long and one of the largest animatronic dinosaurs ever made!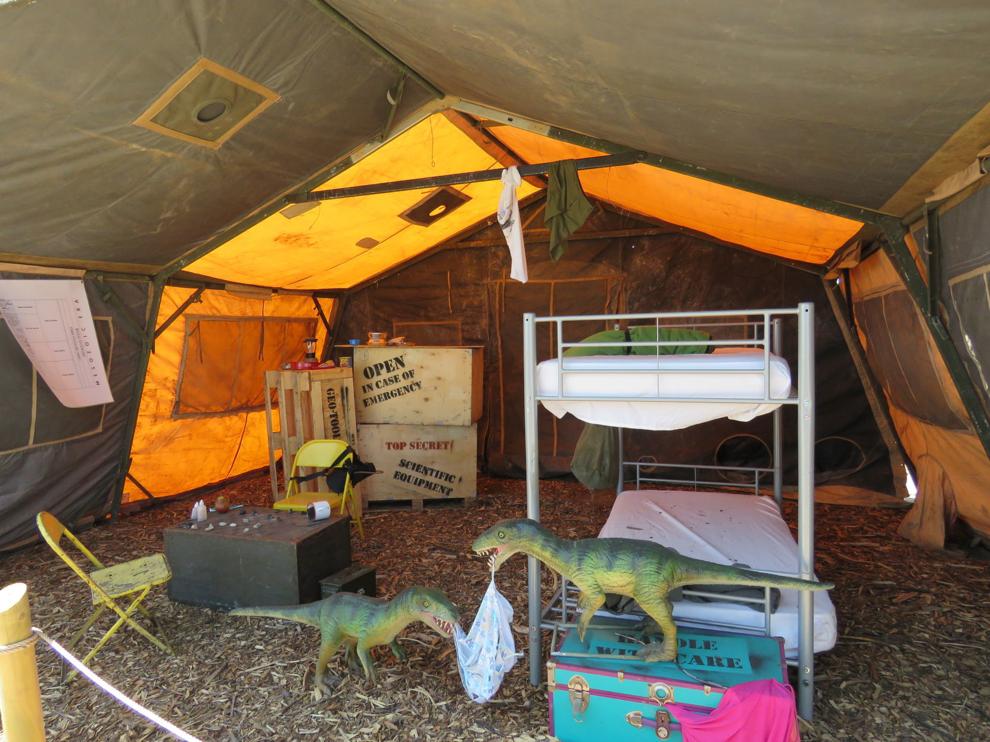 At a campsite, find miniature dinosaurs — Compsognathus — scavenging through a tent. Don't be fooled by the chicken-sized creatures; they're carnivorous and may look at you as a meal.
Recently discovered dinosaurs also call Field Station home. The Dracorex Hogwartsia — named in honor of Hogwarts — was discovered in 2004 by amateur paleontologists in South Dakota. Scientists dubbed the dinosaur "Harry Potteresque" because it resembles a mythical dragon. The Dracorex Hogwartsia was a two-legged herbivore believed to have lived in the area 66 million years ago.
The Anzu is an 11-foot-tall, birdlike, two-legged creature that was found 12 years ago in Montana, South Dakota and Wyoming. Named for a mythological demon, the omnivore's nickname is "Chicken From Hell."
Additional dinosaurs include Triceratops, Pteranodon and Stegosaurus, as well as lesser-known species such as Niobrarasaurus, Alamosaurus and Appalachiosaurus.
More than 30 shows and activities help tell the story and science of dinosaurs, and most are included with a daily pass.
Hit the brand new Paleo Playground — it opened April 27— where kids can let off steam and literally bounce off the walls in an Indiana Jones-inspired obstacle course.
Sing along with the Dinosaur Troubadour, play 18 holes of Jurassic Golf, and search for "bones" in a fossil dig. Don't miss the Dinosaur Dance Party and the T. Rex Feeding Frenzy in the amphitheater. For an added fee, there's the Paleontologists' Laboratory for hands-on learning.
The Kansas Climb takes the whole family four stories high for an aerial adventure in what's being billed as "America's only ropes challenge course in a geodesic dome."
Who'll enjoy this park most? Four-year-olds who love dinosaurs; older kids who dig natural history and science. And anyone who gets a kick out of quirky roadside attractions. This one towers over most!
ANOTHER TREK THROUGH TIME
While you're in the area, check out the Museum of World Treasures in Wichita's Old Town entertainment district. The all-ages attraction features dinosaurs, Ancient Egyptians and shrunken heads, plus a World War II collection (how's that for eclectic?).
Hungry? Head for Public at the Brickyard — a short walk from the museum. The menu caters to herbivores and carnivores alike. Try the Public Pickles — they're served with Yoder salami, horseradish cheese and toasted baguette. Also good: the Red Lamborghini pizza with locally produced ground lamb, Kansas cheddar cheese, mozzarella and jalapeños in sweet brine on a wheat dough pie. The Banh Mi sandwich features sweet and sour hoisin smoked pork shoulder with yum yum, miso aioli, jalapeño peppers and cilantro on a baguette.
— Chris Christen contributed to this report