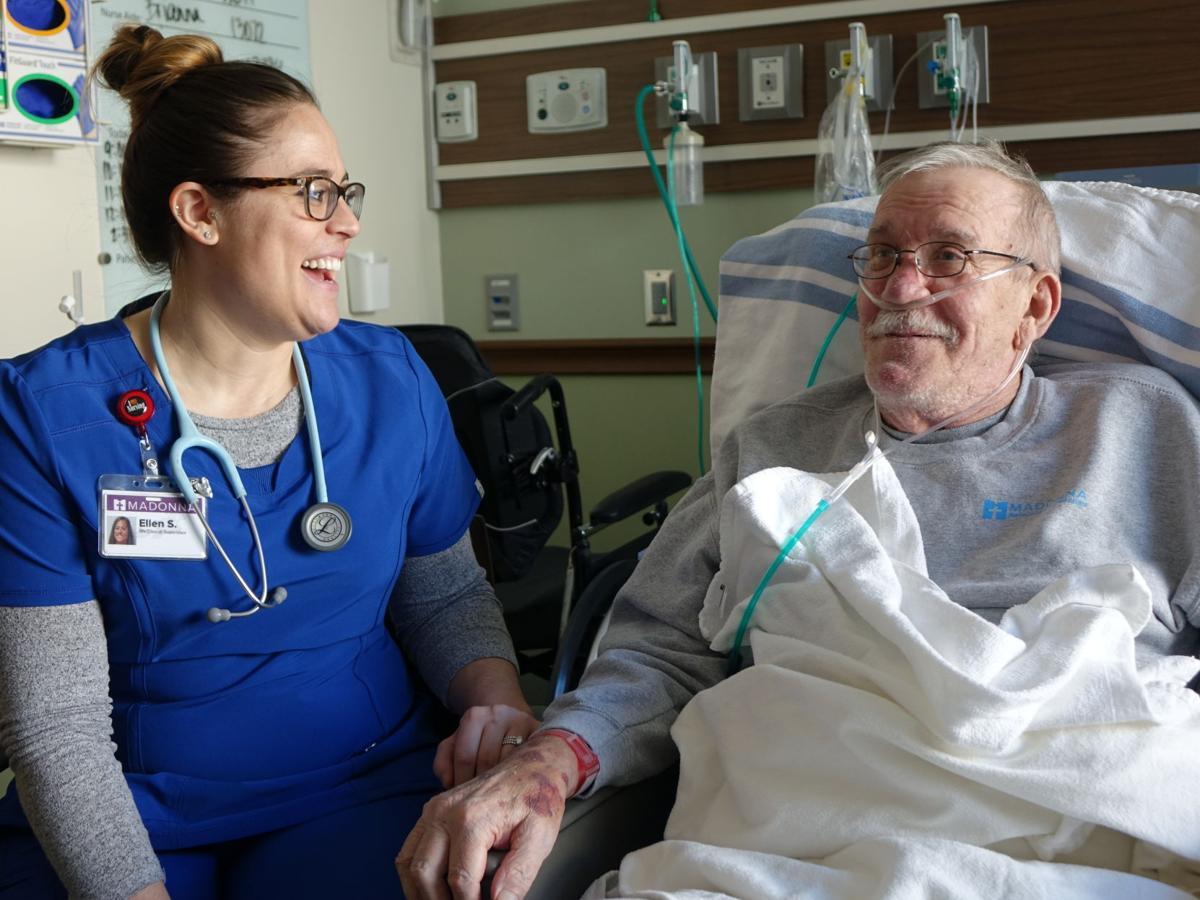 At Madonna Rehabilitation Hospitals, a career in nursing offers an exciting opportunity to be an integral part of the recovery journey for patients from across the country.
The longer length of stay truly allows our nursing staff to connect with patients and form relationships with their families, as well as provide education and help the family build confidence in providing care and support for their loved one long after discharge. Our nursing staff is central to the mission of Madonna.
Learn more about the role of nursing at Madonna and get to know Ellen Scott, RN, who fell in love with rehabilitation nursing during a preceptorship and has taken advantage of many educational opportunities to grow in her career and expand her role in our Omaha campus.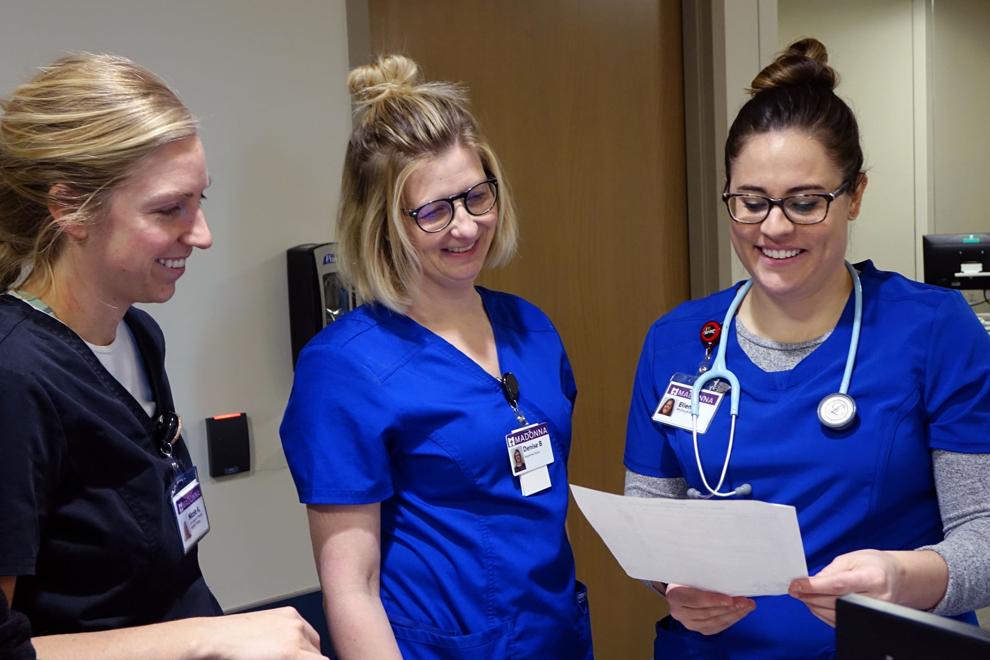 What is a "typical day" for you at Madonna?
There is no such thing as a "typical day" for me at work, but my top priority is serving the patients and their families and supporting my fellow nurses. As a nursing supervisor, here's how my schedule generally goes:
6:45 a.m. – clock in and check in with the night supervisor and nurses to see how the night went
8:00 a.m. – attend meeting to learn about the new patients admitting that day
8:30-10:00 a.m. – prepare for 10 a.m. team meeting while also listening for call lights, check patient medications and help feed patients
10:00 a.m. – attend team meeting where we talk about our admitted patients
11:00 a.m. – check in with patients and their families and touch base with nurses to go over the plan for the day
Afternoons consist of discharge planning, possible admission planning, appointment making, rounding with the children's hospitalists, attending meetings, all while making sure the nurses, patients and families are well supported.
Before I clock out, I complete staffing for the overnight team and give the report to the night supervisor.
What differentiates Madonna from other hospitals?
I often get this question and my answer rarely sways because the level of care at Madonna is different from any other hospital in the country. Madonna specializes in rehabilitation, a unique type of medicine that requires our patients to stay here longer than at an acute care hospital. Getting to know who our patients are as individuals is integral to their recovery. At Madonna, it's not just about sustaining the lives of our patients, it's about helping them to reach their fullest potential. Our nursing staff focuses on the mind, body, and spirit of each and every patient to help them reach their goals in recovery.
To provide this level of care requires a true team effort, which is why each patient has an entire team with them through their stay. Madonna nurses have incredible resources that they can call upon and learn from. We don't just learn from other nurses, we learn from the interdisciplinary team composed of very qualified professionals. Talk about an awesome opportunity for self-learning and growth!
How has your role at Madonna developed over time? What are some growth opportunities that you've been able to take advantage of in your career?
My journey with Madonna started in 2015 when I spent 6 weeks learning from a pediatric nurse while completing my nursing preceptorship. I then applied to Madonna's Lincoln Campus for a night RN position. I passed the NCLEX and started at Madonna 5 days later. After a year, in fall 2016, I was offered a day supervisory role on the Madonna Omaha Campus pediatric unit and jumped at the opportunity. Upon accepting my new supervisory role, I also was able to take on the position of pediatric program leader, a position that allowed me to gain perspective on the more programmatic side of Madonna. In 2017, I became the full-time pediatric supervisor. I had to give up my role as pediatric program leader, but each change has brought with it more opportunities for growth and self-discovery. In early 2020, I was promoted to the Senior RN Clinical Supervisor role, which has let me apply so many leadership lessons each role has taught me. I have also been able to seek out learning opportunities such as conferences, becoming a CPR instructor, becoming ACBIS (Academy of Certified Brain Injury Specialists) certified and becoming a car seat technician.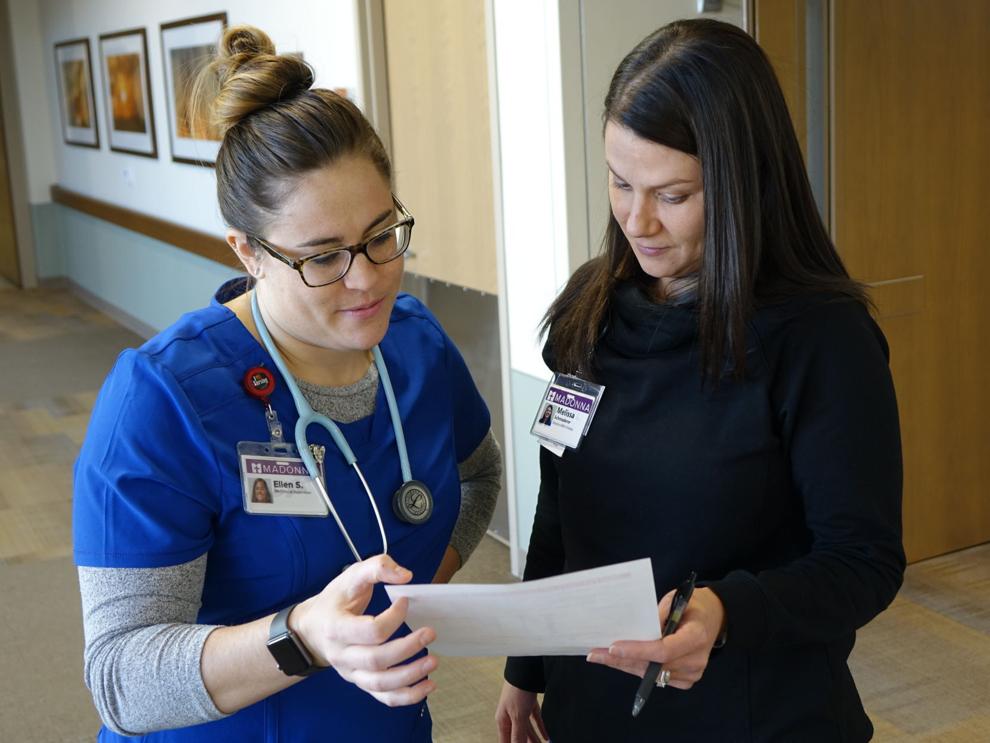 What is your relationship with Madonna's patients like? How impactful is it to watch a patient make gains over time?
Each relationship with a patient and their family is unique and special in its own way. Madonna's patients have a longer length of stay than most acute care hospitals, so we get a better opportunity to really get to know them and their families than nurses at other hospitals do. It also allows us to create a deeper level of trust with the patient and their family members. As important as it is for the families to see their loved one making progress, it is just as important for the care team to see it as well. Watching patients make progress gives Madonna staff hope. That hope is what keeps us going.
Parts of nursing can be difficult. Can you provide any examples of a challenge you have faced and how Madonna helped you overcome it?
One of the most difficult aspects in nursing is losing a patient. We pour our hearts into the care we give, and even though we understand that life happens, that never takes away the fact that each life is precious and we want the utmost happiness for our patients and their families. Thankfully, Madonna does a phenomenal job of supporting their employees and provides access to many resources that help with all of life's ups and downs. Madonna is in tune with their employees and wants the best for them. We often refer to our teams as family. Family takes care of one another.
What is your favorite part about your job?
There are several favorite things about my job, but one thing that I often speak about is the faith centered care we give. As a hospital, when you can care for a person's mind, body and spirit, how could they not have a positive outcome? The patients and their families give me life, they put into perspective the precious things in life and to not take a day for granted. My job does not feel like a job, it feels like I was called to do this.
Throughout her career at Madonna, Ellen has been fortunate to earn not just a few more professional titles, but personal ones as well.
She married long time love, Noel, in December 2018 and the newlyweds purchased a home just a few minutes from Madonna, allowing her to strike a great balance between work and home. In October 2020, they welcomed their first child, Jameson Jerome, affectionately known as JJ. Both her wedding and baby shower celebrations were well attended by Madonna staff, underscoring the familial environment Ellen often references. She looks forward to many more personal and professional opportunities in the years to come, but for now is enjoying her maternity leave and soaking up every sweet snuggle.
Madonna is actively hiring RNs and LPNs at both our Omaha and Lincoln Campus locations. To explore career opportunities at Madonna Rehabilitation Hospitals, visit www.madonna.org/careers.