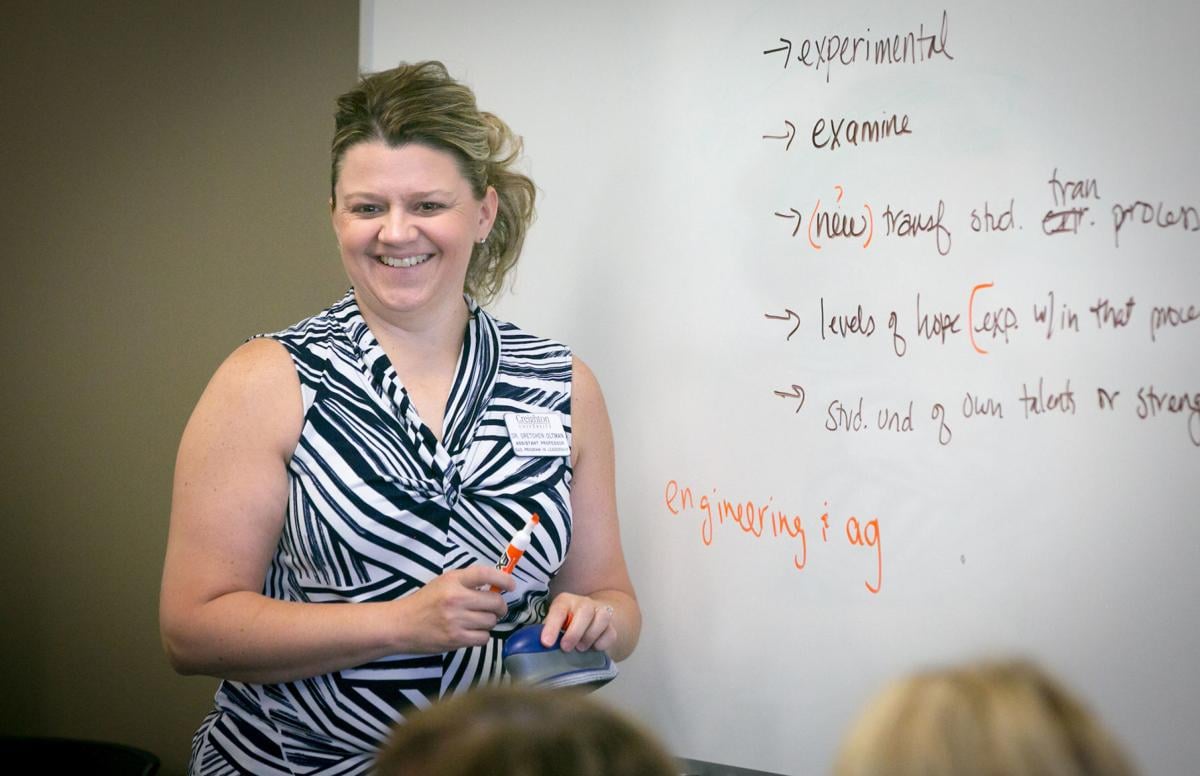 Gretchen Oltman, J.D., Ph.D., told a story to USA Today readers in 2014.
Oltman, who that year launched Creighton's Master of Science in Organizational Leadership program, wrote about a 9-year-old girls basketball team and a coach's struggle to control the "chaos, unpredictability and instability that reigns on the floor."
It's a job, Oltman wrote, "that requires a great deal of patience."
But the leadership lesson Oltman drew from observing the coach — who happened to be her husband — centered on the girls.
"Leadership, to a 9-year-old, is not found in a textbook or worksheet. It is lived," she said. "Leadership is not about salary or prestige to a 9-year-old. Everyone is expected to exhibit leadership; no one is exempt from making good decisions or choosing the honorable path. Leadership becomes a path rather than an expectation."
And there, succinctly, is a description of Creighton University's commitment to teaching leadership skills that stress human and managerial elements and nurture the ability to thrive in high-pressure situations that are an inevitable part of leadership.
Creighton's Master of Science in Organizational Leadership strengthens the ability of graduates to make thoughtful decisions, handle adversity, understand and manage organizational challenges, and work well with others — all while observing Creighton's Jesuit, Catholic commitment to enhancing the common good.
"Leaders feel the pressure of leading," Oltman said. "They are watched, criticized and praised, and they often emerge in times of crisis. We may not be able to teach the frequency or duration of adversity, but we can teach confidence in decision-making processes so that facing the crowd or the buzz of the timer does not detract from a leader's ultimate goal."
Oltman is an assistant professor in Creighton's Department of Interdisciplinary Studies.
The Organizational Leadership curriculum she helped mold is the work of faculty from varying backgrounds, including business, health, education, law and arts and sciences. Students, too, are drawn from diverse backgrounds, experiences and vantage points, encouraging insights about their respective industries and professional experiences. These relationships last long after the program ends, thus building a thriving professional network and alumni community.
And coming this fall is a 15-credit Graduate Certificate in Sports Leadership that reflects Creighton's status as a prominent force in NCAA sports. The certificate will focus on personal growth, ethical leadership and continuous reflection as expressed in the Jesuit charisms. The certificate will be available independently, or as an addition to the Master of Science in Organizational Leadership.
In addition to its Master of Science in Organizational Leadership, Creighton offers a Doctorate of Education in Interdisciplinary Leadership. Both degrees enable graduates to access new opportunities, adapt to a constantly changing world and effect lasting and meaningful change in their communities. Both acknowledge the realities of life for busy professionals by offering online courses.
The doctoral program offers a values-based curriculum focused on helping ethical leaders build successful careers in business, health care, criminal justice, education administration and government.
The program blends a limited on-campus requirement with an online component that encourages networking with faculty and peers. Students complete a series of eight-week courses, focusing on one course at a time. Doctoral candidates visit campus for orientation and to defend their dissertation as they prepare for graduation.
The importance of leadership is recognized early at Creighton University through honors and leadership programs that provide leadership opportunities for undergraduates. A formal Bachelor of Science in Leadership focuses on ethics, logistics, finance, theory and skills necessary to become an effective communicator. Further leadership opportunities are provided by the Division of Student Life through its Student Leadership and Involvement Center.
"The Division of Student Life provides students with opportunities to discover their passions, develop their leadership skills and then deliver those talents into the world around them," said Katie Kelsey, director of the Student Leadership and Involvement Center.
"We are committed to accompanying students in their holistic development through various opportunities, such as engagement in one of our 250-plus clubs, the Freshman Leadership Program, fraternity and sorority life, student employment, resident advisors and so much more. It is important for us to offer opportunities to grow, not only as leaders, but as global citizens ready to make a difference in our world."
Be the first to know
Get local news delivered to your inbox!