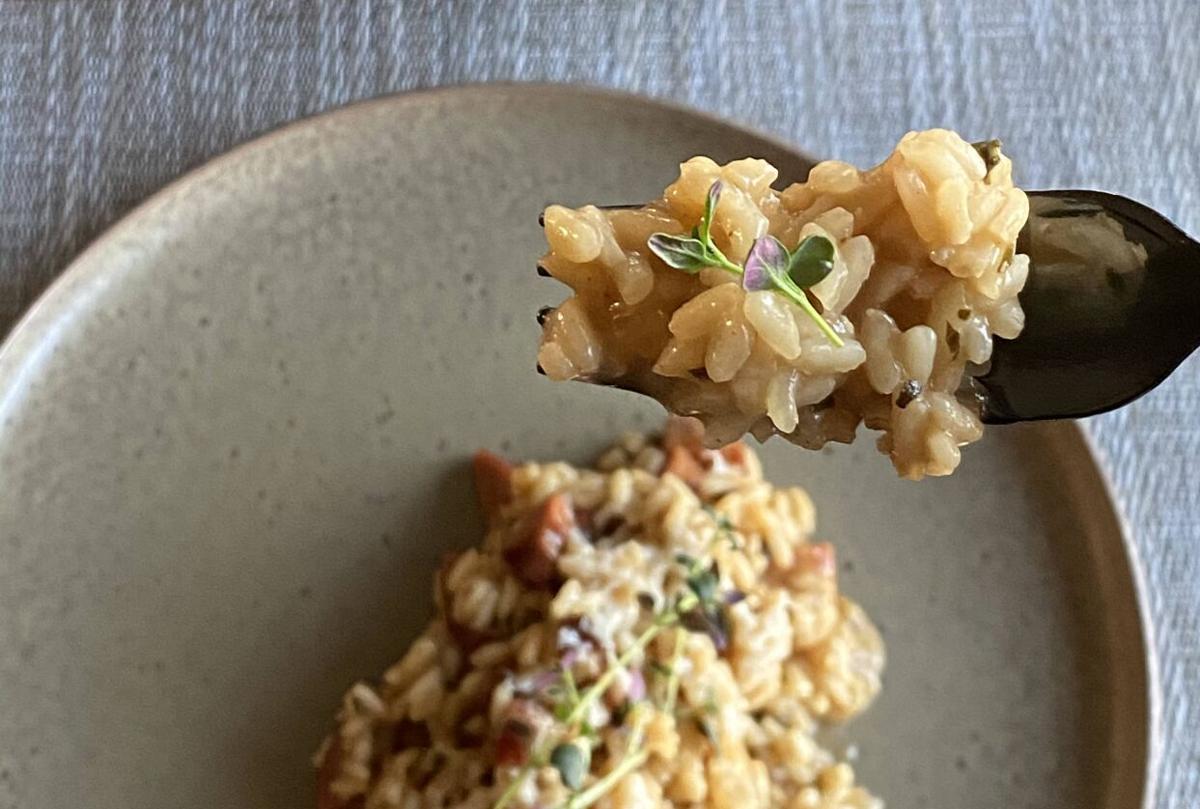 Beef Spanish Chorizo made with Certified Piedmontese beef adds a kick of flavor to spice up the usually creamy risotto. This dish is the staple comfort food – thick, filling, and makes great leftovers. What are you waiting for?
We recommend using Spanish Chorizo as Mexican Chorizo would fall apart when diced, unable to stay in perfect bite-size pieces. For a tangier cheese, Pecorino Romano is our best choice instead of the traditional parmesan. Be mindful of its saltiness, so adjust your use of salt accordingly.
Ingredients
¾ lb Beef Spanish Chorizo (Or other assorted sausages available at The Mercato)
2 cups Arborio rice (rinsed to remove excess starch)
2 shallots OR 1 small onion, finely diced
3 tbsp extra virgin olive oil
4 cup Casa Bovina Beef Stock, kept warm on the stove
1 cup freshly grated Pecorino Romano cheese
2 sprigs each thyme, oregano, and rosemary, finely chopped
2 tsp apple cider/white wine vinegar
Directions
1. Dice Certified Piedmontese Beef Spanish Chorizo, toss into a pan and sauté with extra virgin olive oil over medium heat.
2. Once nicely fried, remove from the pan and set aside, making sure to leave the fat in the pan.
3. Sauté shallots and garlic in the pan on medium heat, seasoning with salt and pepper. Add rinsed Arborio rice to the pan and toast for 2 mins. Add chopped thyme, oregano, and rosemary, then cook for another minute. If the pan is dry, add a knob of butter.
4. Add white wine and stir with wooden spoon until mostly absorbed.
5. Add simmering beef stock one cup at a time, slowly stirring in until it is mostly absorbed before adding another cup.
6. When rice is cooked (about 20-25 mins), remove from heat and add shredded white cheese. Stir and let it melt, and season with salt, pepper, and your vinegar.
7. Garnish with your favorite herbs.
Real Nebraska beef raised in the Midwest, Certified Piedmontese is a healthier option that's naturally leaner, more tender and flavorful — it's what beef really tastes like. Learn more at piedmontese.com.