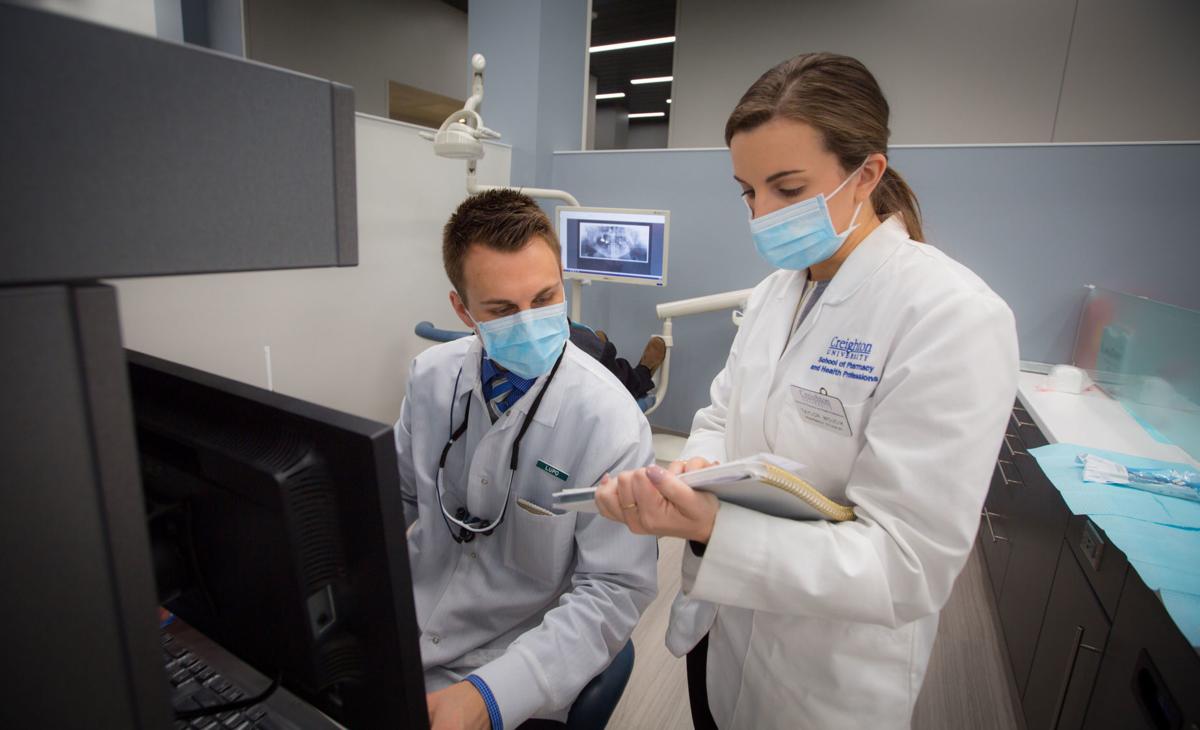 When a physician consulted with Creighton University occupational therapy alumna Joy Doll, OTD, about a child's mysterious hand rash, more than a medical mystery was in play.
The meeting demonstrated an emerging philosophy of health care that Creighton University has fully embraced. Dubbed "collaborative care" by advocates, it urges close cooperation between physicians and other health professionals in the treatment of common patients, even to the point of gathering around a table and forging a common treatment, each aware of what the other is doing.
The child had been sent home from school due to fears that the hand rash might be contagious, but it was not. Doll, asked for input, determined that the rash was saliva-based, caused by a habit of gnawing on the hand — a response to stress at school. And she had therapies for that.
"If we weren't communicating, something might have been prescribed for anti-itch, and the problem would never have been solved," Doll said. "So, when we bring all minds together, we gain diverse perspectives that allow us to view health in a different way."
Doll, who at the time was executive director of Creighton's Center for Interprofessional Practice, Education and Research (CIPER), is now employed as chief academic program officer with the Nebraska Health Information Initiative (NeHII). The private nonprofit supports population health in the state with a portfolio that includes a prescription drug monitoring program, a health information exchange and a new social determinants of health platform.
Her new role, Doll said, has granted access to health statistics that show how inefficient current models of health care delivery can be.
"We had a patient who went to the emergency department 56 times in a six-month period," she said. "When we started coordinating his care, we reduced it to 21 in the next six months. Obviously, that's still too many times, but we cut it by more than half, and that's a real gain."
"Our students participate in experiences that are designed to foster teamwork, a sense of mutual respect, and, perhaps even more importantly, communication," he said. "It's a lot easier to communicate more effectively when you understand the skills of the people working with you in a health care system."
The collaborative care model reaches across campus, into dentistry, nursing, pharmacy, occupational therapy, physical therapy, physician assistant and emergency medical services programs.
"As a requirement for graduation, Creighton health care learners must provide evidence of successful participation in collaborative interprofessional learning activities," said Catherine Todero, Ph.D., vice provost of health sciences campuses at Creighton and dean of the College of Nursing.
"These learning activities are designed to familiarize students with the scope of practice and specialized expertise of other members of the health care team. They build trust and respect and improve communication among student health team members as they learn to collaborate to ensure patient safety and improve patient outcomes."
Creighton broke some collaborative-care ground last year with a study titled "Lessons From Practice Transformation" that was published in the Annals of Family Medicine, a bimonthly peer-reviewed medical journal that stands among the most highly respected journals in the field of family medicine.
The study found that collaborative care yielded impressive results for high-risk patients, showing that interprofessional education and collaborative practice provided in a primary care residency-based program helped achieve reductions of 16.7% in emergency room visits, 17.7% in hospitalizations and 48.2% in total patient charges.
Creighton University is a national leader in interprofessional health sciences education, across programs in dentistry, emergency medical services, medicine, nursing, occupational therapy, pharmacy, physical therapy and physician assistant, and with clinical partners in Omaha, Phoenix and other satellite locations.
Gail Jensen, PT, Ph.D., dean of the Graduate School and College of Professional Studies at Creighton and interim director for CIPER, said collaborative care is an important step toward an emerging concept of health care that stresses ongoing wellness rather than surgical intervention after the fact. Ironically, she said, the current COVID-19 pandemic might spur the medical system along the path of collaboration.
"We're seeing good examples of it right now with the pandemic," she said. "You see teams coming together — physicians, nurses, ER docs, respiratory therapists. I think we're going to be transformed, hopefully, by this pandemic, in how we provide care. Telehealth is becoming more important, and is being done in a more collaborative way."
Amy McGaha, M.D., professor and chair of Creighton's Department of Family Medicine, bridges the worlds of the classroom and the clinic. As director of the Interprofessional Clinical Learning Environment at Creighton, she helps advance the concept of collaborative care in Creighton-affiliated medical institutions.
"My job is mostly within three realms," she said. "One is identifying where collaborative care is already taking place, then how we can introduce it where it doesn't currently exist, and finally, working with faculty to help them develop the skills they will need if they're going to teach in this environment."
As new and innovative as collaborative care might seem, Dunlay said it is to some degree a reaffirmation of the way physicians have always understood good medicine.
"There was a time when physicians would call other physicians to get advice," he said. "Then things got busier, and that didn't occur so much. In my mind this is just a return to basic person-to-person communication, across health disciplines, and that can only improve patient care."