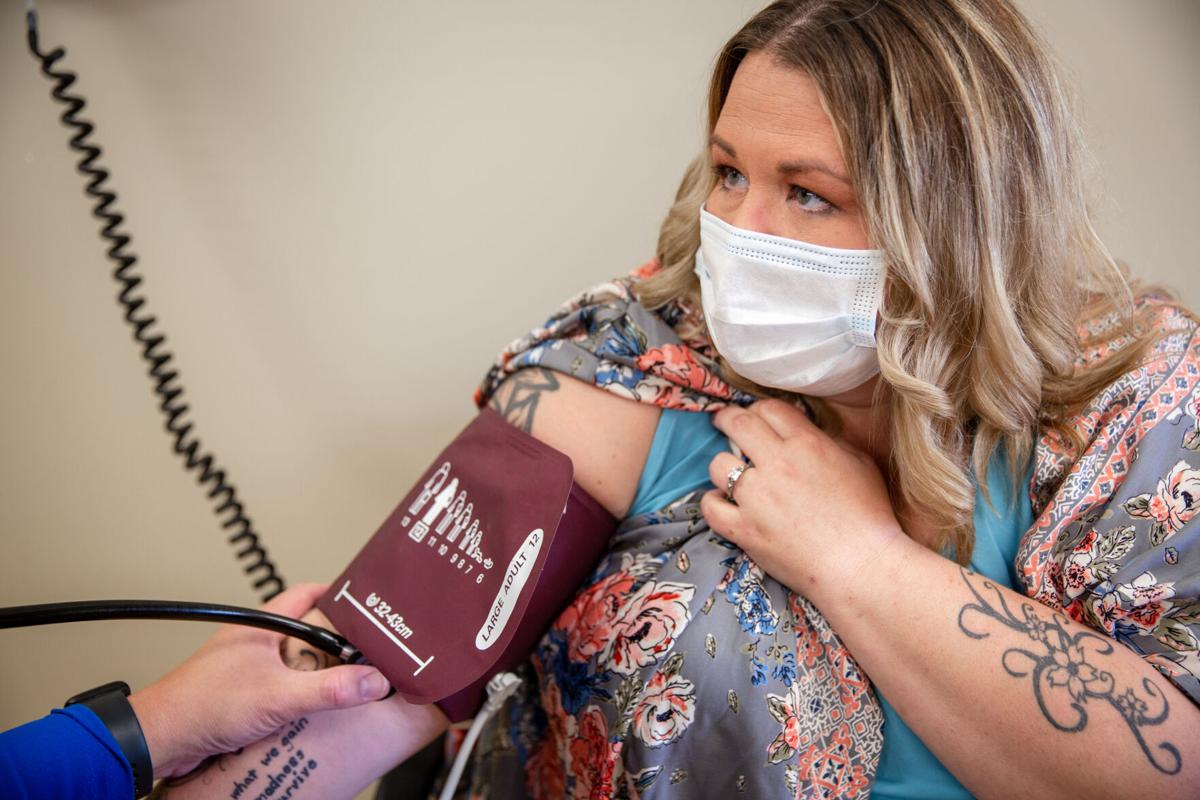 Melony Stillman-Clark has sticky notes all over her Fremont home. She has a 3-foot dry erase board in the kitchen with dates and times of appointments, school events and more. She jots notes in her hairstyling appointment book, and she frequently texts herself reminders.
"And I still forget things," the 42-year-old mother of two said.
Melony's brain fog is an ever-present reminder of how dramatically her life has changed since the COVID-19 pandemic began. It's also just one of the common symptoms of long COVID – the term for a range of health challenges that so many have battled months after the acute phase of the illness.
Melony actually fought COVID-19 twice last year. Before her first bout, she had been seeing Misty Janssen, MD, a Methodist Physicians Clinic family medicine provider, for 14 years. Together they managed Melony's Crohn's disease, anxiety, depression, occasional migraines and sinus issues.
Melony and her then-fiance, Jeff Clark, came down with COVID-19 in May 2020. They experienced serious but manageable symptoms – headaches, fatigue, chills, dizziness and nausea – and recovered. But Melony's sinus problems intensified a month later with infections, pressure in her chest and headaches that kept her from working. A sinus surgery in November brought little relief.
In December, four months after their wedding, Jeff was hospitalized with blood clots in his lungs – likely an aftereffect of COVID-19. He was prescribed an inhaler and blood thinners, possibly for life. Soon after, Melony contracted COVID-19 a second time.
With Melony in quarantine after returning home, Dr. Janssen did all she could to support her longtime patient with video checkups, a meeting at Methodist's COVID-19 respiratory clinic in Fremont and arranging a bamlanivimab treatment with the goal of preventing her disease from progressing.
Melony weathered the storm again, but this time, COVID-19 left her with an array of frustrating, unexplained ailments. In the months since, she's developed tachycardia, hyperthyroidism, fibromyalgia, chronic fatigue, insomnia, sciatica, and numbness and tingling in her legs. Her sinus issues have continued with chronic congestion, her migraines are more frequent and intense, her senses of taste and smell are impaired, and her anxiety and depression have been heightened. Her lung function has also weakened – "I feel like I have an elephant sitting on my chest," she said.
Through it all, Dr. Janssen has been the quarterback for Melony's care. That's meant frequent office visits, calls and messages over Methodist's patient portal – Methodist My Care – as well as referrals to Methodist providers specializing in cardiology, pulmonology and neurology.
Their challenge in caring for long COVID patients like Melony is twofold: treating her symptoms to improve her quality of life while unraveling the mysteries of a condition unknown before last year.
"She was not somebody that I saw often in the office with complaints, so this is definitely all new," Dr. Janssen said. "One thing that connects her symptoms is the lack of finding other conditions to explain them."
Melony's parade of symptoms has turned her life upside down.
"I'm only 42, and my medicine basket now? I think I take about 18 pills a night," she said. "It's affected my life. It's affected my kids' lives. It's affected my clients. Day by day I wake up, and if today's a good day, I can work. And if today's a bad day, I have to text my clients and reschedule."
The most difficult parts of long COVID, Melony said, are the unknowns – about her long-term prognosis, how to treat her brain fog and if she'll ever be the wife and mother she wants to be again.
"It's really hard because they can treat the physical part of it, but the mental part of it … I feel like I have dementia," she said. "That part is so frustrating, debilitating and exhausting."
When Melony looks back on all she's been through, she immediately thinks of her support system – which includes her clients, her family and, of course, Dr. Janssen. Together, they'll continue to navigate Melony's challenges in hopes of getting her back to the life she dreams of.
"She has not given up by any means, and she will continue to fight," Dr. Janssen said.