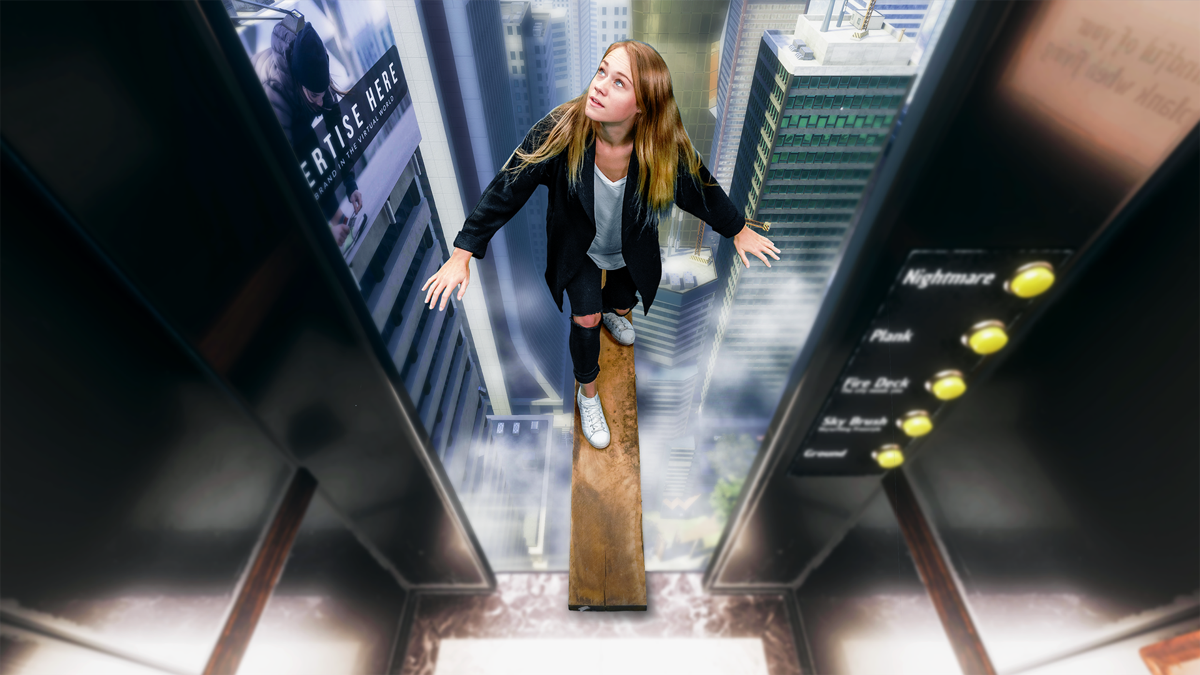 "It's not real," you tell yourself as the virtual elevator door glides shut.
You press a button. Now you're speeding to the top of an 80-story skyscraper.
It's only a simulation, one of many offered at Infinite Loop, a virtual reality arcade in La Vista. It's not real, and you know it.
And then your stomach drops.
"It gets a big reaction from most people," says owner Jeremiah Maddock. "They don't think it will bother them until the door opens."
The plank experience (one of 50-plus games in the Infinite Loop library) is a popular attraction, especially as a team-building exercise, Maddock says.
"We get at least a few team-building groups a week," Maddock says. "We offer experiences you can't get anywhere else" – like walking off a building.
The premise of "Richie's Plank Experience" is simple – and, for many, terrifying. A virtual plank is suspended far above a bustling cityscape.
Feeling bold? Step onto the plank and enjoy the view.
"A lot of people can't even step out of the elevator," Maddock says. (Author's note: I'm one of those people.) The experience is made all the more real by an actual plank on the floor and a fan simulating wind.
The truly brave of heart have another option: step off the plank and plummet to the virtual ground. "Some people become so immersed that they belly flop off the edge," Maddock says. (Don't worry, an employee is always standing by in case of falls.)
"Having fun with co-workers allows you to bond with them, which spills over into the workplace," Maddock says.
Here are five key ways virtual reality can boost company morale (and productivity):
Collaboration
Many co-op games require players to work together – or against each other. Strategizing with (or plotting the downfall of) your coworkers requires heavy collaboration, Maddock says. "A lot of times, you'll have to come up with some sort of strategy to beat the game."
Communication
Whether you're protecting your base in laser tag or fending off a horde of zombies, you'll need to talk with your teammates if you're going to win. Communicating under pressure isn't always easy, so it helps build that skill in a risk-free environment, Maddock says.
Trust
Spending quality time with co-workers outside the office can allow you to establish a sense of familiarity and trust – especially after they've saved you from being crushed by a giant or scorched by a fire-breathing dragon, as featured in "Elven Assassin," another popular game.
Creativity
Some games, like escape rooms, require creative problem-solving. Work together to find all the clues and escape the room before time runs out. Sounds easy, right? "Players need to be creative in the way they solve these puzzles," Maddock says.
Leadership
Many scenarios allow players to take leadership roles. "And it might not always be who you'd expect." Players who don't normally lead at the office might surprise their co-workers – and their bosses – by demonstrating new skills or qualities.