We just celebrated National Chocolate Chip Day, and I think we all know that the best way to eat a chocolate chip cookie is with an ice-cold glass of milk.
Today, more people are interested in learning about where their food comes from and how it is produced. I often get questions about antibiotic use in animal agriculture, and some even fear that the milk we drink could contain antibiotics.
As a dairy farmer and a consumer just like you, I can assure you that there are NO antibiotics in the milk you drink. Period. Here's why.
When I am not feeling well, just like you or your family members, I look to my doctor to help me feel better, which might include medicine and lots of rest.
When our cows aren't feeling well, we notice their appetite and milk production are low, which is a pretty good signal that something might be wrong. Most of the time when this happens, we can do two things: 1) treat them with antibiotics to help them feel better, or 2) call our veterinarian to diagnose and treat something that may be more serious.
We use antibiotics only when necessary. All antibiotics for livestock are regulated and approved by the U.S. Food and Drug Administration, and the label instructions tell us how much time is needed for the antibiotic to totally clear the animal's body.
This helps us determine how long the treated cows must be kept separate from the rest of the milking herd. The moral of the story? Milk from cows treated with antibiotics does not enter the food supply.
So, how do we ensure that milk is free of antibiotics? Testing — lots of testing!
Remember, my family drinks the same milk from the store that yours does, and we don't want antibiotics in our family's milk — or yours. Milk is tested both at the farm and again when it is delivered to the processing plant.
It doesn't matter if milk is from an organic farm, a regular farm, small farm, or a big farm — every single tank of milk is tested. If that milk tests positive for antibiotics, it will be disposed of and never enter the food supply.
If our milk fails the antibiotic test, we as the farmer will not receive any payments for that load of milk. In fact, if the test were to come back positive, the farmer would be responsible to pay for the entire truckload of milk.
That means not only would they not receive payments for their milk, they would also have to pay for any additional farmer's milk that was on the truck. I want everyone to have confidence that the milk you buy at your grocery store, regardless of what the label says, is safe. Every farmer is responsible for the same safety precautions.
Therefore, you can be assured that the milk you're buying at the store has a 100% chance of being antibiotic free. If you have any questions regarding dairy cows or dairy products, just ask!
Melisa Konecky and her family live on a farm near Wahoo, Nebraska, where they milk dairy cows and raise 500 acres of corn, soybeans and alfalfa. Growing and producing food has always been a part of Melisa's life. As a third-generation dairy farmer, she helps manage daily operations, keeps records, milks cows, cares for the cattle and acts as a general farmhand. Melisa became a CommonGround volunteer because of her concern that consumers receive a lot of misinformation about how their food is produced. Her goal is to help consumers understand how farmers, most of whom are family farmers like her, work hard to provide food that is both safe and sustainably raised.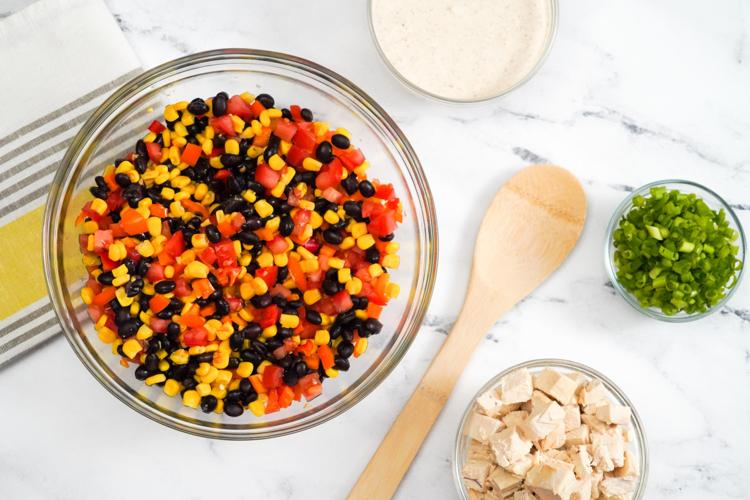 Skinny Southwest Chicken Dip
Ingredients
• 1½ cups plain Greek yogurt
• 1 tsp. chili powder
• ½ tsp. garlic powder
• ½ tsp. onion powder
• 2 cups shredded or diced boneless, skinless chicken breast
• 2 Roma tomatoes, diced
• 1 bunch green onions, chopped
• 6 mini sweet peppers or one large orange, red or yellow pepper, diced
• 1 15-ounce can black beans, drained and rinsed
• 1 15-ounce can corn, drained
• Salt to taste
Instructions
1. Mix yogurt and seasonings in a small bowl and set aside while you prep the rest of your ingredients.
2. Mix chicken, veggies, and beans in a large bowl.
3. Add yogurt mixture and combine well to coat.
4. Add salt to taste.
5. Can be served immediately, but if possible, allow to marinate in the refrigerator for at least an hour.
Be the first to know
Get local news delivered to your inbox!