Hope Shaffer's children know what they like: chocolate milk.
For her part, the Omaha mother of four said she appreciates the milk, lunch meat and fruit she receives for her children each time she visits a Food Bank for the Heartland Mobile BackPack distribution site. "Actually, I appreciate all of it."
Shaffer recently found herself furloughed from her job at a clothing store and her children – ages 3 to 12 – at home when schools closed. When school is in session, her children eat breakfast and lunch there.
"It's been tough," she said. "They're now home all the time, and I need help feeding them."
With people out of work because of COVID-19 and children at home with schools closed, Food Bank for the Heartland responded with its Mobile BackPack program.
During normal times, the BackPack program partners with 250 schools to provide take-home meals for children considered food insecure to ensure they have something to eat on weekends and holidays.
"The effects of COVID-19 are so widespread, we are seeing people seeking help from the Food Bank for the first time," said Brian Barks, president and chief executive officer. "Their needs are acute. They are asking themselves 'How am I going to feed my family?'"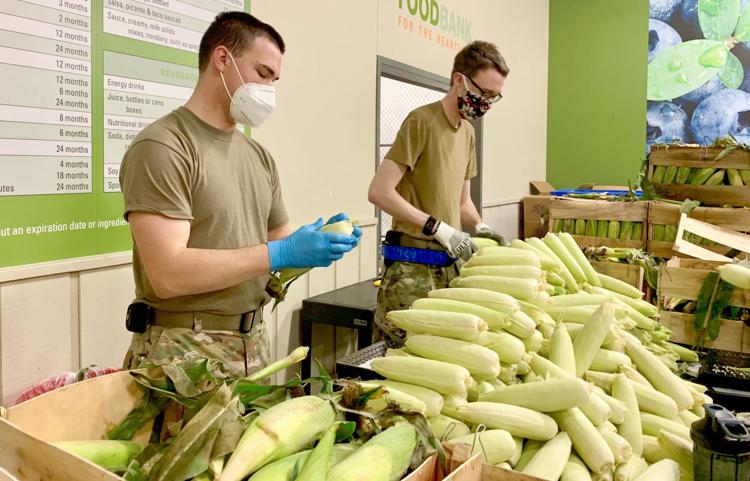 Food Bank for the Heartland is responding to the rising need, Barks said, thanks to a generous community that has provided financial and food donations, along with volunteer service.
Barks said the numbers illustrate just how hard COVID-19 has impacted the Food Bank's service area (93 counties in Nebraska and western Iowa):
The Food Bank has served about 38% more people so far in 2020 compared to 2019. "The need for emergency meals is so great."
Shaffer already was in line on a recent Monday at Jefferson Elementary School – one of 13 BackPack program distribution sites in the Omaha area – when volunteers began handing out food. Each child received bags containing five lunch and five breakfast meals, along with five cartons of milk.
Nearly a dozen onsite volunteers from the Salvation Army were handing out 225 packs of meals. By the time an hour had passed, all had been given away. Major Greg Thomsen said the Salvation Army's mission matches the Food Bank's mission. "Making sure people have the food they need – nutritious food – is of the utmost importance," he said.
Tiffany Davis waited in her vehicle several rows behind Shaffer. Davis, who works for a call center, has seen her hours reduced. She recently has had difficulty providing for her 7-year-old daughter, who was sitting in the back seat of the car. She also noted that the pickup site is just a few blocks from her home and Jefferson Elementary is her daughter's school. "This works. It's so close. Every bit helps," she said. "I'm most grateful."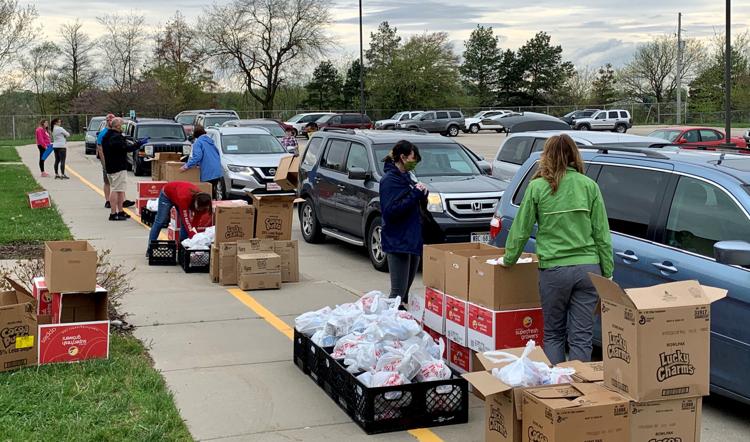 A pair of Jefferson Elementary staffers greeted the children with signs that encouraged them to read during their time away from school. "We miss you," the teachers called out to the children.
Barks said the pandemic caused the Food Bank to rethink how it serves its clients. Previously, the Food Bank's mobile pantries allowed clients to choose the food they needed as they worked their way through lines. Now, clients stay in their vehicles and receive boxes of shelf-stable food items, such as peanut butter, macaroni and cheese, canned fruit and vegetables, along with fresh produce and bread. Volunteers deliver the boxes.
"Our volunteers are the best," said Barks, noting that the Food Bank volunteers typically log 44,000 hours of service annually. "They understand the need for supplemental meals is so high right now and want to help. Our volunteers have a tremendous impact on our operations."
The Food Bank is able to leverage the food it buys because it does so in bulk. Because of continued demand, the organization's costs also continue to climb. Barks said the Food Bank spent $675,000 on food for distribution in March and expects to spend up to $1 million in May.
"We continue to rely on financial donations to purchase the meals that are so critically needed," he said.
One way to support the Food Bank for the Heartland is by making a donation now through May 20 through Omaha Gives!, a 24-hour online giving event. Visit omahagives.org to learn more.
Concerned about COVID-19?
Sign up now to get the most recent coronavirus headlines and other important local and national news sent to your email inbox daily.