When it comes to staying active during the pandemic, there is a hole in JJ Stannard's logic. Actually, 18 tree-lined holes.
"It feels normal to still be playing golf," says Stannard, a member of historic Field Club of Omaha (FCO) for almost three years now.
He and his fiancé, Betsy Ronspies, have spent a good portion of the last few months on the links, refining their swings, breathing the fresh air and playing the same lush fairways that late golfing greats Bobby Jones and U.S. Open Champion and FCO Member Johnny Goodman once played.
"When we golf, we usually walk; we don't use a cart. That's a good way to get your steps in for the week," says Stannard who tries to tee-up on FCO's private course – the so-called "Jewel of Midtown" – at least four times a week.
The Centers for Disease Control and Prevention is among those promoting the body-mind benefits of continued physical activity during this time, especially in open spaces. With golf naturally-suited for social distancing, it has been "game on" at FCO throughout the pandemic.
"Our golf groups are never more than four people, and even when you are on the tee box or around the green, you're always at least 10 feet from the nearest person in your group," says General Manager Greg Gilg.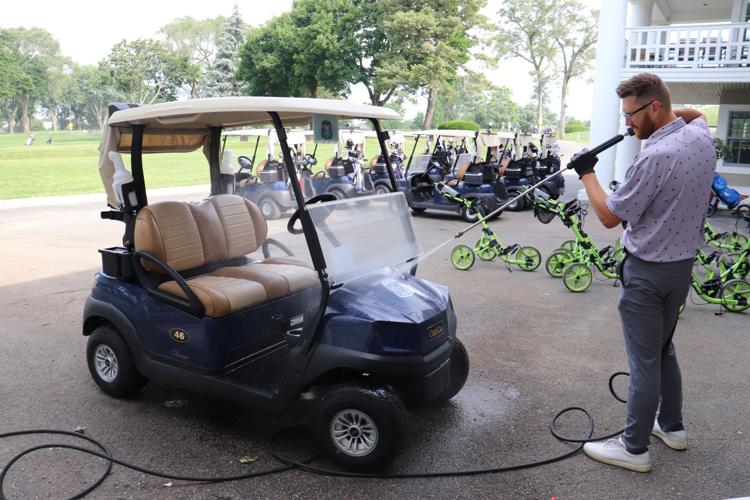 Enhanced safety practices
FCO has eliminated the few community "touch points" on the course, removing bunker rakes and moving to single-use pencils, tees and scorecards.
Other precautions – from enhanced sanitization practices to temperature screening at facility entrances – extend across all departments, including FCO's aquatics complex, fitness center, poolside bar and grill, ballroom and meeting rooms.
"We've spent a great deal of time crafting industrywide best practices, all of which we are constantly tweaking to create the safest environment for our members," Gilg says.
Founded in 1898 as the Omaha Cricket Association, what's now Field Club of Omaha offers family, single and second club golf memberships, and scaled-pricing for "junior members" like Stannard and Ronspies who are 35 and younger.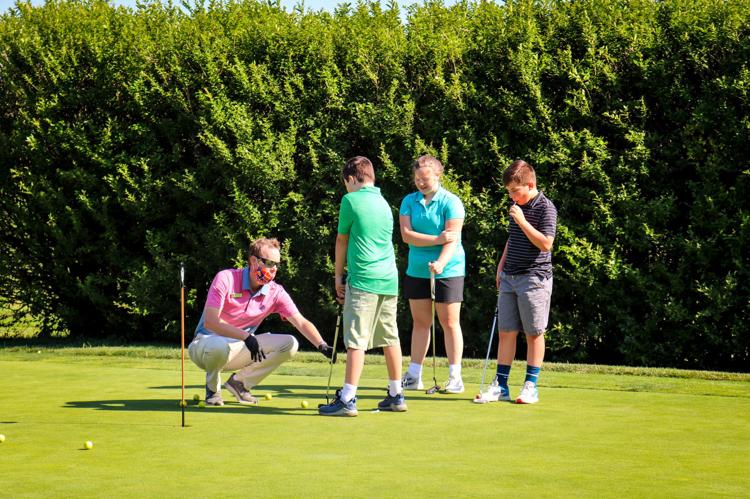 Complimentary golf lesson program
Earlier this year, FCO implemented a unique perk – complimentary golf lessons for all golf members, their spouses and dependents. The goal, Gilg says, is to make golf more approachable and more enjoyable for as many as possible.
"Including lessons offers members a risk-free option to improve their game or, in a lot of cases, get introduced to a lifelong game," Gilg says.
FCO is one of only two clubs in the nation to offer a complimentary golf lesson program for golf members. A growing number, including Stannard and Ronspies, have been taking advantage of the perk.
"Betsy takes a lesson every other week; I've taken a couple of lessons," Stannard says. "It's helped me, and I know it's helped her."
Gilg says the club has seen handicaps "start to creep down for the membership, so either people playing more has led to better scores or our lesson program is having a positive impact. I'd like to think the latter."
A stronger community feel
What's more, he says, the program has strengthened the community feel around the course, the only members-only golf course in downtown Omaha. In the end, Gilg says, that is FCO's main goal – to create a community.
"The community factor is what differentiates the club the most," he says.
Course regular Stannard agrees, describing the membership as close-knit: "The membership participates in a lot of events together so you get to see and know everyone – and you make some friends. It's been very enjoyable."
In addition to its various golf memberships, FCO offers social memberships that provide unrestricted dining, fitness center and pool access and more limited golf course access.
Go online to learn more about FCO's membership categories or to schedule a club visit.
Be the first to know
Get local news delivered to your inbox!