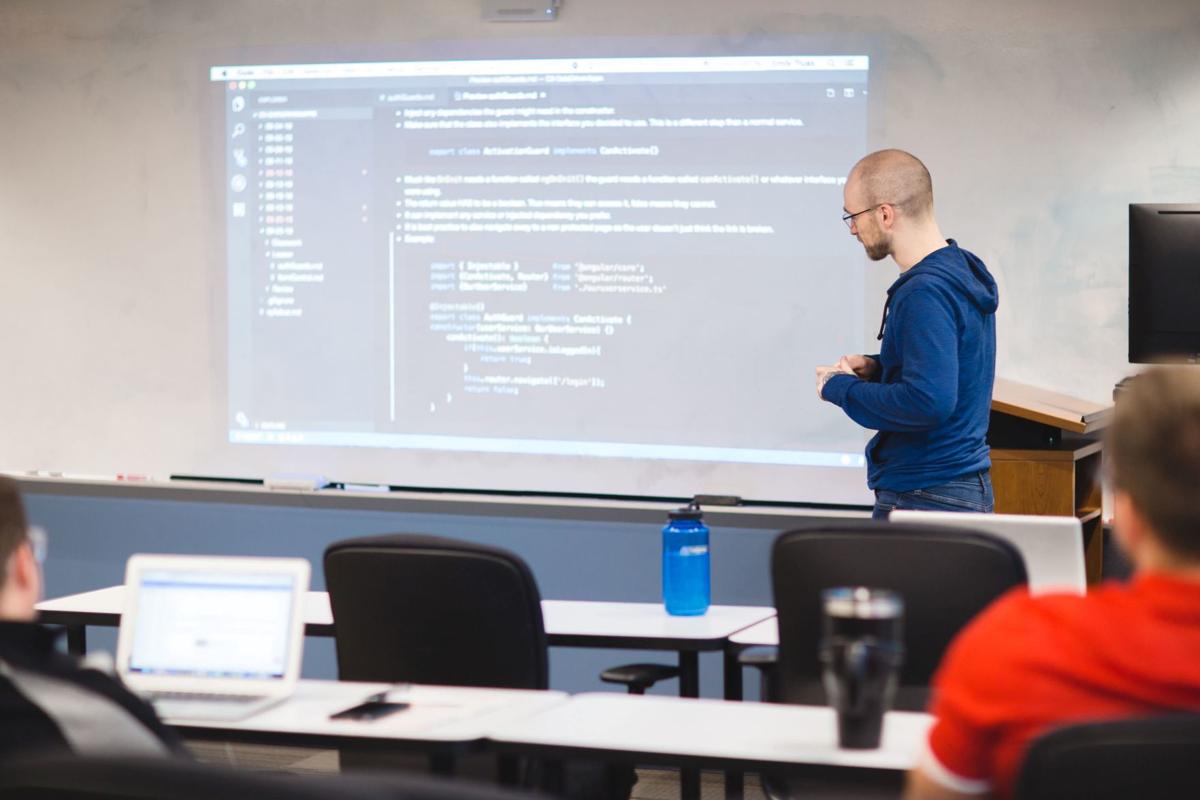 Midland University is relaunching its Code Academy in March 2019, creating a unique full-time, immersive code school in response to marketplace needs.
"One of our key regional imperatives is adding 10,000 new tech workers in the next five years. Unique educational opportunities, such as the Code Academy, are part of the strategy for accomplishing this goal together," says David G. Brown, president and CEO of the Greater Omaha Chamber.
Furthermore, feedback from the Omaha technical and business communities, as well as from former students, pointed to the need for a more immersive experience focused on relationships with Omaha employers and technical recruiting firms.
"We know three months, full time is a huge commitment," says Brock Ellis, director of the Midland Code Academy. "But if you're ready to make a change and jump into being a programmer, this is where you're going to have the best chance for success."
Ellis speaks from experience as a developer and general manager of Sycamore Education, an online school management and student information software company in Fremont. A 2010 Midland graduate, Ellis returned to campus in February 2018 to serve as a Code Academy instructor and capstone project mentor. He became the director in May 2018.
The remodeled Code Academy focuses on developing career skills.
"We're going to teach you the hard skills – how to write code, develop apps and talk to a database," Ellis says. "But we're also going to cover how you interview, how you present yourself to potential employers, how you network and brand yourself professionally."
Partnership with local tech recruiting firms, like Tek Systems, allows Code Academy students to bridge the gap between gaining the necessary skills and landing their first programming job by providing resume-building support and career coaching.
Karli Gladowski, an applications technical recruiter at Tek Systems, says, "Networking at local meet-ups and companies plays a huge role in finding the right fit for your career. (Tek Systems) can help you build the best resume, but the local IT community is small, and if you don't get yourself out there, you may miss out on some really good opportunities."
In addition, Code Academy students will connect with the tech community by touring local companies and attending area meet-ups as part of their required coursework.
"At Midland, we strive to get our students involved in the Omaha community," said Todd Conkright, dean of the Midland University Dunklau School of Business. "By having these students interacting with and benefiting the community, they are gaining real-world training that will only be a bonus to them in their future careers."
The full-stack program covers front-end design and server-side code education, with training in databases, UX/UI and Agile project management to build real-world business skills. Students meet daily from 9 a.m. to 5 p.m., five days per week, progressing together from beginner to career-ready in just 12 weeks.
This accelerated pace is possible with instructors who have worked in the technical field for many years. Mike Truax, lead instructor for the Code Academy, has worked with many major Omaha employers and is excited to develop new talent.
"After working in retail management for 15 years, I decided to pursue my side hobby. My passion for coding and the drive I have to help others learn to code is why I chose to become an instructor for Midland's Code Academy," Truax says. "I've been able to work with a broad cross section of industries and technologies and can help the students see how to translate classroom skills to the real world with actual examples of the challenges I've faced."
In Midland's first iteration of the Code Academy, launched in fall 2017, students attended three-hour classes, three nights a week, for 10 months.
"The night class model didn't give us enough time to dive deep enough into the breadth and depth of knowledge necessary for people to switch careers," Ellis says. "If you're going to make it as a programmer, you have to dive head-first into it and make a full commitment."
To learn more about Midland's full-time, immersive Code Academy, as a student or a prospective partner, visit https://code.midlandu.edu/.