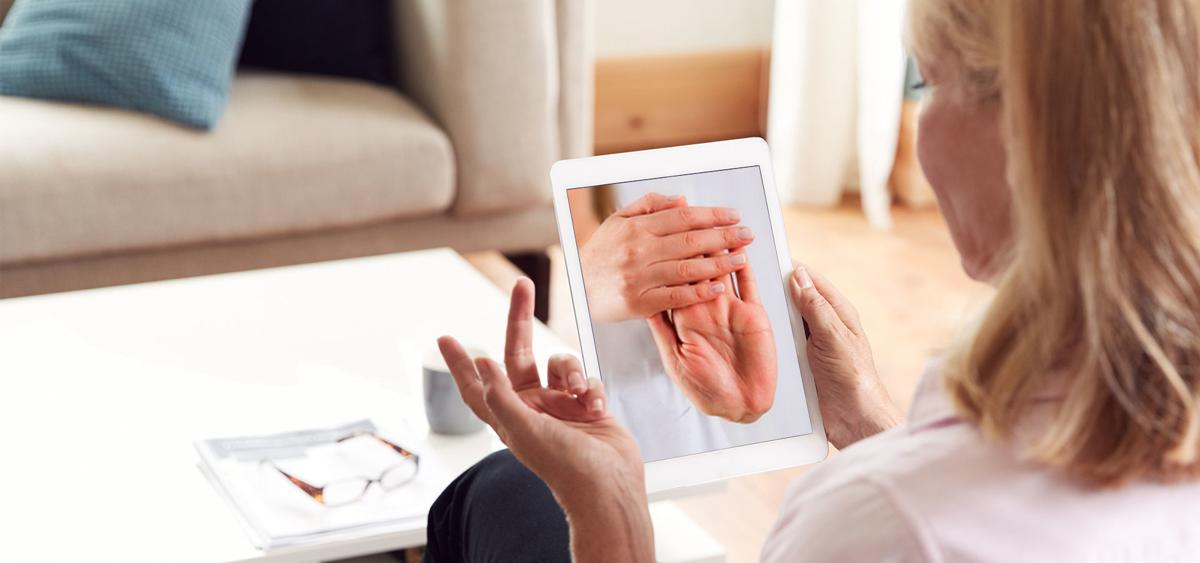 OrthoNebraska is now offering virtual care, where patients can receive specialized care for injuries and orthopedic problems from the safety and comfort of their own home.
Commonly referred to as telehealth, the virtual care program is an alternative to a conventional office visit and gives patients the ability to connect by video conferencing technology with an OrthoNebraska orthopaedic surgeon, rheumatologist, physical therapist, or hand therapist.
"A virtual visit gives our patients the most important parts of a visit: an in-depth, private, one-on-one consultation with an expert, but without the need to physically come to one of our clinics," said Scott Reynolds, M.D., orthopedic surgeon and sports medicine specialist. "This convenient option is especially important as people are being increasingly asked to practice  social distancing during the COVID-19 pandemic."
Many non-emergency orthopedic injuries or conditions can be diagnosed in a virtual visit. OrthoNebraska specialists can also develop a plan of care, order X-rays, MRIs or other tests, and provide follow-up care, including consults with physical or hand therapy.
While OrthoNebraska has been interested in providing virtual care for some time, the COVID-19 pandemic has served as a lightning rod for innovation. A recent study of 2,000 people found that only one in five respondents had tried virtual care, but two-thirds said the pandemic has increased their willingness to try it.
"This crisis has supercharged interest and opportunity on both the patient side and the provider side," said Ryan Arnold, M.D., orthopaedic surgeon and president of OrthoNebraska Clinics. "I feel like this is accelerating a trend that was going to happen regardless. And it's going to be here to stay on the back end."
With almost 2,000 visits conducted in the last four weeks, OrthoNebraska patient feedback on the service has been positive. NRC Health, a company that conducts nationwide surveys, reports that OrthoNebraska's virtual care program is in the 94th percentile of patient satisfaction.
One recent patient commented: "The quality of the video-teleconferencing technology was outstanding. My provider was able to recommend a treatment change that we will try until the next meeting. I would recommend using this method as a highly-relevant addition to patient care. I found it a very satisfying and convenient experience."
For individuals who have never or seldom used video technology, OrthoNebraska will spend time prior to the appointment ensuring patients, as well any additional friends or family joining the call, are set up properly.
"The feedback I've gotten from patients has been fantastic so far," said Dr. Reynolds. "While orthopedics has historically been known as a very hands-on specialty, my patients have really appreciated our flexibility in being able to get a lot done using virtual care – more than some may have thought."
Virtual orthopedic urgent care will also be available soon. This will allow people to be placed in a virtual waiting room and see an orthopaedic specialist on demand during the day, after normal business hours, or on weekends.
To learn more or schedule a virtual visit, anyone can visit OrthoNebraska.com/VirtualCare. Patients can also call 402-609-3000, option 1, to talk with a scheduler.
OrthoNebraska is the state's largest and most comprehensive group of orthopedic subspecialists. It has clinic locations in Omaha, Papillion, Norfolk, Council Bluffs, Iowa, and Fairfax, Missouri. In addition to surgery, orthopedic care, physical therapy and imaging, OrthoNebraska also includes emergency medicine and rheumatology.