Venue? This winter, think virtual.
Whatever the occasion, there are dozens of ways to celebrate at Infinite Loop. The virtual reality arcade in La Vista offers unforgettable experiences for players age 8 and older, with (or without) any skill level, says owner Jeremiah Maddock.
The arcade has a designated party space for food and drinks – with plates, cups and utensils provided. Decorations are allowed, and the staff will even handle the cleanup.
"Parents like it because they get to focus on having fun with the kids," Maddock says. "They get to sit back, watch and take pictures."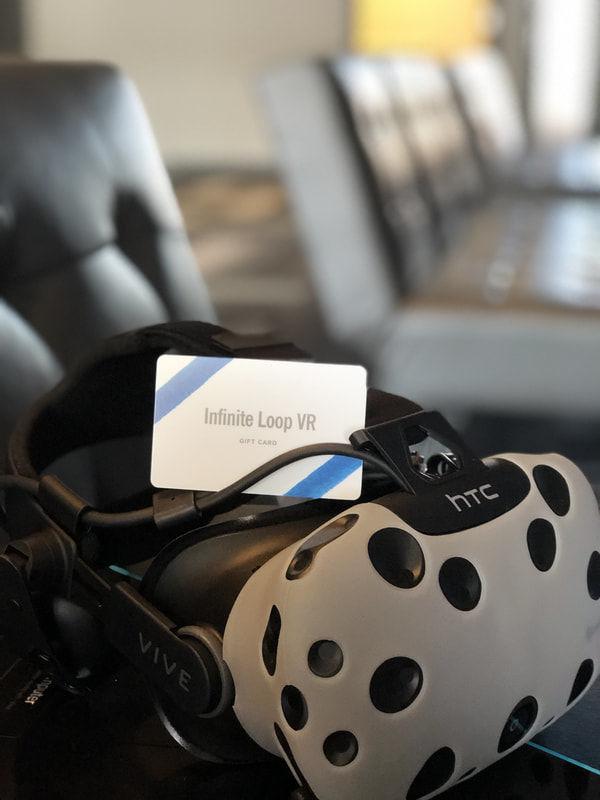 Each gaming session begins with a tutorial, so players know the basics going in. If you get stuck, an expert is always nearby to help navigate the virtual world – or let you know which button to press.
Players can voice chat and interact via wireless headsets, even if they're playing different games at different stations. And with 50-plus games in their library, including more than 20 multiplayer titles, you're sure to find something that suits your play style. Here are a few party favorites:
Simple and fun
One of the most popular games with the younger crowd is "Job Simulator."
Playing as a robot in the year 2050, the player visits a museum to learn what it was like for humans "to job." Select one of four career paths – car mechanic, convenience store clerk, gourmet chef or generic office cubicle worker – then complete a list of tasks.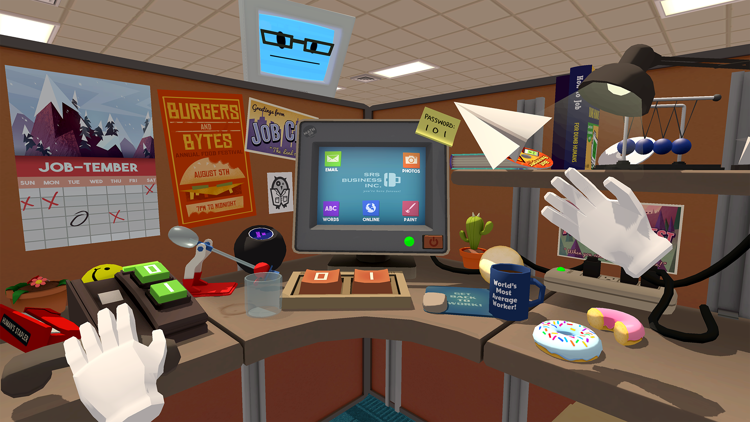 The tasks are simple – and often comical. For example, the office copy machine makes copies of literally anything – mugs, doughnuts, even your virtual brain.
"It's all really hilarious," Maddock says. "Kids love it because it's super interactive."
Hone your skills
Another popular title for kids, "Fruit Ninja," is easy at first.
Armed with a sword in each hand, your goal is to slice flying fruit."On Zen mode, it's definitely the easiest game we have," Maddock says.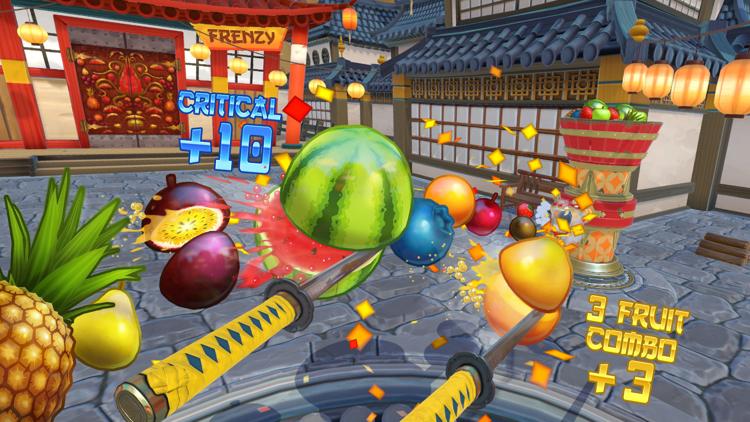 Increased difficulty modes add bombs into the mix, and survival mode pits the player against fruit-launching cannons. "Everyone seems to have fun with that game," Maddock says.
The rhythm game "Rythymatic" has a similar play mechanic, as the player slices blocks to the beat of music – with light sabers in lieu of swords.
"It's a mix between 'Fruit Ninja,' 'Guitar Hero' and Star Wars," Maddock says.
The next level
Partygoers looking for a little extra thrill can race each other in the driving simulators, play a few rounds of laser Tower Tag or even fight off a horde of zombies in a large free-roam area.
The racing stations have a classic arcade feel with the added dimension of VR, Maddock says. Vibrating seats and blowing fans make the hum of the engine and the wind feel all the more real.
Each experience has age recommendations, Maddock says. If needed, employees can set up individual stations to show only games rated for a certain age or younger.