Luke Didier, 2, is bringing the energy — running, laughing, slowing down just long enough to play a little catch before his dad's dental visit. It's not your typical waiting room atmosphere. Then again, this is not your typical waiting room.
The parking lot at Premier Dental in Omaha is bustling this particular Saturday morning. Dozens of people, including a few who camped out overnight, are sitting under large white tents, numbers in hand, ready to be called inside the clinic.
Some need a regular cleaning; others are here for a filling or tooth extraction. All are benefiting from Premier Dental's sixth annual Dentistry From the Heart, a charitable outreach that will serve, for free, almost 200 uninsured, underinsured or unemployed adult patients by day's end.
"Our goal is for every patient to feel special and welcomed," says Premier Dental's Alyssa Erdmann, DDS.
Luke's dad, Clay Didier, says that's why he has made the almost two-hour drive from Madison, Nebraska, for the last three years.
"It's the atmosphere and the family-oriented greetings," he says. "I never liked dentists until I came here."
Dan Beninato, DDS, opened Premier Dental in 2002. The clinic provides state-of-the-art cosmetic, general, neuromuscular and family dentistry to patients in Omaha, Lincoln and surrounding communities.
"I am the product of a lot of people who've helped me get to where I am now — no doubt about that," Dr. Beninato says.
Grateful for those who support him — and a strong believer in giving back to the community — Dr. Beninato has made charity one of the clinic's core values. He calls Dentistry From the Heart "our favorite day of the year" and a true team event.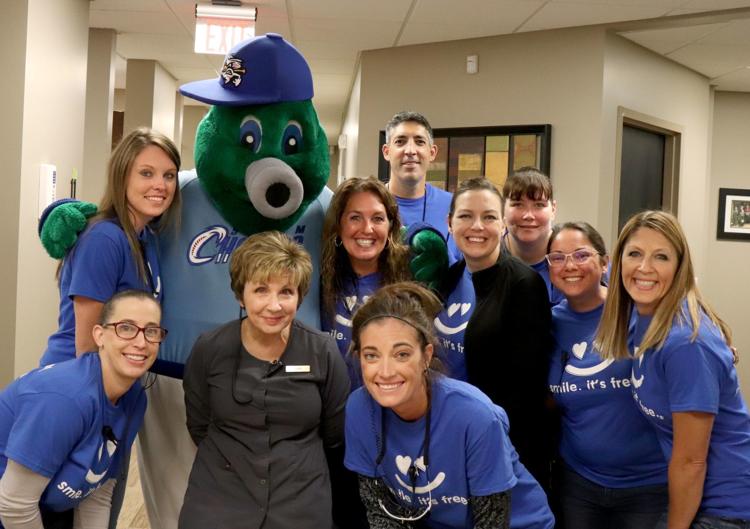 Dental assistant Shawna Hoeper, a 15-year employee at Premier Dental, has been involved in all six Dentistry From the Heart events.
"We've helped a lot of people," she says. "The excitement and the happiness from the patients and how they respond to us is very rewarding."
As numbers are called, some of the event's 75 volunteers, clad in matching blue T-shirts, take turns escorting patients into the clinic. Volunteer Reegan Stocker, a high school senior, says being part of the day is inspiring: "It's awesome to see everyone coming together for the greater good, doing something out of the kindness of their hearts."
The Premier Dental team has the process down, communicating through headsets to keep things flowing smoothly, enlisting partners to make the day extra-special: the American Red Cross brings its Bloodmobile for on-site donations; the Omaha Storm Chasers send their mascot, Stormy, to make the rounds; local radio station Power 106.9 broadcasts live segments from the event; and free Kona Ice refreshes the waiting patients.
Over the years, Dentistry From the Heart, which is supported by returning co-sponsors Kiewit Sons' Inc., Harcros Chemicals Inc. and Arbor Bank, has amassed more than $430,000 in free dental care for more than 940 residents and 92 units of blood donations for the Red Cross.
The event is just one way Premier Dental lives its core value of charity.
"We get into the schools," says Karla Stocker, Premier Dental's director of operations (and Reegan's mother). "We do oral hygiene education. We bring in our big tooth mascot; we sing with the kids; we bring toothbrushes and show them how to brush properly."
The staff also goes beyond our borders. Members of the Premier Dental team went on an inaugural mission trip to the Dominican Republic last October. A second mission trip is planned for 2020 in either the Dominican Republic or Costa Rica. The office helps fund the trips with its Fore a Cause golf tournaments and car washes.
"We have a very intentional culture. That's where the charity falls in. It's a large part of what we want our culture to be," Stocker says. "This gets filtered from the hearts of our owners. Charity is important to them."
To underscore that and further serve the community, Dr. Beninato worked to set up a dental clinic in north Omaha's Heart Ministry Center years ago.
"We're going to keep working on expanding our reach as best we can and seeing how many more people we can help," he says.
Outside of the office, Luke still hasn't slowed down. His dad, a longtime volunteer firefighter, knows what it means to give back and is grateful so many others are willing to do the same.
"I know it's a long day," Clay Didier says, "but your volunteerism is greatly appreciated by the people who come here."
Be the first to know
Get local news delivered to your inbox!