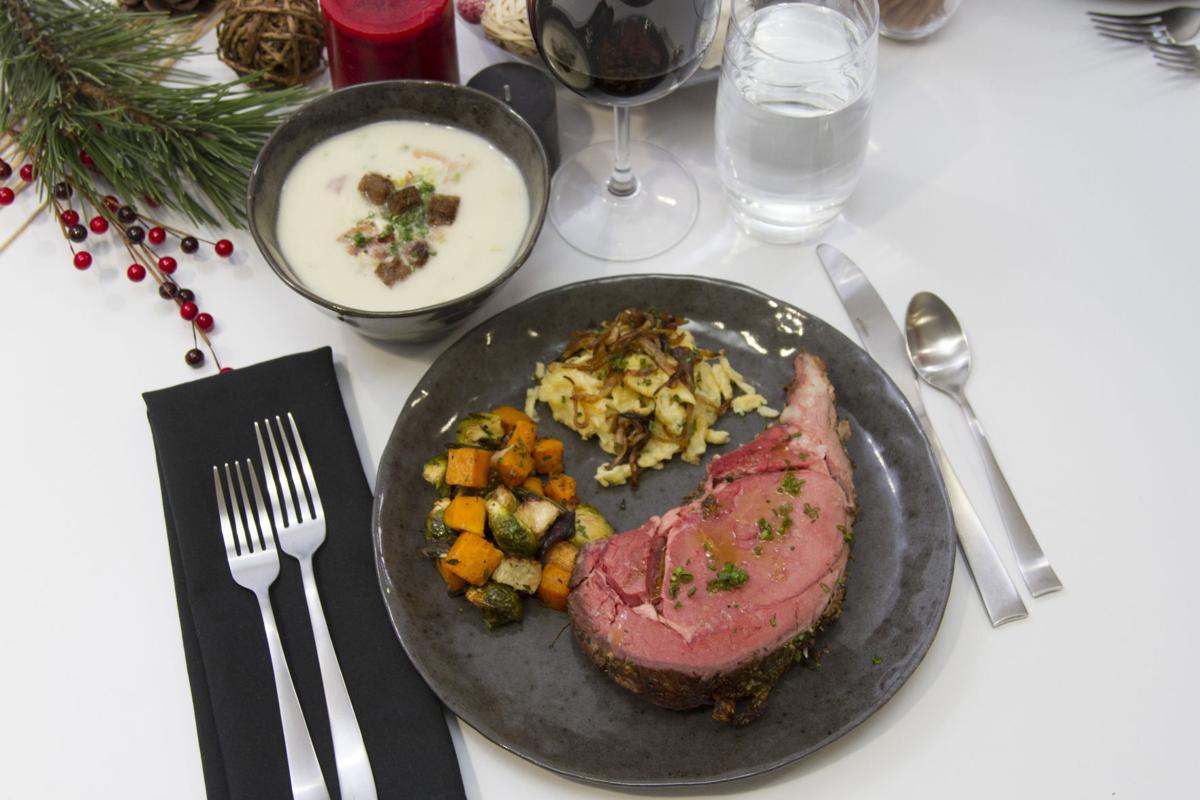 The holidays have arrived, and Certified Piedmontese is here to help you with the perfect meal.
Featuring our flavorful and tender Certified Piedmontese Standing Rib Roast, and some of our favorite sides, this holiday meal will surely be a favorite.
Certified Piedmontese Classic Herbed Prime Rib
1 Certified Piedmontese standing rib roast
2 tablespoons fresh rosemary, chopped
2 tablespoons fresh thyme leaves
2 tablespoons Italian parsley, chopped
2 tablespoons coarse sea salt
1 tablespoon coarse black pepper
2 tablespoons extra-virgin olive oil
1. Let the roast rest at room temperature for at least 30 minutes. Use a knife to remove the rib bones.
2. In a bowl, combine the rosemary, thyme, parsley, chopped garlic, salt, pepper and olive oil. Season the rib roast liberally with the spice mix. Preheat the oven to 485 F.
3. Lay the roast back on the bones and use butchers' twine to tie the bones back to the roast. Transfer the roast to the preheated, 485 F oven and roast for 20 minutes.
4. Reduce heat to 200 F and allow to slow roast for 1 hour. Use an instant-read thermometer to check the internal temperature of the roast every 20 minutes; it should not exceed 130 F.
5. Let the roast rest at least 20 minutes before slicing and serving.
Cheesy Swiss Spaetzle
2½ cups all-purpose flour
1 tablespoon chopped parsley, plus more for serving
1 tablespoon chopped chives, plus more for serving
4 tablespoons unsalted butter, divided
2 cups grated Gruyere cheese
1. In a mixing bowl, whisk together the eggs and milk.
2. Add the flour and continue to whisk vigorously to incorporate air into the batter. Add the herbs, salt and nutmeg and mix to combine.
3. Allow the batter to rest for at least 20 minutes.
4. In a skillet over medium-high heat, caramelize the onions in the butter and set aside.
5. Meanwhile, bring a large pot of salted water to a boil.
6. Through a food mill* or spaetzle maker, drop the batter into the boiling water. As the spaetzle start to float (after about 2 minutes), use a spider or large slotted spoon to transfer the spaetzle to a bowl. Add the remaining butter to the spaetzle and toss with the cheese. If it's too thick, add a little milk to thin out. Top with the caramelized onions and more fresh herbs.
*You can also use a colander to make spaetzle. Place a colander with large holes over a pot of boiling water and use a rubber spatula to press small amounts of the batter through the holes directly into the water.
Roasted Winter Vegetables
1 large sweet potato, peeled and diced large
2 cups Brussels sprouts, trimmed and halved
1 bulb kohlrabi, diced large
1 cup butternut squash, diced large
2 cups green beans, sliced into 1-inch pieces
2 tablespoons extra-virgin olive oil
Salt and pepper, to taste
1. Preheat the oven to 400 F. Transfer a large cast-iron skillet to the oven as it preheats. In a large bowl, toss all cleaned and prepped vegetables with olive oil, salt, pepper and thyme.
2. Transfer the vegetables to the preheated cast iron pan and roast in the oven for 20 to 30 minutes, or until everything is dark golden brown, stirring occasionally while roasting.
Real Nebraska beef raised in the Midwest, Certified Piedmontese is a healthier option that's naturally leaner, more tender and flavorful — it's what beef really tastes like. Learn more at piedmontese.com.