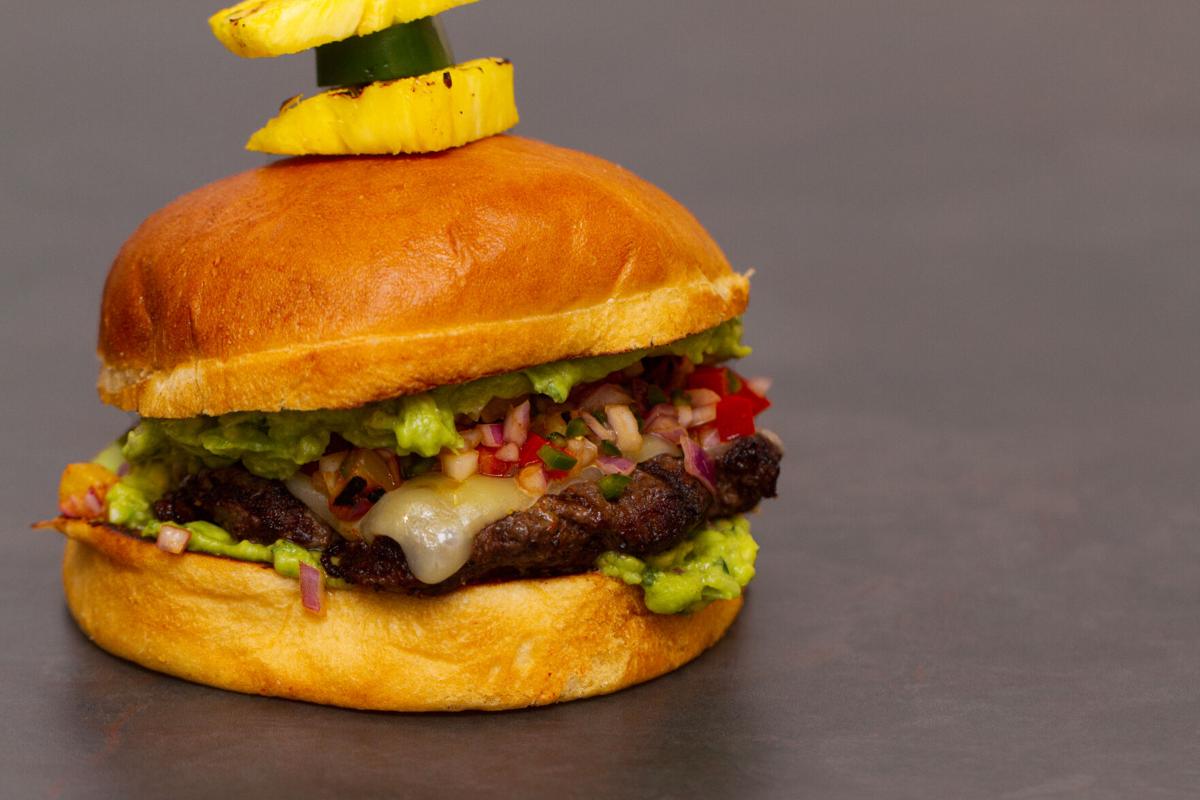 Start your summer strong and grill it out of the park with this Certified Piedmontese Tiki Burger.
Packed with yummy, fresh ingredients paired with delicious Certified Piedmontese beef, this burger will have them asking for seconds. Tangy pineapple and juicy beef—what are you waiting for?
Ingredients
• 1 lb Certified Piedmontese 85% lean ground beef
• 4 slice pepper jack cheese
• 4 (4-inch) buns from your local bakery
• guacamole (recipe as follows)
• grilled pineapple salsa (recipe as follows)
Grilled Pineapple Salsa
• 1 ripe pineapple, bottom, top, and skin removed, sliced into ½-inch thick slices
• ½ red onion, finely diced
• 1 red bell pepper, ribs and seeds removed, finely diced
• 1 to 2 jalapeños, finely diced
Directions
On a preheated grill grate or in a pan over high heat, sear the pineapple slices on both sides until golden. Transfer to a cutting board, let cool, and dice into ¼-inch pieces (removing the hard core). In a bowl, combine diced pineapple, onion, bell pepper, jalapeños, and lime juice. Add honey, cayenne pepper, cider vinegar, salt, pepper and mix well. Cover and refrigerate until ready to use. (Tastes best when made one or two days ahead of time)
Guacamole
• ¼ cup of finely chopped red onion
• 1 small jalapeño, core, ribs, and seeds removed
• 2 avocados, peeled and pitted
• salt and pepper, to taste
Directions
In a bowl, combine the ingredients and mash together. Adjust salt and pepper to taste. Add a couple slices of fresh lime to the top, cover well, and refrigerate until ready to use. (Can be made up to one day ahead)
Burger
Divide the ground beef into four (4-ounce) patties and form into 5-inch patties, slightly larger than the buns. Cook burgers over high heat to desired doneness. Top with pepper jack cheese and remove from heat. Butter and toast buns. Spread guacamole on the top and bottom of buns. Place cheeseburger on bun and top with a generous portion of Grilled Pineapple Salsa.
Real Nebraska beef raised in the Midwest, Certified Piedmontese is a healthier option that's naturally leaner, more tender and flavorful — it's what beef really tastes like. Learn more at piedmontese.com.