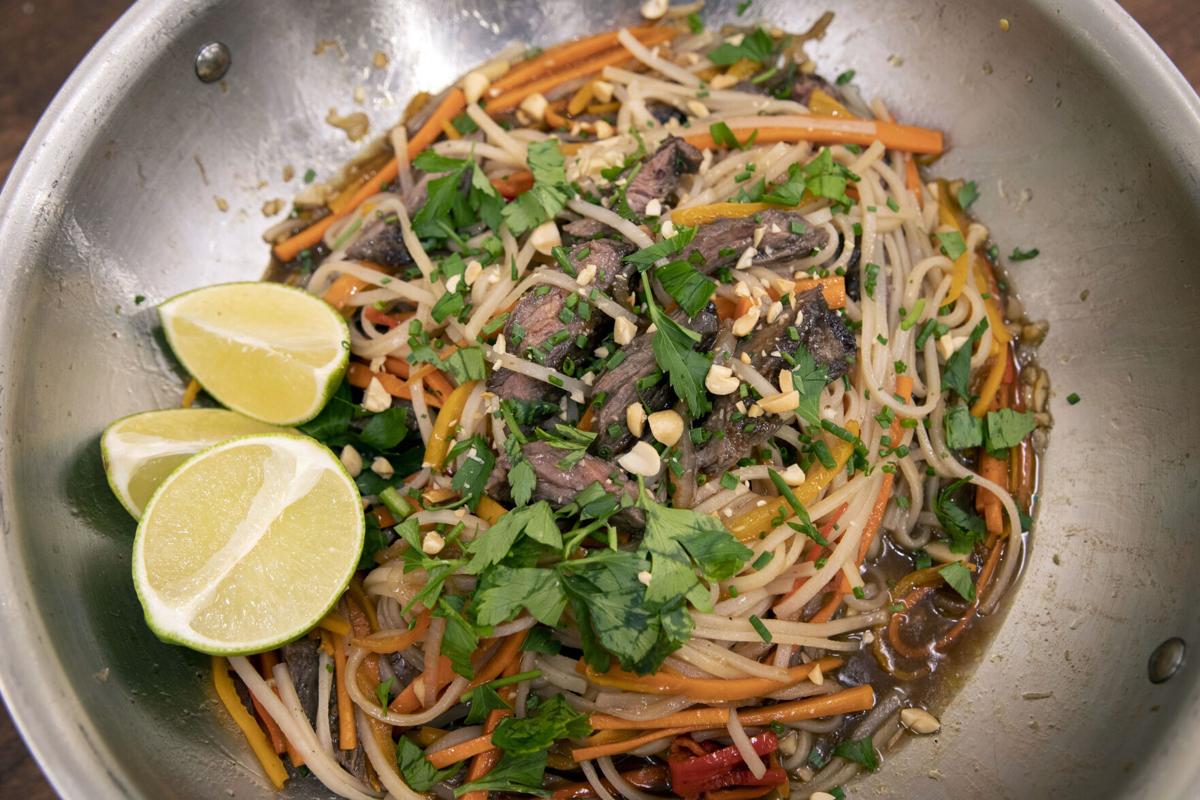 Ever wanted to try something new with your stir fry beef, skirt steak, or have a way to revamp your Certified Piedmontese leftovers? This Steak Pad Thai might be the next family favorite in your house.
Ingredients
For stir fry
4oz dried flat rice noodles
1 package Certified Piedmontese leftover Skirt Steak or Stir Fry beef
2 tablespoons vegetable oil (or canola oil)
For sauce
3 tablespoons packed brown sugar
1 tablespoon rice wine vinegar
For garnish
Directions
In a large bowl, soak rice noodles in warm tap water until softened and opaque.
Meanwhile, cut shallots into thin slices.
Cut carrots into thin ribbons using a vegetable peeler. (It cooks the carrots much faster, but you can simply cut them into long thin strips too.)
Chop sweet peppers into long thin strips.
Thinly slice leftover steaks or Certified Piedmontese Skirt Steak
To make the Pad Thai Sauce, in a small bowl, mix sugar, and hot water and stir until sugar is mostly dissolved. Stir in the remaining sauce ingredients.
Arrange everything by the stove before starting to cook.
To cook the Pad Thai, heat a large skillet, or wok, over medium-high heat. When the skillet is hot, add oil.
When oil is shimmering, add shallots and cook for 1 minute, stirring frequently.
Add carrots, sweet peppers, and garlic. Cook for about 2 minutes, or until carrots are softened.
Pour in Pad Thai sauce and cook for 1 minute.
Add soaked rice noodles and steak slices and continue to cook until meat is heated through.
When you are ready to serve, stir in chopped cilantro, chopped peanuts and chives. Serve immediately with lime wedges on the side.
Real Nebraska beef raised in the Midwest, Certified Piedmontese is a healthier option that's naturally leaner, more tender and flavorful — it's what beef really tastes like. Learn more at piedmontese.com.