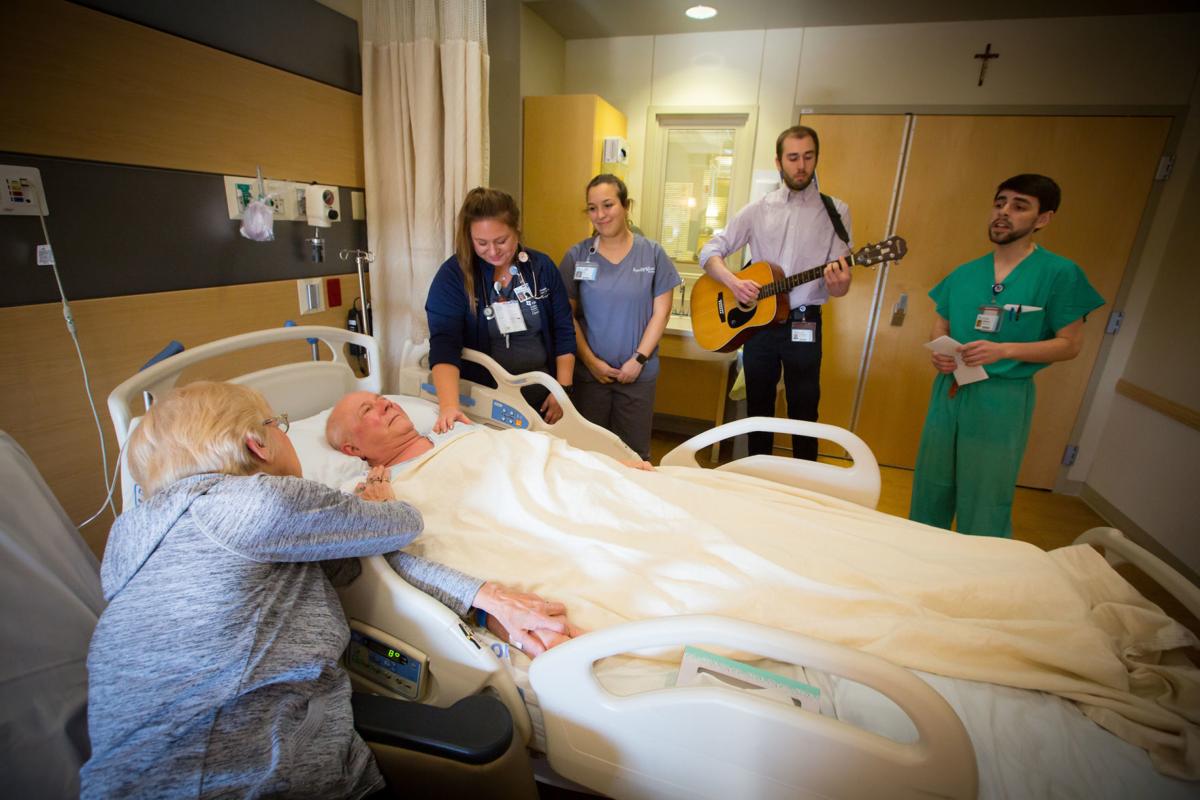 The students had to approach the situation delicately.
Their patient was opposed to hospice, but as an elderly woman newly diagnosed with heart failure, she would likely require extensive medical care moving forward.
For Frannie Eisenhauer, a senior undergraduate from Beverly Shores, Indiana, studying social work at Creighton University, the task ahead boiled down to a single goal: Directing the conversation. "We're saying that (going home) probably isn't the safest option right now. Our goal is to keep you safe and as independent as we can. We want to preserve your dignity, and also take care of you."
The exchange, a video conference between the patient and her health care team, was a simulated exercise in Creighton's IPE 515 course, Interprofessional Palliative Care. In the cross-disciplinary course, students from various academic backgrounds — medicine, nursing, pharmacy, social work and more — engage in live-action scenarios, working in teams to make treatment decisions for patients played by actors.
"Teaching strategies within the course are founded on our Ignatian tradition of discernment, problem-solving and caring for the whole person, cura personalis, which really is the essence of palliative care," said Mandy Kirkpatrick, Ph.D., BSN'05, assistant professor in Creighton's College of Nursing. She helped develop IPE 515 alongside colleagues in the College of Nursing, School of Pharmacy and Health Professions and partners at CHI Health.
The course is just one way in which Creighton is training tomorrow's health professionals in the field of palliative care, an area of health care that aligns  with the University's unique spiritual mission.
"Palliative medicine is a natural fit for Creighton because of our Jesuit, Catholic values," said Robert "Bo" Dunlay, MD'81, dean of Creighton's School of Medicine. "This is a part of cura personalis, (the Jesuit charism meaning) care for each individual patient as a gift from God, with unique spiritual, emotional and physical needs."
At its core, palliative medicine is an interdisciplinary approach to treating patients with chronic, sometimes life-threatening medical conditions, said Kathleen McKillip, M.D., BA'09, assistant professor of palliative medicine at Creighton and a physician on the palliative care team at CHI Health Creighton University Medical Center — Bergan Mercy.
While most associate palliative medicine with hospice and end-of-life care, ideally, the palliative approach begins much earlier in a patient's health care journey, McKillip said.
"Palliative care is, by its nature, interdisciplinary or interprofessional, which means it's not just one clinical expert, it's a team of experts," she said. "You bring the expertise of people in nursing, in social work, in pastoral care, in pharmacy, in wound care, together. They're all thinking about how to problem-solve in helping this person live as well as they can for as long as they can."
At Creighton, this cross disciplinary approach plays out among the University's colleges, schools and academic departments. The College of Nursing is currently assembling a team of expert faculty focused specifically on palliative care, said Dean Catherine Todero, Ph.D., BSN'72, who also serves as vice provost of Health Sciences Campuses at Creighton.
The team includes Kirkpatrick, who was selected this year for the Josiah Macy Jr. Foundation's Faculty Scholars program; Heather "Hez" Naylor, BSN'03, a pain management specialist with Creighton University Health Sciences — Phoenix Campus; Keshia Kotula, MSN, RN, whose research interests include the effects of palliative and critical care models on patient caregivers; and Meghan Walker Potthoff, Ph.D., BSN'01, associate professor in the College of Nursing who studies pediatric palliative care.
Potthoff, the first Lenke Family Scholar in the College of Nursing's new Center for Faculty Innovation, Research and Education (FIRE), focuses her research on parents of children with long-term illnesses. She has witnessed firsthand the importance of developing a coordinated treatment plan that takes into account not only the patients' needs, but the needs of their caregivers.
"When you have any exposure to families that have had to make these decisions about supporting their child through an illness that has life-limiting potential, the nurse's tendency is to want to make an unimaginable experience somewhat tolerable or better for the family," Potthoff said. "Palliative care has a foundation similar to the nursing foundation of identifying the needs of our patients and their families. It really marries well with the nursing idea of individualizing care."
In the School of Medicine, palliative medical education is supported in part by the Cudahy Palliative Care Scholarship, established by alumnus Terence Cudahy, BS'78, MD'82. Dunlay said he hopes this and similar initiatives can push Creighton to become a leader in educating palliative care practitioners who have a strong foundation in the medical humanities.
In her classroom work, McKillip also partners with Creighton faculty outside of the health professions to more fully explore the idea of individualized "whole-person care" through the humanities. In one course, taught alongside Department of English faculty from Creighton's College of Arts and Sciences, McKillip's students explore the concept of quality of life through narratives written by neurodiverse people. Initiatives like these are complemented by student-led efforts, such as Cura Musicalis, in which School of Medicine students engage patients at the bedside through music.
"Our methods of instruction and examination in health care have frequently been a multiple-choice approach: Find the diagnosis, match it with the treatment. In our human-lived experience, it's so much more complicated," McKillip said. "I think (at Creighton), we're in a unique situation to be able to develop some clinical academic partnerships that have the potential to impact a lot of people's lives in a positive way."
Creighton University offers a top-ranked education in the Jesuit, Catholic tradition — and a welcoming, supportive environment to a diverse community of educators, professionals and support staff. In the process of applying to college? Read "8 things every college applicant should know."
Be the first to know
Get local news delivered to your inbox!