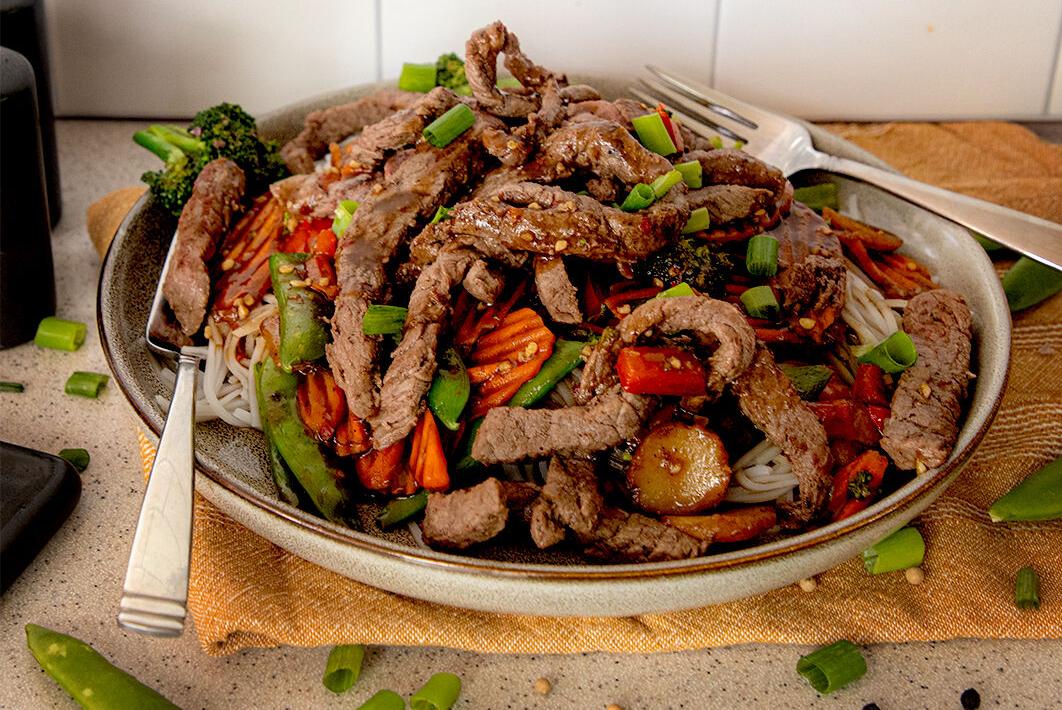 Tired of the same old meals, week after week?
Bring a little variety to your plate with new flavors and a homemade teriyaki sauce: Teriyaki Stir Fry.
This healthy meal uses Certified Piedmontese Grass Fed, Grass Finished line Stir Fry Beef. Make it healthier with even more beef and vegetables, or use rice noodles to make it comfort food. 
Ingredients
Stir Fry:
• 1 pound Certified Piedmontese Grass Fed, Grass Finished line Stir Fry Beef
• ½ teaspoon ground black pepper
• 1 tablespoon extra-virgin olive oil divided
• 1 red bell pepper cored and cut into thin slices
• 3 cups chopped mixed vegetables of choice such as broccoli, snap peas, or carrots
• 1 8-ounce can sliced water chestnuts (drained)
• 3 medium green onions finely chopped (divided)
• 1 tablespoon sesame seeds optional
• Prepared brown rice quinoa, noodles, or cauliflower rice (for serving)
Teriyaki Sauce:
• 1/3 cup low-sodium soy sauce
• 3 tablespoons pure maple syrup
• 1 tablespoon rice vinegar
• 1 tablespoon minced garlic
• 1 tablespoon minced ginger
• 1/4 teaspoon red pepper flakes (plus additional to taste)
• 1 tablespoon cornstarch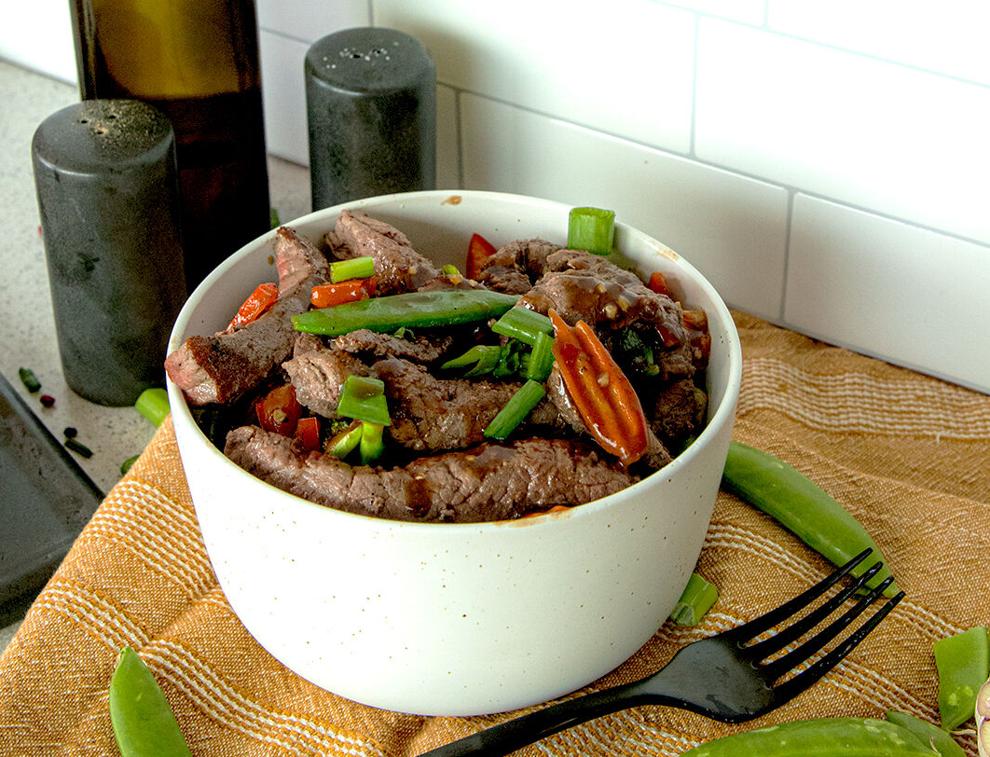 Instructions
1. Place the beef in a bowl and top with 1 tablespoon soy sauce and black pepper. Stir to coat then set aside to marinade while you prepare the rest of the ingredients.
2. Prepare the sauce: In a medium mixing bowl or large measuring cup, stir together the soy sauce, water, maple syrup, rice vinegar, garlic, ginger, red pepper flakes, and cornstarch. Set aside.
3. Continue with the stir fry: In a large, deep sauté pan or wok, heat 1/2 tablespoon oil over medium-high heat. Once the oil is hot but not smoking, add the beef. Cook until the beef is browned on all sides and fully cooked through, about 4 minutes. Remove the beef and any juices that have collected in the skillet to a plate and set aside.
4. Heat the remaining 1/2 tablespoon oil. Add the bell pepper and other vegetables. Cook for 4 minutes, or until slightly softened and lightly browned.
5. When the vegetables are ready, add the water chestnuts and return the beef and juices to the pan. Pour in the sauce and toss to coat. Let simmer 3 to 4 minutes to thicken and warm the beef through. Stir in about half of the green onions. Sprinkle the sesame seeds and remaining green onions over the top. Serve warm, with additional red pepper flakes and/or soy sauce as desired. Enjoy!
Real Nebraska beef raised in the Midwest, Certified Piedmontese is a healthier option that's naturally leaner, more tender and flavorful — it's what beef really tastes like. Learn more at piedmontese.com.