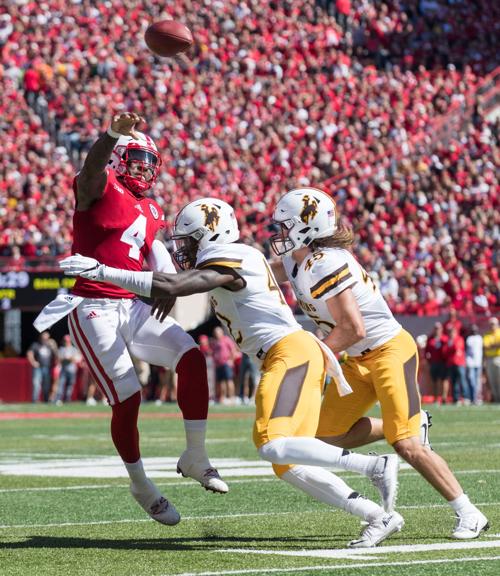 LINCOLN — Bring it, Donald Duck.
Mike Riley's Civil War is over. The final score was Oregon 10, Riley's Oregon State Beavers 4.
No, it wasn't like Oregon's Ducks dominated OSU while Riley was in black and orange. But they got more than their share of the in-state rivalry dubbed the "Civil War."
Twice, in 2008 and 2009, the end-of-the-season game decided who would go to the Rose Bowl. The Quacks won both.
Meanwhile, Riley had to watch from nearby Corvallis while the Ducks became a national brand, playing in two national championship games and sending coach Chip Kelly to the NFL.
Riley made out OK. He's at Nebraska now, and guess who's coming to town next Saturday at Memorial Stadium? The Duck Dynasty.
It's a delicious setup for Riley, who never faced Oregon with this many skill players on his sideline or in front of 90,000 fanatics who aren't exactly making duck calls.
"It's an exciting time," Riley said. "Being who they are and what they mean nationally and where we want to go, this is exciting."
But how much excitement can a Husker fan stand, anyway?
As much as Riley wants to show Oregon what he can do with Nebraska toys, Husker fans crave that brand-name win. Yes, there was Michigan State last year. But this would be in Week 3, in September, when momentum and hope are still fresh.
The next three weeks — Oregon, at Northwestern, Illinois — loom like a season barometer. Win all three and NU is 5-0 going to a bye week.
But as we saw Saturday, there are no guarantees.
Indeed, imagine what Oregon coach Mark Helfrich will think when he sees the Nebraska-Wyoming tape: 1. These guys are loaded with weapons or 2. They might shoot themselves in the foot first.
The Huskers flashed both sides of their split personality on Saturday, a day of hope, frustration and ultimately a 52-17 victory — a score that did not reflect the struggle.
One week after NU tattooed Fresno State into the turf, Wyoming sent a blitzkrieg to stop the Husker run game. So Danny Langsdorf's Flying Circus returned to the high wire.
The adjustment showed some stuff that will keep Oregon defensive coordinator Brady Hoke up this week: 550 yards offense, with 412 coming in the air.
On a day he became NU's all-time leader in touchdown passes, quarterback Tommy Armstrong was generally Good Tommy.
He was 20 for 34 with three touchdown strikes and another on the ground. When he was dealing, he executed screen plays efficiently and there was that neat little sleight-of-handoff to tight end Cethan Carter. Meanwhile, Jordan Westerkamp, Alonzo Moore and Brandon Reilly worked the trapeze.
Talk about messages. The Blackshirts came away with five interceptions. The front four, battered and young, came to play as line coach John Parrella turned Carlos Davis and Kevin Maurice loose on the Cowboys.
Lots and lots of good stuff. And yet ...
You knew there was an "And yet …"
Seven penalties. This bunch always seems good for at least seven penalties. Mind-numbing stuff. An extra push for a quarterback or receiver already out of bounds. Putting the ball in an opponent's face after an interception.
Holding and illegal block penalties that erased big plays and killed momentum.
And on one of Armstrong's best days running the offense — when he received his first game ball — the topic of conversation was his incredulous interception early in the second quarter. On first and goal at the Wyoming 5, Armstrong rolled out and threw directly into a trio of Cowboy defenders in front of Carter on the goal line.
Pardon the obsession with mistakes, but Nebraskans are obsessed with getting back on college football's radar. These are the sorts of plays that have gotten in the way time and time again.
And don't think the coaches don't know it.
"I don't know how many we gave back," Langsdorf said. "It seemed like we could have had two more touchdowns. You can't do that against good teams."
Especially good teams like Oregon, which score so frequently they put pressure on you to keep pace.
Nebraska kept playing with fire on Saturday. Giving up a touchdown pass just before halftime. A fake punt that fell short at midfield with a 17-10 lead. But Wyoming couldn't run, and quarterback Josh Allen wasn't up to the task.
The Huskers' secondary is improved. Next game we'll see how much.
But now this isn't just about next week. What we saw Saturday was perhaps a formula for this season, a formula for both victory and disaster.
This Big Red Machine has jets but still sputters and coughs. Riley talks each week about cleaning up the mistakes. This is a recording. That was the plan all spring. Last year. The year before and before that.
At some point, you are what you do over and over.
There are bad habits ingrained here, and this isn't just on the previous staff's tab. Riley and Co. have had a year to pound discipline into this team. Clearly, it's not there yet. And it's hard to see it changing anytime soon.
On Saturday, the Huskers had more playmakers and plays than Wyoming, enough to overcome the mistakes. More high-wire skill and talent to overshadow the clown moments.
But what happens when the schedule gets tougher, and the talent and physicality and speed even out?
Can the relentless number of weapons Langsdorf can roll out each week carry the day — week after week?
We start to find out next Saturday, in a delicious matchup where old nemesis meets new environment. For this event, the menu is already set.