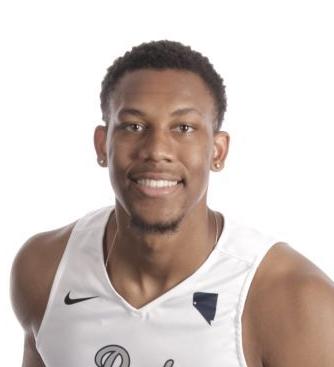 There were moments during the recent Detroit Pistons minicamp when Tre'Shawn Thurman caught himself marveling at the three fellow Omahans he has known since childhood.
Look how far they've come.
Thurman was zipping passes to Khyri Thomas and watching the former Omaha Benson star go to work. There was Justin Patton, the big man out of Omaha North, showcasing his agility and mobility — though Patton injured his finger midway through the three-week camp.
And Tra-Deon Hollins. He and Thurman played together last year for the Grand Rapids Drive, Detroit's G League squad. Both suited up for UNO and Omaha Central.
They know each other's game well, but even Hollins made plays on the court last month that left Thurman thinking about the evolution of the competitive point guard.
"Everyone's game has grown so much since we were in high school," Thurman said. "Obviously, we know each other personally and stuff — but to be on the court with these guys, it's almost like being on the court with them for the first time. Everyone's so much better than what they have been."
But they weren't at an NBA practice facility just so they could reminisce.
The four had business to take care of.
Since Detroit didn't earn a spot in the NBA's restart bubble in Orlando this summer, it was allowed to create its own controlled environment to evaluate a young roster with practices and workouts. It was prove-yourself time.
Thomas' rookie deal could expire in November. Patton just signed with the Pistons in June. Thurman and Hollins were one of five G League players invited to camp — and neither is certain what's next.
"Nothing is promised," Hollins said. "But I can't say I was nervous or I approached it any differently. One thing I've taken from coaches growing up is to control what you can control. That's what I did. I worked hard, smiled and tried to be the first one to the bus."
Hollins spent much of September ramping up his workouts to prepare for this opportunity. Same for Thurman.
When the pandemic shut down sports last spring, plans become unclear. Even this week, the New York Post reported that the NBA is considering canceling the 2020-21 G League season, possibly expanding each team's roster instead. There had been reports that the G League might form its own bubble this winter for a tournament.
Hollins is ready for anything.
"You never know," he said. "I'm definitely going to be hitting it hard just in case something is around the corner."
Maybe an opportunity arises suddenly, like the Pistons' minicamp. In that case, Hollins was on a plane about three days after receiving the invite.
The players got a couple of COVID-19 tests and quarantined for 48 hours. Then they were locked in. They didn't leave the Detroit bubble for several weeks, shuttled by bus between the practice facility and their hotel.
Hollins brought some puzzles to help eat some of the downtime. He binged a few shows on Netflix.
The NFL and NBA playoffs kept Thurman entertained. He worked in time for video games, as well.
But neither had any complaints.
They were just glad to compete, especially since they could also represent Omaha with a couple of other hometown standouts.
"A lot of the (Pistons) players didn't understand what was happening until midway through the camp," Thurman said. "But they were like, 'Man, that's rare, to have four people from the same area here, on the same team.' It was fun."
Thomas, who won two Big East defensive player of the year awards at Creighton, made the most out of his minicamp. He's working to earn a spot in a deep position group. Pistons coach Dwane Casey said: "Khyri has made a good case for himself in these three weeks that we've been together."
Detroit announced Sept. 23 that Patton, the No. 16 overall draft pick in 2017 following one season at Creighton, underwent surgery on his right pinky finger.
Photos: Leading scorers for Creighton men's basketball since 2000
Who has paced the Creighton offense over the last several years? Find out in our gallery of the Jays' top scorers since 2000. 
Be the first to know
Get local news delivered to your inbox!