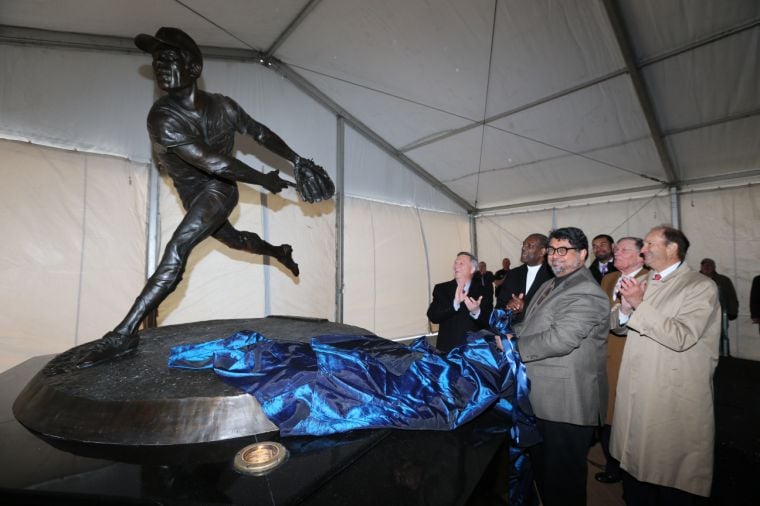 Bob Gibson got more than a statue Thursday.
On an unseasonably cold day, in a ceremony under the protection of a party tent, the Omaha-raised Hall of Fame pitcher received a warm reception from friends, family and fans.
A statue of Gibson, one of the game's most legendary performers, will greet fans attending games at Werner Park, west of Papillion, the home of the Omaha Storm Chasers baseball team.
Gibson, a longtime Sarpy County resident, told the audience he was lost for words.
"This is really wonderful," he said. "I've said before that baseball has provided me with a wonderful life. I've met wonderful people, and I got inducted into the Hall of Fame. I didn't think things could ever get any better, but it's getting better by the day."
Those in attendance among an estimated 300 included Major League Baseball Commissioner Bud Selig, Omaha investor Warren Buffett, St. Louis Cardinals Chairman Bill DeWitt Jr., and three of Gibson's most prominent Cardinals teammates: Joe Torre, who later had a legendary managerial career and now works for the commissioner's office; Bill White, who later became president of the National League; and Tim McCarver, who became one of the game's premier broadcasters.
Buffett and C.L. Werner were the initial contributors to fund the project.
Selig, in his remarks to the crowd, said, "38 years after he threw his last pitch in the major leagues, the name Bob Gibson continues to conjure up magic to everyone in the baseball world."
Buffett, a longtime friend of Gibson's, said that the only fitting complement to the statue of Gibson would have been a statue of a terrified hitter.
Gov. Dave Heineman read a proclamation declaring it Bob Gibson Day in Nebraska.
Gibson, 77, was 251-174 in his 17-year career with the Cardinals, with a 2.91 ERA and 3,117 strikeouts.
He had one of the greatest seasons ever compiled by a pitcher in 1968, when he was 22-9 with a record-setting 1.12 ERA and league-leading totals of 13 shutouts and 268 strikeouts. He was named the National League's Most Valuable Player and won its Cy Young Award that season.
New standards, also known as the "Gibson Rules," went into effect in 1969, lowering the height of the mound from 15 inches to 10 and shrinking the size of the strike zone.
Gibson was also known for his competitive nature and for his determination to own the inside part of the strike zone. Pity the batter who dug into the batter's box to face him.
Sculptor Littleton Alston said he wanted to capture Gibson's physicality and strength in the statue.
"Remember this is a man who changed baseball, simply because he was that great," Alston said. "You see (in the statue) the explosive nature, but also the balance and grace. He looks as though he's in a sublime moment, in which he's utterly concentrating. That's what I was after."
Also the Cy Young winner in 1970, Gibson is perhaps remembered most for his World Series brilliance.
Appearing in the 1964, 1967 and 1968 Fall Classics, he compiled a 7-2 record with a 1.89 ERA and was the MVP of both Cardinals title seasons, 1964 and 1967, while winning the deciding Game 7 each year. In the 1967 series, he won all three of his starts. In 1968, he struck out a series-record 17 in Game 1 against the Detroit Tigers.
"With a Hall of Fame plaque, he is among the top 1 percent who have ever played the game, but as the domination of his plaque suggests, Bob Gibson was better than just the top 1 percent," said Brad Horn, senior director of communications and education for the National Baseball Hall of Fame and Museum. "He was among the game's all-time elite."
Alston, who spent a year on the 8-foot, 1,000-pound bronze statue, said he was challenged as an African-American sculptor to portray "a hero." Gibson rose to prominence during a turbulent time of changing racial attitudes in America.
"It was a very interesting and very powerful experience," Alston said of the project.
The statue is the first of what officials hope is a walk of fame dedicated to Nebraska natives in the Hall of Fame, a list that includes Grover Cleveland Alexander, Richie Ashburn, Wade Boggs, Sam Crawford and Billy Southworth.
"We take this very seriously," said Martie Cordaro, president and general manager of the Storm Chasers. "And we'll make sure that it's important for many, many, many decades to come."
>> Video: Bob Gibson, Warren Buffett speak during ceremony unveiling Gibson statue:
>> Video: Former players Tim McCarver and Bill White speak at Wednesday's Bob Gibson tribute: