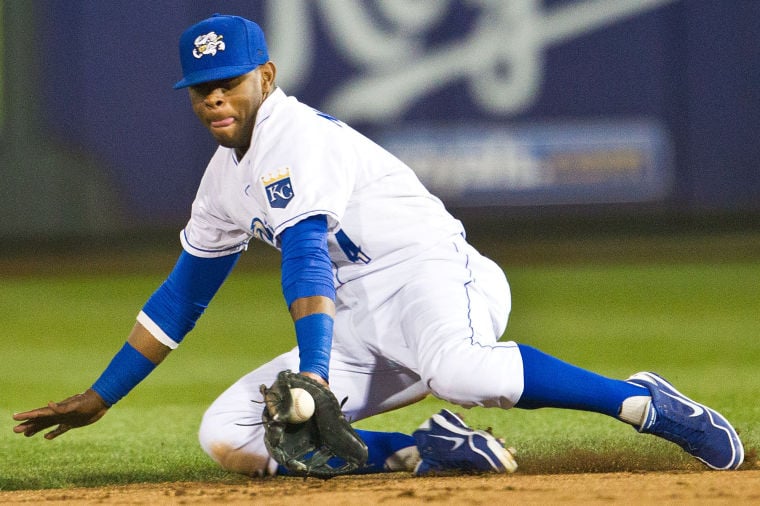 No wonder Omaha finished below .500 during the regular season.
How could the Storm Chasers have been at their best when Lane Adams, Rey Navarro and Spencer Patton spent the entire regular season in Class AA or lower?
Kidding aside, there is no denying the impact that Adams, Navarro and Patton — all promoted from Class AA Northwest Arkansas to fill holes on Omaha's playoff roster — had during the Chasers' first-round sweep of Oklahoma City in the PCL playoffs.
And who knows what else could be in store as Omaha prepares to play Salt Lake in the best-of-five PCL championship series, with Games 1 and 2 set for 7:05 p.m. starts Tuesday and Wednesday at Werner Park?
"There's no doubt they really helped us," Chasers manager Mike Jirschele said.
Adams started all three games in left field, went 3 for 11 (.273) and scored three runs. His speed and hustle on the bases contributed to an infield hit, a triple, a stolen base and two throwing errors, and in the outfield led to a couple of fine running catches.
Navarro started the second and third games of the series at third base and drove in three runs (best on the team until the series-clinching, three-run homer by Gorkys Hernandez gave Hernandez four) while hitting .375 (3 for 8), also second behind Hernandez.
And the unheralded Patton pitched 2 1⁄3 scoreless relief innings in Friday's series clincher, keeping Omaha in position to rally from a 6-2 deficit to win 7-6 on the Hernandez homer.
Roles could change for the championship series, as pitcher Everett Teaford (hand) and left fielder Brian Fletcher (wrist) try to get healthy enough to play after going on the disabled list for the first round.
If not, Jirschele feels good about the options the Kansas City organization has provided.
Adams, 23, hit a combined .265 with 12 homers, 65 RBIs and 38 stolen bases in a season that started at high Class A Wilmington. His 44-game stint at Northwest Arkansas included a three-homer game.
Adams, who signed out of high school as a 13th-round pick from Red Oak, Okla., in 2009, said he was excited to get a chance to join the team in Oklahoma City to start the series in his home state.
And he said he didn't realize he'd be playing a prominent role with Omaha.
"I had no idea until I walked into the clubhouse in Oklahoma City and I looked at the lineup," said Adams, who batted seventh in Game 1 and then moved to the No. 5 spot in the order. "I thought I'd come up and pinch-run every now and then, and then when I realized they'd called up six guys I thought maybe I'd get an at-bat or something."
Navarro, 23, spent the end of the 2012 season and the 2012 playoffs with Omaha. He hit .300 in 17 regular-season games, then hit .324 with a .452 on-base percentage in nine playoff games.
But there was no room for him in Omaha during the regular season this year because of the organization's surplus of older utility infielders.
"We've seen Rey-Rey, and we know he can hit," Jirschele said. "He gives you good at-bats."
A year ago, the 25-year-old Patton was repeating the rookie-level Pioneer League in Idaho Falls, where he was 0-7 with a 6.32 ERA — despite a 84 strikeouts in 57 innings.
Converted to almost exclusively being used out of the bullpen in 2013, the right-hander picked in the 24th round in 2011 from Southern Illinois-Edwardsville took off, going a combined 5-2 with a 1.96 ERA between Wilmington and Northwest Arkansas while striking out 103 in 82 1⁄3 innings.
But often Class AAA is a different story. Patton tried not to think too much about it in his Friday debut.
"I'd be lying if I said I wasn't a little bit nervous," Patton said. "But I told myself that it's the same game no matter where you go. You've just got to go out and make quality pitches."
So Adams, Navarro and Patton were in the postgame celebration Friday with teammates they had just joined. Their run at the Texas League playoffs came up just short, but it opened up another opportunity for them.
"The whole time we were in there spraying champagne, I just thought about what our pitching coach in Northwest had been saying," Patton said. "He said if we get in the playoffs and spray champagne — no goggles. Feel that sting in your eyes. That sting is victory. To be able to do that with these guys is pretty awesome."