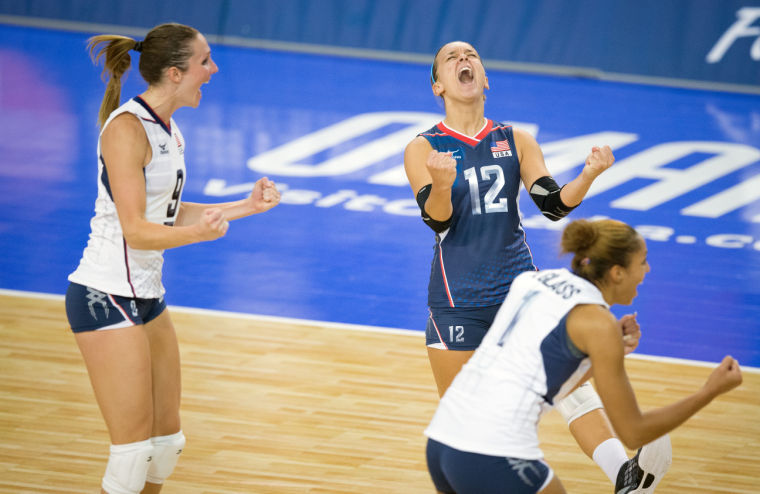 Unlike its first two matches at the NORCECA Continental Championship, the U.S. had some tense moments — early at least — in the semifinals against Canada.
"We're still trying to work through some things," outside hitter Jordan Larson-Burbach said. "Canada served tough and got us down a little bit. We're still working on embracing adversity … and they gave it to us."
The second-ranked Americans, who had given up 32 and 34 points total in winning their pool matches, eventually emerged with a 25-22, 25-14, 25-15 victory over their 23rd-ranked opponent Friday night in front of 2,500 at the Ralston Arena.
"I thought Canada came out and did a real nice job attacking us, especially at the service line, and we didn't handle it all that well," U.S. coach Karch Kiraly said. "That's actually our game plan. We want to be attacking every opponent we face. I felt like we were waiting for them to make some errors and they didn't. They played some nice, clean volleyball."
Paced by five early kills from former UCLA outside hitter Tabitha Love, Canada played with inspiration.
"We started really strong," Canadian captain Brittney Page said. "We were really precise and crisp. But we just let it deteriorate and they maintained their level and ran away with it."
The U.S. trailed 8-6 at the first technical timeout and took a 16-15 lead at the second.
"Halfway through the first (set), (we started) dialing up the volume on our service pressure and hitting the right targets," Kiraly said. "We were serving their libero too much, we were serving their strong passers too much and their less-strong passers not enough. … Once we started serving harder to the right spots, more scoring opportunities came."
The Americans forged in front 22-21 on a kill from setter Alisha Glass and took a rare two-point lead as Lauren Paolini's served trickled off the net and over for an ace. Lauren Gibbemeyer blocked a tip try to wrap up the first set.
"They came out serving tough, passing well and defending a lot of balls," said outside hitter Kristin Hildebrand, the U.S. captain. "I think we were surprised at how well they were defending our offense. They were getting a lot of touches and digging a lot of great balls."
But the U.S. jumped to a 6-2 second-set lead and never really looked back, getting several big swings along the way from Hildebrand.
"The U.S. made some adjustments to our game, and we took out a little bit of the risk that we had in the first set," Canadian coach Arnd Ludwig said. "In the first set we were going for the ball — made a lot of good serves, a lot of good attacks. In the second set, we were a little more scared to take the same risks."
Sparked by two Larson-Burbach aces, the U.S. jumped to a 5-0 third-set advantage and could start setting its sights on Saturday's 8 p.m. championship match with the eighth-ranked Dominican Republic.
"Every time we play it's a battle, and the same thing will happen (Saturday) night," Hildebrand said.
The winner earns a berth in the season-ending FIVB Grand Champions Cup in Japan in mid-November.
Kelly Murphy had 11 kills, Paolini and Gibbemeyer each had seven and Hildebrand added six. Larson-Burbach, the former Nebraska All-American from Hooper, Neb., had five kills, shared the match-high with two blocks and led all players with three aces and 11 digs.
Lucille Charuk led Canada with six kills. Love didn't have any more after her early burst. Canada plays 20th-ranked Puerto Rico in Saturday's 6 p.m. third-place match.