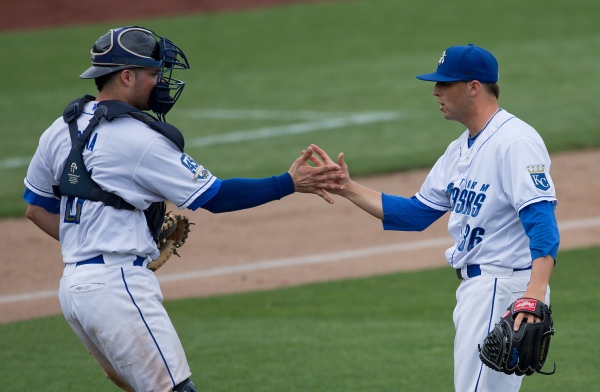 What better way to cap a two-win Wednesday in the PCL championship series than with a game-ending homer.
Brian Fletcher led off the bottom of the ninth inning by lining a one-ball, one-strike pitch over the wall in right-center field to give Omaha a 2-1 victory over Salt Lake before 4,312 at Werner Park.
Earlier Wednesday, in the completion of Tuesday's suspended game, Ben Broussard's eighth-inning single lifted the Chasers to a 3-2 win before 3,963 (paid).
The Chasers have won seven straight games, five in a row in the playoffs, four straight in come-from-behind fashion, and now the last three on their final at-bat.
Other than that, they don't have much going for them, right?
"That's why I was just hoping we'd stay close," Omaha manager Mike Jirschele said. "They just seem to be guys who come through in the late innings — even though I'd like to see them come through earlier in the game."
Fletcher, who had played in only one game since Aug. 23 because of a sore wrist, was able to channel the team-wide collective karma when striding to the plate in the ninth to face former All-Star closer Chad Cordero.
"Every guy goes up there wanting to be the hero by hitting it out," Fletcher said. "But you try to take it in simpler terms, try to get on base knowing that our lineup — up and down — can get the job done. If you get on base, anything can happen."
He got a fastball away and didn't have to worry about what would happen when he got on base — he just rounded them, pumping his fist in the air after crossing first and getting pounded by teammates at home plate in the postgame celebration.
"I knew I got it, but sometimes this field plays a little big and the ball doesn't really go," Fletcher said. "But once I saw (right fielder Drew) Heid go back, I knew I had a chance."
The rest of the best-of-5 series will be played in Salt Lake, starting with Game 3 on Friday. Omaha is just one win away from a second PCL title in three seasons.
"We've got to win one more game, but it's not going to be easy out there because neither one today was easy," Jirschele said. "I felt for us to have a chance to win this we'd have to win both games here, because I thought it would be really tough to win 2 of 3 out there on their home field, where they play so well."
In the opener, after hitting into double plays in four consecutive innings, the Chasers tied the game 2-2 with a run in the seventh on Manny Pina's RBI double, then moved ahead in the eighth on Broussard's run-scoring single.
"We put the bat on the ball well, but they made some great plays and kept stopping our rallies," Broussard said. "But our pitchers kept us in the game. Typical playoff game — close, good defense."
Broussard put the Chasers ahead by lining a Dustin Richardson pitch into left center field, scoring Irving Falu from second base, easily ahead of the off-target throw of Scott Cousins.
Falu had led off the inning with his third single of the game and moved to second on Christian Colon's second sacrifice of the game.
After falling behind the switch-hitting Anthony Seratelli three balls and no strikes, the left-handed Richardson issued an intentional walk to get to the left-handed hitting Broussard and set up another potential double play.
It was a near repeat of the sixth inning, with the exception of Seratelli drawing an unintentional walk in the sixth. Broussard hit into an inning-ending double play in the sixth.
"That's the situation you want to be in — especially where I'm at in the lineup, having Telly in front of me," said Broussard, the Omaha cleanup hitter. " It's great when they pitch around him or walk him and want to face me and I'm able to stick to my plan, get a mistake and hit it somewhere that they can't catch it."
Omaha trailed 1-0 in the nightcap in a pitching duel between Yordano Ventura and Salt Lake's Tommy Hanson, then tied the game with a seventh inning rally against Hanson and two relievers.
Lane Adams, who grounded into three double plays (Omaha grounded into seven on the day), reached on a fielder's choice against Hanson, then stole second base before Fletcher walked.
Rey Navarro fouled off two two-strike pitches before lining a game-tying single over the head of shortstop Tommy Field.
"Outstanding at-bat," Jirschele said.
Omaha got strong efforts from Clayton Mortensen in Game 1 and Ventura in Game 2, followed by shutdown performances from its bullpen. Buddy Baumann was the winner and Michael Mariot got the save in the opener, while Zach Jackson pitched three scoreless innings for the win in Game 2.
Mortensen allowed one run on two hits while striking out a season-high eight, and then Ventura allowed one run on three hits and struck out six in six innings.
Mortensen, technically a reliever since Tuesday's Game 1 had been suspended after Chris Dwyer pitched the first two innings, allowed a tie-breaking homer to Luis Rodriguez in the fourth inning.
That represents the only earned run allowed by the Omaha bullpen in 21 2⁄3 postseason innings — an 0.42 ERA.
Salt Lake, the PCL's second-best hitting team, had one hit after the fifth inning all day.
"Those guys have been outstanding — and against real good hitting clubs, which is exciting to see," Jirschele said.