The Omaha Royals — now Storm Chasers — rolled to a 9-0 victory over Oklahoma City in the franchise's first game on April 18, 1969.
Below you can read the game recap by Robert Williams in the April 19, 1969, edition of The World-Herald.
Zachary's 5-hitter Leads Omaha, 9-0, By Oklahoma City
Oklahoma City, Okla.—Chris Zachary, an 89er turncoat in Oklahoma flannels, returned here to join in spoiling the Oklahoma City season opener Friday night.
The 25-year-old right-hander, who has pitched more in All-Sports Stadium than anyone else, hurled a five-hitter and won, 9-0, behind an 11-hit attack.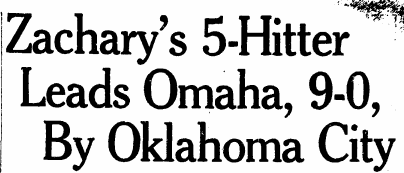 The former Oklahoma City 89ers, who was sold to Omaha after last season, breezed to victory after being staked to a three-run lead in the second inning.
His performance added to the discomfort of the 89er management which counted 703 fans on a 49-degree night.
Omaha, back in baseball for the first time since 1962, will try for its second triumph tonight.
Paul Spittorff, a former Morningside College pitcher, will hurl for Omaha against Ron Cook, who had a 1-6 record for Oklahoma City lats year.
Omaha will bring American Association baseball back to Rosenblatt Stadium in a 7:30 game Monday night with Tulsa.
Zachary, making a comeback after being limited to eight games last year because of ailing fingertips, had trouble with wildness in the first inning. He issued two of his three walks in that inning.
He settled down to retire eight in arrow, and refused to allow more than one hit in any inning. Zachary fanned 11.
He pitched four season for Oklahoma City and shared the Pacific Coast league high for wins in a 7-8 season in 1965.
A key blow for Omaha was Lee Green's bases-loaded double that drove in the last two of three runs in the second inning.
Steve Bailey, who absorbed the loss, walked the bases full in the second.
Green, 25, is up from High Point, N.C., where he hit .315 last year.
Back-to-back doubles by Lius Alcaraz and Dennis Paepke highlighted a two-run Omaha fourth inning.
With one out, Green singled off pitcher Tom Pullen's glove. Green stole second before the double by Paepke, a 23-year-old first baseman up from El Paso.
Catcher Fran Healy, accounting for a fourth Royal double, drove home the seventh run in the seventh. Healy lined to right center to score Fred Rico, who was hit by a pitch.
Paul Schall's single and an error sent two runs over the plate in the eighth.
Third baseman Alcaraz, who played part of last season for Los Angeles, collected three of Omaha's hits.
Warner Tosses First Pitch
Lloyd Waner, the Hall of Famer who lives in Oklahoma City, threw out the first pitch marking the revival of American Association baseball here.
Seven years ago, the same clubs met here on opening night of the last previous Association season. A crowd of 10,102 attended that game, the first played in All-Stars Stadium.
Opposing Manager Jack McKeon of Omaha and Cot Deal introduced their squads before the game.
Pinch-Hitters are Blanked
Designated pinch-hitters on the rival clubs had differing pregame views on the new rule. And both went hitless.
Larry "Bo" Osborne, the Omaha pinch hitter, said he favored the rule.
"It will save wear and tear on guys like me," said Osborne, who has returned to the playing ranks after managing in the minors last year. "You don't have to worry about running into the stand for foul flies (he is a first baseman by trade).
Jack Brandt, an off-season Omahan and the 89ers specialty hitter Friday night, doesn't like the rule for the same reason—because it prevents him from playing on defense.