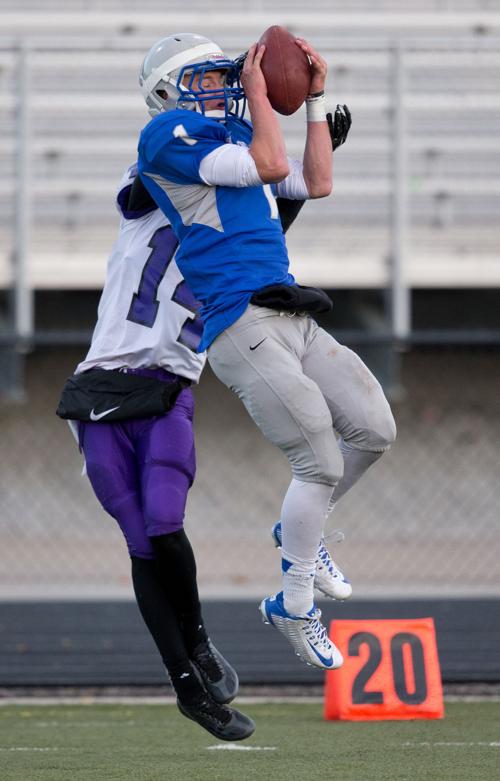 While the result wasn't a surprise, how Millard North carved out its 62-27 Class A playoff victory Friday was hardly ordinary.
The No. 2 Mustangs wore down unranked Bellevue East, but not before the 4-6 Chieftains gave Millard North coach Fred Petito and his staff a few things to focus on in practice this week.
"We were a little sloppy on tackling, and they returned two kickoffs on us," Petito said. "That hasn't happened before. We were a little off, but if you're a little off, you're off."
Millard North was on most of the game in front of an estimated 1,500 at Buell Stadium. Juniors Adrian Kellogg and Ethan Morrison scored three touchdowns apiece, and senior running back Adrrell Taylor scored two more to lead another strong performance by the Mustangs offense.
Where the Mustangs had most of their hiccups were on defense and special teams. The Chieftains steadily moved the ball on the opening drive before it ended with a fumble.
That gave Millard North its first possession, which ended with a 2-yard touchdown run by Taylor on the 13th play of the drive with 2:08 to play in the first quarter.
Then things got weird. Jared Prince ran back the ensuing kickoff 92 yards to tie it 7-7.
On the next play from scrimmage, Kellogg responded with the first of his three TDs. This one was a 50-yard run that came on a pass from Morrison, but Kellogg was 2 yards behind Morrison when he caught the ball.
A game that started with a cerebral pace got frenetic, and that tempo didn't change in the final three quarters.
Millard North took a 27-13 halftime lead then increased that advantage by seven more on the first play of the second half when Taylor went 55 yards for his second touchdown.
The Mustangs took any remaining mystery about the outcome by outscoring the Chieftains 21-7 in the third quarter for a 48-20 lead
But that one score was East's second kickoff return for a touchdown of the game. This one was an 88-yard scamper by Aaron Galvan.
Millard North created some havoc of its own in the fourth quarter when sophomore Dylan Price intercepted two Bellevue East passes and ran back a Chieftain punt 76 yards for the final touchdown of the game.
Still, Petito said Saturday's practice would begin promptly at 9 a.m.
"There's no such thing as a bad win in the playoffs because you're moving on," Petito said. "We started a little slow, but our opponent played hard. We got an honest effort out of them, but our level of play has to pick up."
Bellevue East (4-6) ................................... 7 6 7 7—27
Millard North (10-0) .................................. 14 13 21 14—62
MN: Adrrell Taylor 2 run (Matt Reid kick)
BE: Jared Prince 92 kickoff return (Chris Cornish kick)
MN: Adrian Kellogg 50 run (Reid kick)
MN: Kellogg 34 run (kick failed)
MN: Ethan Morrison 11 run (Reid kick)
BE: Dillon Hike 1 run (kick failed)
MN: Taylor 55 run (Reid kick)
MN: Kellogg 50 run (Reid kick)
BE: Aaron Galvan 88 kickoff return (Cornish kick)
MN: Morrison 8 run (Reid kick)
BE: Hike 1 run (Cornish kick)
MN: Morrison 7 run (Reid kick)
MN: Dylan Price 76 punt return (Reid kick)
Be the first to know
Get local news delivered to your inbox!