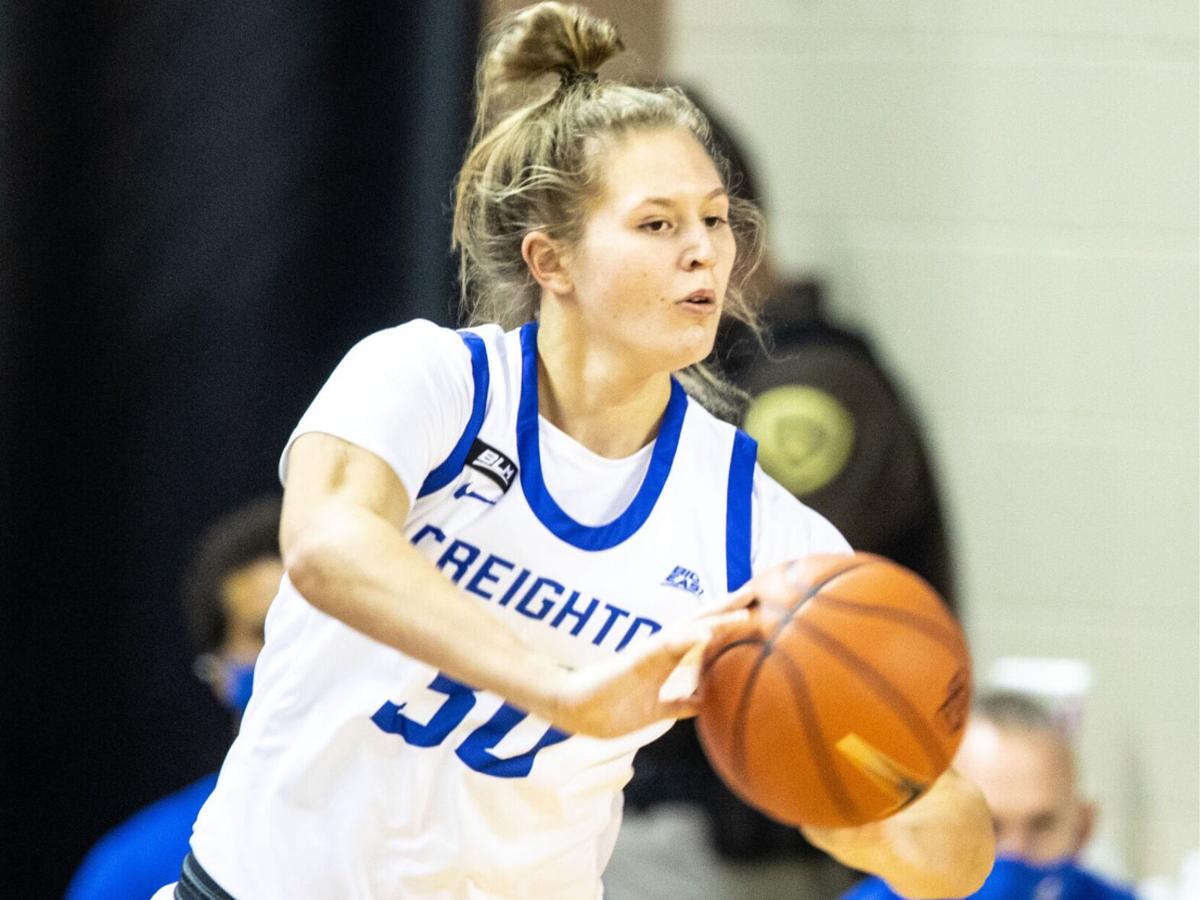 LINCOLN — Morgan Maly's mind helped her become valedictorian at her high school. It can also make her a bit blunt.
Consider when the Creighton sophomore forward was asked by a recruit's family why she chose to play at CU. Jays coach Jim Flanery remembers the retort well.
"The first thing out of her mouth was, 'Well, I'm smart, so I'm really attracted to the academic side,'" Flanery said before the season. "She can be a little quirky, but in a good way. She's very intelligent. She wants to know 'why' sometimes."
Less than two years ago, Maly's supporters at Pinnacle Bank Arena sat in a sea of red for Crete High School as she capped off her career with a Class B state title. Wednesday, Maly's family and friends — she figures 15 of them — will be back in blue as Creighton renews its annual rivalry with Nebraska.
"A lot of people have told me Nov. 17 has been circled on their calendar," Maly said last month.
Much like NU freshman post Alexis Markowski, Maly made a living at PBA during her high school career. Maly will try to help deliver a sixth straight CU win in the rivalry in the same fashion the Bluejays have won the previous five.
Hitting 3-pointers. CU has made 58 during the winning streak. Nebraska's made 16. NU's height advantage in the post hasn't mattered a bit.
"They have a lot of players who are technically forwards that really can step out and shoot, so they can play kind of a five-out offense where everybody's a threat from the perimeter," NU coach Amy Williams said.
That's Maly, who at 6-foot-1 leads Creighton in both 3-point attempts (16) and makes (7). When Maly was a freshman last season, Flanery said he grew more and more comfortable designing plays specifically for her left-handed touch.
"When you draw something up for a freshman and they come out of a timeout, you're checking their body language to see if they're fearful," Flanery said. "And I don't feel like she had that. She's not a loud kid, she doesn't draw attention to herself, but she has a confidence about her that you like."
Maly said she and other freshmen struggled last season to connect with older teammates during the first part of the COVID pandemic, because players tried to maintain social distancing away from practice and games.
"It was hard being a freshman, coming into a new environment, not knowing anyone," Maly said.
The change in 2021 has been good, she said. She also veered from a pre-med major toward a track to become a physician's assistant. It's slightly less schoolwork to juggle as she plays basketball.
"It honestly hasn't been that difficult because I'm super time-management focused," Maly said. "I'm always doing something throughout the day, always looking ahead because I never know how long basketball will go."
Nebraska (3-0) will likely try to focus on taking away Maly's open looks. The Huskers can now use defensive lineups that don't feature a traditional post and allow them to better defend the 3-point line. In three wins over admittedly outmatched teams, the Huskers have held foes to 23.5% 3-point shooting and outrebounded them by an average of 22.
If NU can force Creighton (1-1) to misfire from 3, the Jays will have to scrap on the offensive boards.
That's part of the Bluejays' DNA, Maly said.
"We're going to get what we earn," Maly said. "And make plays when we can."
Projected starters
F — Morgan Maly 6-1 So. 11.5 ppg
F — Carly Bachelor 6-0 Jr. 9.0
G — Payton Brotzki 5-11 Sr. 5.5
G — Lauren Jensen 5-10 12.0
G — Tatum Rembao 5-9 Sr. 10.0
F — Bella Cravens 6-3 Jr. 8.3
F — Isabelle Bourne 6-2 So. 17.7
G — Jaz Shelley 5-9 So. 12.7
G — Ashley Scoggin 5-7 So. 9.0
G — Sam Haiby 5-9 Jr. 8.0
---