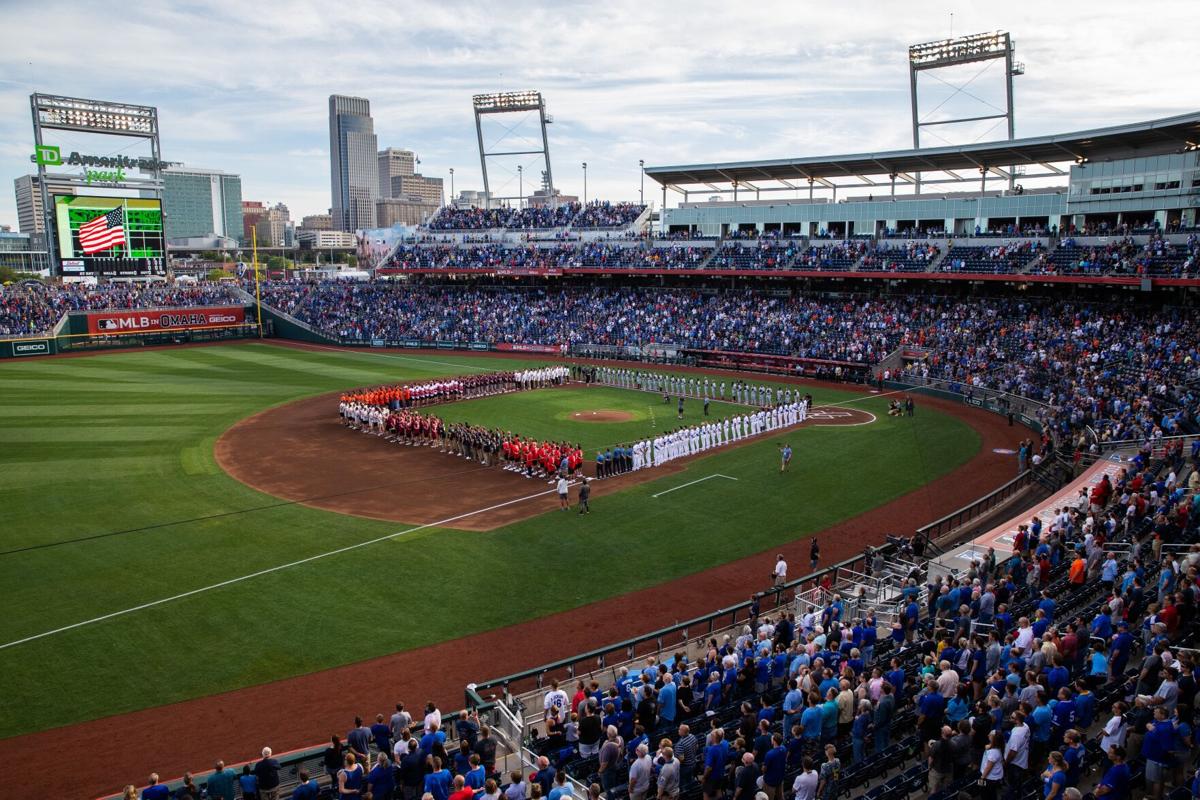 Crowds are set to return in full force to the College World Series and much of the NCAA baseball and softball postseasons in the coming weeks.
The NCAA announced Wednesday that championship events for spring sports will allow full capacity at venues if local and state guidelines allow for it. The NCAA in late April had capped attendance at remaining outdoor spring championship events at 50%.
The policy change is a massive financial upgrade for Omaha, which in typical years sees an economic boost of roughly $88 million as visitors from around the country fill hotels, restaurants and TD Ameritrade Park for the College World Series. The 2019 CWS saw a total attendance of 332,054, only a couple years after the 2017 version brought in 357,646 — the highest figure in the 70-plus year history of the event.
Local public health authorities told The World-Herald the CWS is free of any state or local regulations that might limit operations at the ballpark.
Phil Rooney, spokesman for the Douglas County Health Department, said there are no obstacles to full attendance. The state-imposed Directed Health Measure — the formal name for health restrictions that have been in place for most of the coronavirus pandemic — runs only through May 31. At this point, they are mostly guidance, not a requirement. Any gathering at a stadium is not restricted by size.
"The CWS is clear to fill its seats," he said.
Previously, the Metropolitan Entertainment and Convention Authority (MECA) was required to submit plans for its events to the Douglas County Health Department for review, as did any organization holding a larger gathering. But Kristyna Engdahl, MECA spokeswoman, said that no longer applied as of May.
Engdahl said some discussions are continuing about how to handle general admission seating for the series. It's possible GA seating won't be full capacity, she said.
On masks, Omaha's indoor mask mandate runs until May 25 and is expected to expire.
Engdahl said the protocol for masks at the ballpark is not fully decided yet.
Engdahl said she understands that the NCAA will recommend that fans wear masks if they haven't been vaccinated. But she said the NCAA is still determining how to handle masks for staff working at TD Ameritrade Park for the series. That, too, may come down to local requirements, which should be lifted before the series starts.
In a release, the NCAA said it changed course based on feedback from its COVID-19 Medical Advisory Group. Masks and physical distancing won't be required unless mandated by public health authorities.
"The effectiveness and prevalence of vaccinations in our country have allowed the Medical Advisory Group to provide this guidance that has tremendous impact on student-athletes, coaches and fans attending NCAA championships," said Dr. Brian Hainline, the NCAA chief medical officer. "It's still important for anyone attending championships to remember common-sense measures like hand washing, hand sanitization and proper etiquette when coughing or sneezing."
So-called "Tier 1" participants will remain in a controlled environment for their events. Those individuals include student-athletes, coaches, athletic trainers, physical therapists, medical staff, equipment staff and officials. Non-vaccinated participants will continue to be tested in keeping with previous protocols.
Kathryn Morrissey, executive director of CWS of Omaha Inc., said Wednesday's news was worth celebrating. She and her staff did — for a moment.
"Everybody was literally kind of fist-pumping the air there for a minute," Morrissey said. "But now we have to roll up our shirtsleeves. Because there's a lot of work to be done in a pretty short amount of time."
In a normal year, season ticket renewals would have already been processed. Single-game tickets would have gone on sale a month ago.
Morrissey said Wednesday her office has already received interest from potential out-of-state patrons — including supporters of the sport's top college programs and other baseball fans interested in checking the CWS off their bucket lists. There are season-ticket holders from 45 different states, and they've started making their plans, too.
But the full ticketing plan hasn't been finalized just yet.
CWS of Omaha Inc. and the NCAA are just nine days removed from sending emails to season-ticket holders while planning for 50% capacity.
Ticket holders were asked to choose between four options: reducing their total number of seats by 50%, maintaining their seat total while reducing their games by 50%, opting out of the 2021 CWS or canceling their CWS tickets entirely.
Things have changed now. And that's a good thing, according to Morrissey.
"We are going to ask for people's patience," she said. "But we've been very uplifted with how many people are excited that there's going to be baseball coming back to Omaha, that the tradition is going to continue."
The 50% cap would surely have diminished the event's potential economic impact on the city this summer. But even then, considering the CWS got canceled in 2020, Greater Omaha Chamber CEO David Brown sensed that local business owners and community members were eagerly anticipating its return, full stadium or not.
"I didn't hear any complaints honestly," Brown said. "It was just, gosh, it's just great it's coming back and we're glad they figured out a way to have a large number of people in one place. People were just happy that it was back. And now that it's 100% (capacity) we're even happier. It's good news, obviously."
The "Greatest Show on Dirt" was among the many sports-related casualties of the COVID-19 pandemic in 2020, preventing the 12-day event from playing out in Omaha for a 71st straight year amid rising popularity. The shutdown came after a thrilling 2019 in which Game 1 of the final between Vanderbilt and Michigan hit a seven-year high television rating. The decisive Game 3 was the most watched finals Game 3 since 2014.
TD Ameritrade Park has a capacity of 24,000. This year's CWS is set to begin June 19 and end with the best-of-three final June 29 or 30.
Omaha in April hosted the entirety of the NCAA volleyball tournament, with attendance limited to family and friends for the first three rounds at the CHI convention center, then a 25% limit for the remaining matches in the arena.
Wednesday's decision brings more uniformity to the postseason for college baseball, which has seen a variety of attendance policies this spring. Most individual Big Ten teams, for example, have restricted crowds to family and friends only while Nebraska has been an outlier averaging 3,295 fans per home date. The SEC and other conferences have generally operated with normal-sized crowds.
The Big Ten months ago scrapped its conference tournament while the ACC on Tuesday announced it would move to full capacity at its upcoming event. The SEC said last week it would limit its baseball tourney to 50% capacity.
---