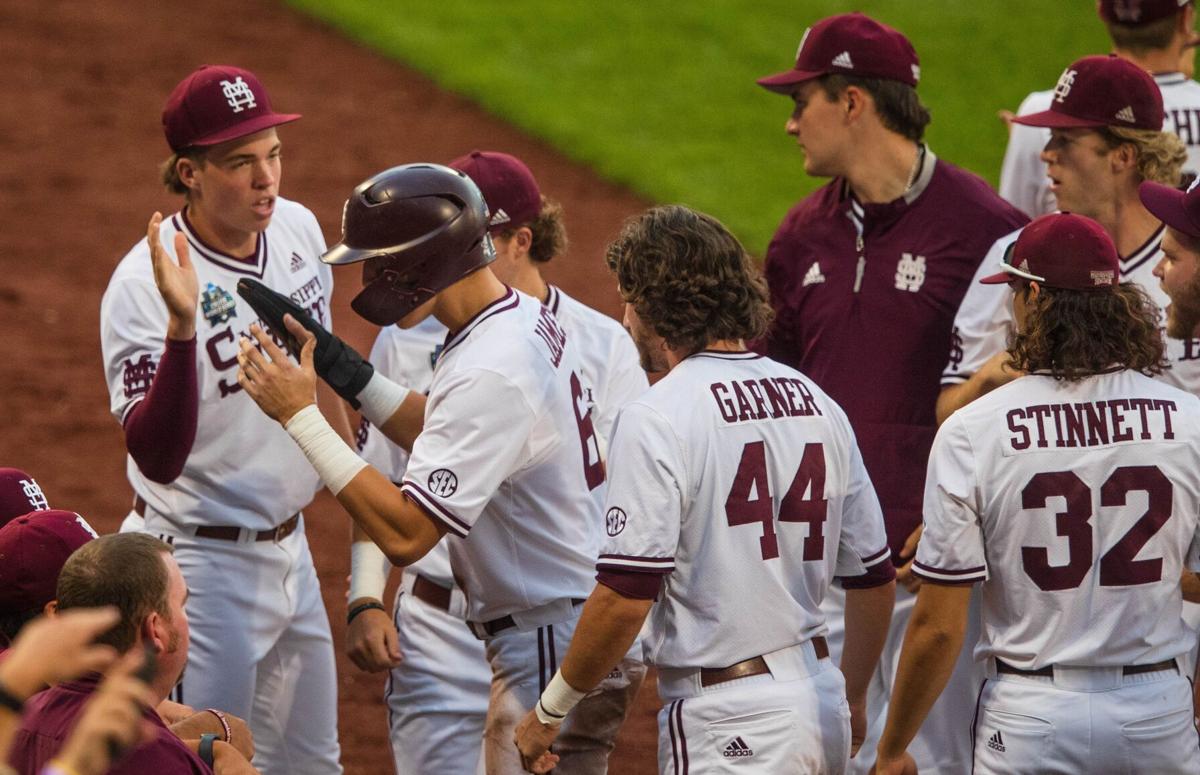 The only thing missing Tuesday night were the cowbells.
Mississippi State evened the CWS finals with a dominant display at TD Ameritrade Park, steamrolling the reigning champs as the thousands of rowdy MSU fans who've invaded Omaha this week gleefully soaked it all up in the stands.
The Bulldogs' 13-2 victory marked the most lopsided final result in the championship series since the first year of the format change in 2003, when Rice beat Stanford 14-2. The 13 runs were the third-most in CWS finals history.
The Mississippi State lineup pounded out 14 hits and drew 10 walks. The Bulldogs (49-18) secured the momentum by breaking a 1-1 tie with a four-run third inning — and never relinquished control.
The outcome forced a decisive Game Three in the title series for the fifth time in the past six full seasons, much to the delight of the MSU players and their supportive entourage.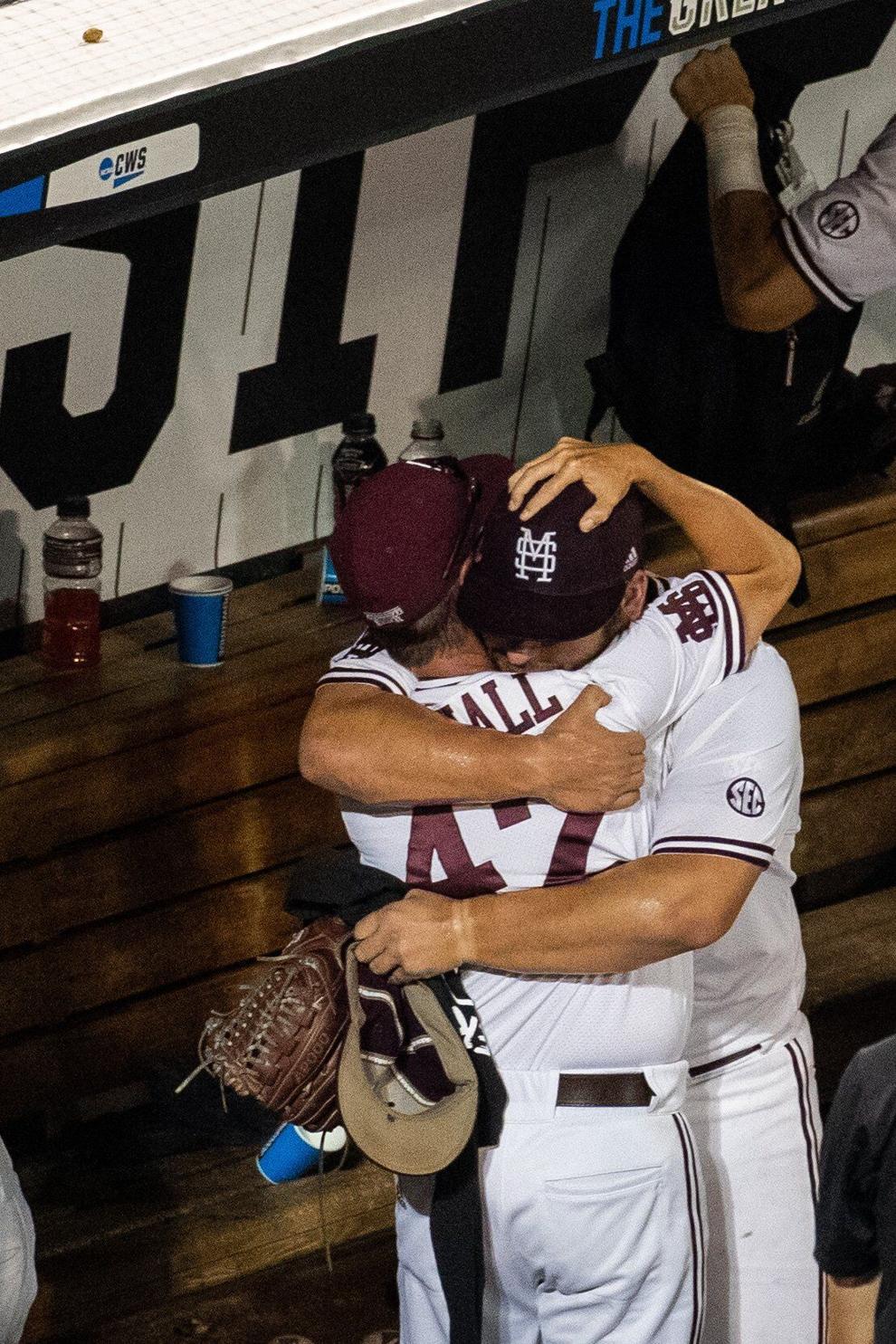 "It was a dream come true to be out there and get in front of that crowd," said sophomore pitcher Preston Johnson, who picked up the win. "It was like a home game. ... To have that many people travel all the way across the world to just be with us and live our dreams with us is unbelievable."
Granted, Mississippi State still has work to do. It hasn't won a national title in any sport. It needs a win Wednesday to clinch the crown.
Vanderbilt, meanwhile, is seeking its second straight CWS championship (and third all-time). Top MLB prospect Kumar Rocker is expected to take the mound.
And after two drastically different games this week, it's difficult to know what to expect when the two teams meet again at 6 p.m. Wednesday.
The Commodores scored seven times in the first inning Monday and cruised to an 8-2 win, delivering a strong opening statement in a hostile environment. But Mississippi State answered right back Tuesday.
"Big bounce-back game for our guys," MSU coach Chris Lemonis said. "We took a punch, came back and played really good baseball."
It started with a third inning that seemed to have a little bit of everything.
A baseball got stuck in the glove of Vanderbilt shortstop Carter Young — turning a routine grounder into a base hit. There was a two-run single that drilled reliever Patrick Reilly in the foot and bounced into right field. A wild pitch scored a run. A video replay review actually overturned a call on the field — the first 22 of those in this CWS hadn't changed a ruling.
By the end of the third, the Bulldogs had a 5-1 lead. Then 6-1. Then 8-1. Then came a five-run seventh.
Mississippi State fans didn't have their iconic cowbells to punctuate those moments. They had to leave those clanging noise-makers at the tailgates. Didn't matter, though.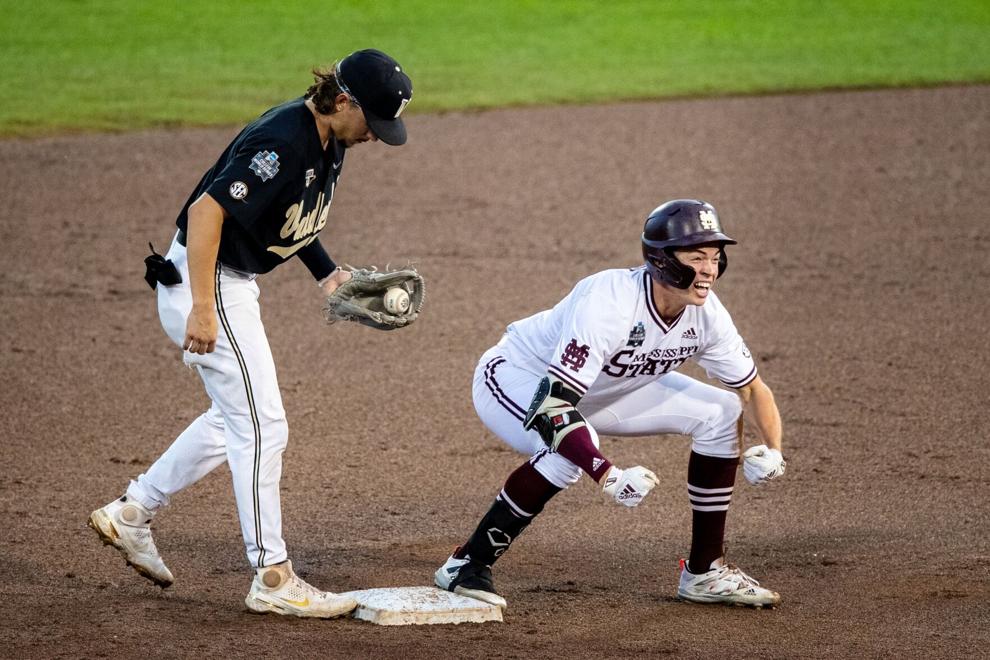 Depending on where you were in the stadium, you'd hear one pocket of Bulldog fans shouting "let's go State, let's go State!" while another group of supporters a few sections over was yelling "marooooon" and waiting for others to answer with a cry of "WHITE!"
For every 3-ball count, they'd all stand, hold up four fingers and mock the anxious pitchers with their "ball four" dronings. And that happened a lot Tuesday. Vanderbilt walked four MSU batters in the third and three in the fourth.
Even former Bulldog quarterback Dak Prescott got in on the action — appearing on the big screen during a mid-game interview and telling the stadium full of Mississippi State fans that the atmosphere felt "like home."
Evidently, a two-hour weather delay before first pitch Tuesday didn't dampen the enthusiasm.
That's now 594 combined minutes of delays during this year's CWS — including the one-hour push-back of the Vandy-NC State start time Saturday due to health and safety concerns.
It was in 2018 that CWS fans and participants endured 660 total minutes of delays, which marked the most at this event in 15 years.
But despite the uncooperative weather conditions of late, this year's CWS has reached the finish line.
It's Vanderbilt and Mississippi State, one more time for the title.
"The fact that you're here and you can start the baseball season on opening day and you can close it, there's only two teams who get an opportunity to do it," Commodores coach Tim Corbin said. "We've been very fortunate to be in this situation. ... Now the moment will be trying to finish it off."
---