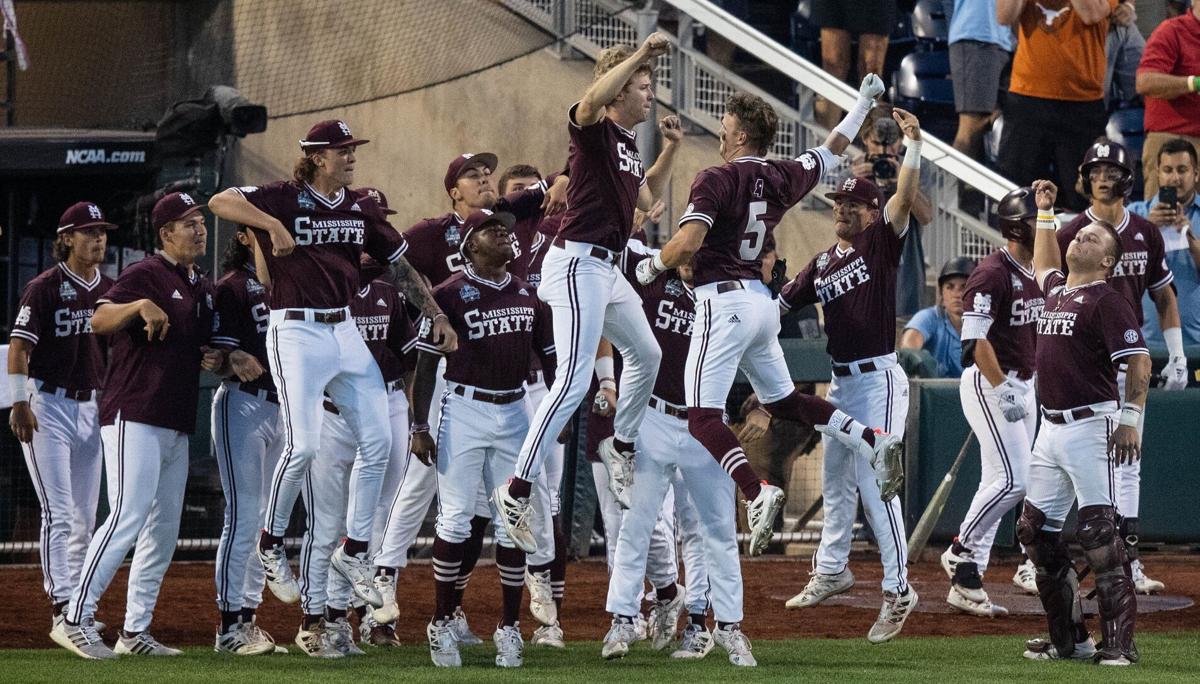 The Bulldogs are in the catbird's seat at the College World Series.
And if Mississippi State goes on to win its first title, the team and its massive fan base won't forget the eighth inning of a 6-5 win over Virginia on Tuesday. UVA isn't likely to forget it either, losing a 4-0 lead.
In the span of a half-hour, the Bulldogs turned a Cavalier cruise — a budding no-hitter — into six runs, six hits, two homers and four battered-and-bruised Virginia pitchers.
"We just challenged them: 'Keep playing, stay resilient,' " MSU coach Chris Lemonis said. "The things we've preached all year, and the things that this club is, we've won so many late games because we won't stop playing, won't stop fighting. An unbelievable job by the guys."
For much of the night, Mississippi State seemed headed for a lopsided loss. Lemonis even joked he was trying to get his team to a rain delay — the storms passed south of the city — as Griff McGarry pitched 7 1/3 scoreless, no-hit innings.
McGarry's seasonlong struggles on the mound — he came in with a 6.06 ERA — ended with a shutout of Dallas Baptist in the super regional. He continued his dominance Tuesday with a good mix of pitches and a series of sharply-hit balls right at Virginia fielders.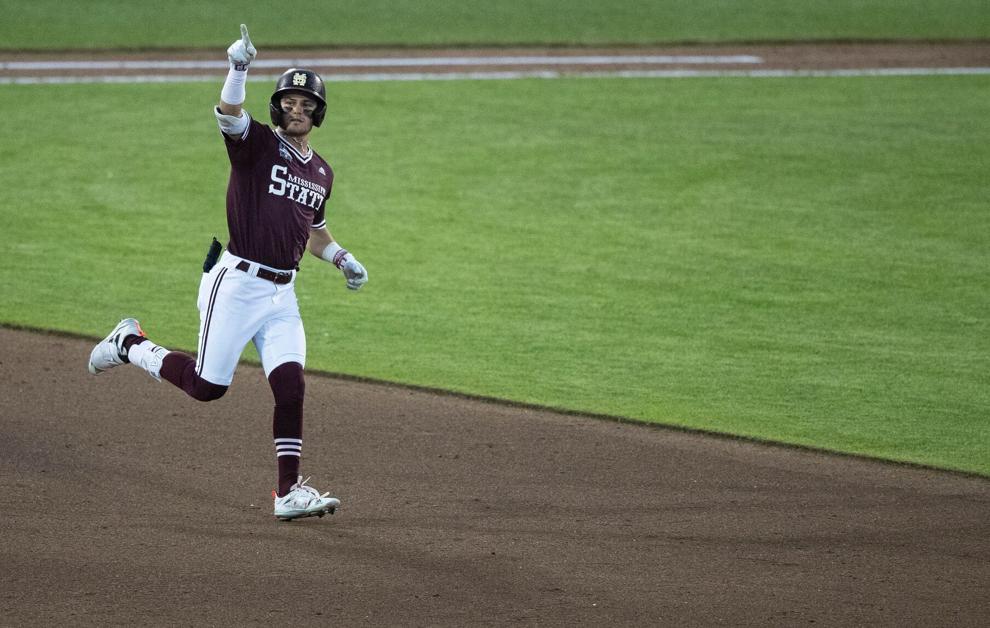 "He was terrific," Cavalier coach Brian O'Connor said. "He was in complete control of the game."
That is, until Kellum Clark broke up the no-hitter with two-run homer in the eighth inning. That swing shifted the energy of 22,083 at TD Ameritrade Stadium.
"Kellum Clark's been hot," Lemonis said.
McGarry left to an ovation. His replacement, Zach Messinger, gave up an infield single to pinch-hitter Josh Hatcher. MSU centerfielder Rowdey Jordan then hammered a double to the left field alley to put Bulldogs (47-16) on second and third. Messinger left and right-handed sidewinder Stephen Schoch entered.
Schoch's first pitch was a foot wide. His second was in the middle of the plate, belt-high, 75 miles per hour and begging to be hit a long way. Tanner Allen obliged with a missile that went over the right-field fence into MSU's bullpen for a 5-4 lead. Bulldog relievers threw up their gloves and bumped chests.
Allen played with Schoch in a summer league. And he knew with a base open, what he was looking for: "slider up in the zone." He got it.
"I knew they were going to throw to me," Allen said. "I'd had a rough night before that. But I have written on my glove in the outfield, 'it don't matter.' "
Allen called the homer a "relief" after recent struggles at the plate.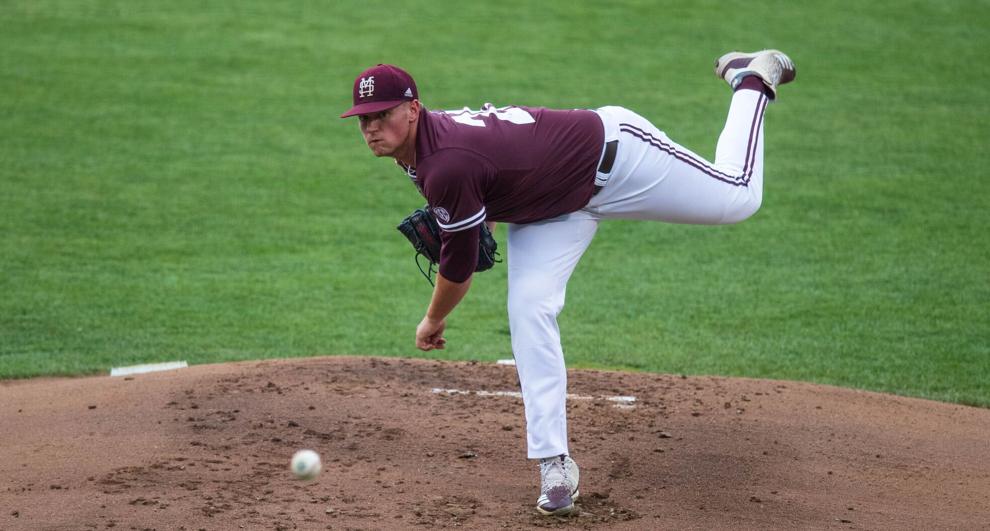 "Man, what a hit," he said.
Across the field, UVA's bullpen continued to warm up.
One more Cavalier pitcher, Nate Savino, would enter and allow a double that brought in another run for a 6-4 MSU lead.
Virginia (36-26) cut that lead to one in the bottom of the eighth with Chris Newell's solo home run. But the Cavaliers got no closer as Mississippi State, using a CWS-record eight pitchers, moved to 2-0 on its side of the bracket. Virginia on Thursday will have beat Texas — which eliminated Tennessee earlier Tuesday — to get another crack at Mississippi State on Friday.
It was a stunning turn of events for a team that won of 12 of its last 17 regular-season games to squeeze into the NCAA tournament and didn't give up a run for its first 16 innings in Omaha. Virginia opened the scoring in the bottom of the first inning with singles from Zack Gelof and Kyle Teel — sandwiched around a sacrifice bunt — against Christian MacLeod, whose work bore little resemblance to the Bulldogs' Sunday night pitching brilliance, when their staff broke a CWS record with 21 strikeouts.
MacLeod's breaking ball broke too gently as Cavalier hitters teed off for five hits and four runs in 1 1/3 innings before chasing MacLeod. He faced 11 batters. Seven got on base and two more had sac bunts. Virginia led 4-0 after two innings.
But the Cavaliers blew chances to extend that lead, too. They stranded runners in that second inning and left two on base in the fourth, sixth and seventh innings, as well. Twelve hits translated to five runs.
"Mississippi State won the game," O'Connor said. "We didn't do enough. We didn't finish the game — certainly on the mound."
---