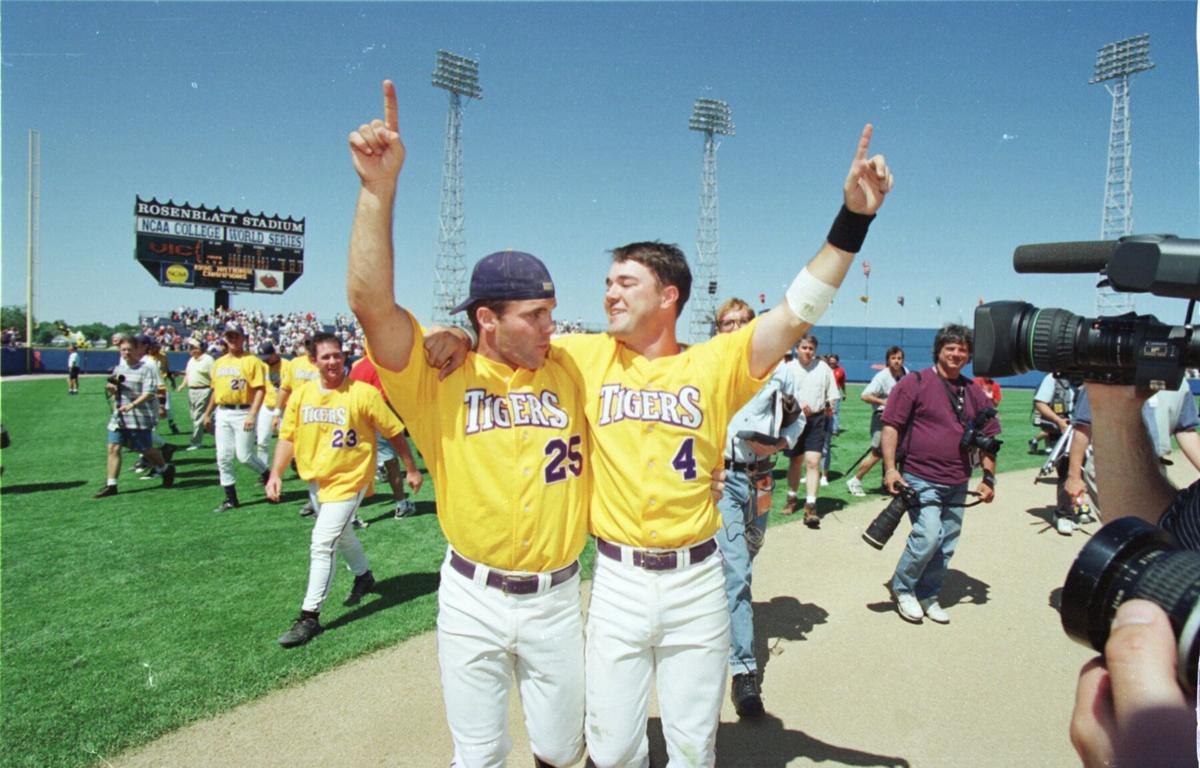 A few years ago, the legend came back to where he was born. But he barely recognized the memory.
Warren Morris was in Omaha, to watch LSU play Florida in the College World Series. In an alternative universe.
Morris was asked if he wanted to drive out to the old Rosenblatt Stadium site. Sure, he said, let's go.
It was like some bizarre dream.
On June 8, 1996, Morris stood at home plate, and with a swing of magic dust, produced perhaps the most iconic moment in College World Series history.
Then in 2018, he was standing at that same home plate. Staring at a kids' whiffle ball field.
He shook his head. He looked around. A-ha.
Gazing to right field, he saw a landmark. Morris' home run to beat Miami 9-8 sailed just left of the right-field foul pole. That foul pole was still in place.
"I walked out there to find the spot," Morris said. "Had to walk between the cars that were going to the zoo.
"I went back to home plate and reminisced."
Time and the CWS march on. But 25 years ago, Morris gave us a landmark. And that's still there.
The things you remember. I was sitting on the steps behind home plate, waiting for Morris to make the last out so I could go interview the victorious Hurricanes.
The next thing I remember is the swing of the bat, the crowd exploding, Morris rounding the bases — and quickly asking LSU writers, "Who is Warren Morris?"
He's the vice president at Red River Bank in Alexandria, Louisiana.
Legends don't fade away, they often slip back to their place in line, sit behind a desk in a bank, go home to a wife and three daughters, mow the yard and watch sports with their friends.
Then 25 years later, a sports writer from Omaha calls and they get to be that legend again, relive the thrill and stories from a moment of a lifetime.
Twenty five years later, I don't mind saying, I got goosebumps when Morris answered the phone.
"It's very humbling," Morris said. "It blows me away. It's become its own thing, especially with LSU fans.
"Certain things in life are generational, you remember where you were when certain events happened. LSU fans remember a whole lot of details about what they were doing that day.
"In the last 25 years, that's been the best part of it for me. Those people have a reason to come up and tell me where they were, whose wedding reception they were sneaking into, what interstate intersection they were near when the ball was hit.
"People tell me about running out in their front yard, just running around the yard."
A quarter-century later, people are still running around their yard in jubilation. But now they do it as they meet Morris and recognize the name, then ask him to relive it and he sheepishly agrees.
Even as Morris now helps bank customers with loans and mortgages, it comes with a story about the home run, like a mug or a calendar that comes from the bank.
The moment not only lives, it's risen to a baseball pantheon with Bill Mazeroski (1960 World Series) or Kirk Gibson (1988 World Series). Both walk-off jacks, though Mazeroski's clinched the World Series title.
It's the college baseball version of those. And it keeps coming up.
In 2018, LSU alum Alex Bregman of the Houston Astros made a bet on the Tiger-Miami football game with Boston manager Alex Cora, the Hurricane shortstop in that 1996 CWS.
LSU won the football game, so Cora had to wear an LSU baseball jersey during batting practice.
Twenty five years. Morris has twin daughters who are 16 and another who is 11. When Morris is approached about his moment, the kids roll their eyes. What did Dad do?
They can't know what it meant to be LSU baseball in 1996. Or that the story was made better because their father was the least likely hero. He hadn't hit a home run all season and had broken a bone in his hand that required surgery a month before the series.
"The first few games in Omaha I was just able to slap at the ball," Morris said. "But as I kept playing, it got better and I was starting to drive the ball.
"That day in batting practice I remember telling Coach (Skip) Bertman that I felt as close to 100% as I had all season."
He had dreamed of the walk-off homer moment in his backyard. But as Morris stepped into the batter's box, representing the last chance, he faced reality.
"There was no thought of hitting a home run," Morris said. "I was the ninth batter. I was trying to get a single and tie it and the guys behind me would get it going."
Funny what people remember about those moments. What about the guy in the moment?
"Earlier in the game, Pat Burrell (Miami) hit a ball with the bases loaded and you could see his reaction — he thought it was gone," Morris said.
"But the wind held it up. So I sneak a line drive under the wind and it goes over the fence. You can't make this stuff up."
The ride around the bases:
"I remember the first realization that it was a home run, seeing our first-base coach jump high in the air," Morris said.
"Then I turned toward second base and saw those Miami guys, face down on the ground. Wait a minute. That's not just a home run, we won the national championship.
"As I was turning third base, I remember thinking, 'Well this is a Kodak moment.' So I put my No. 1 finger in the air. It was in the paper the next day."
"I have the (home run) ball," Morris said.
"In the madness on the field afterward, a guy came up and gave me the ball. He told me he was a longtime resident of Omaha and goes to the games every year. He ended up with the ball and was adamant that I should have it. I signed another ball and gave it to him."
Morris went on to have a good baseball life. A bronze medal in the 1996 Olympics in Atlanta. Then a five-year career with the Pirates, Twins and Tigers.
By 2006 he had been kicking around Triple-A and decided he'd had enough. The twins were a year old. It was time to take up his friends back home on their offer for a job at the bank.
So the end came in Tacoma, Washington, with Morris' Nashville Sounds winning the Triple-A championship.
A lot of players, Morris said, have trouble adjusting to life away from the game. But he never felt that way. A big reason? The home run.
"The cool thing is I can never feel sorry for myself because I ended my college career with such a cool moment," he said.
That moment led Morris to give talks at schools and churches. It's almost like a duty he feels.
"I fully believe for whatever reason, this is part of my story," he said. "I tell them this was God's plan.
"I don't know why, but the way it went, with the injury and going undiagnosed until there was just enough time for me to have surgery and come back and hit at the end of the series, everything came into play."
Before we said goodbye, Morris remembered one more story.
He said it happened the morning after the Miami game. LSU had an early flight. They got up at 6 and headed to Eppley Airfield.
"We walked in and they had already had the newspapers loaded into the dispensers," Morris said. "And there's my picture on the front of the Omaha World-Herald.
"Man, look at that. I remember thinking it was the greatest thing ever. But if you had asked the 22-year-old me if they would still be talking about this 25 years later, I'd have said 'Nah, no way.' "
It will live forever, in our memories, and in a parking lot where ghosts dodge the cars.
---