First downs and second guesses:
Can someone please get this message to the Big Ten's Ivory Tower?
Hey, Big Ten. It's baseball season.
It's the last week of May. That's when the season starts. Conference tournament week (oops). Selection Monday. Then the NCAA regionals.
This is the good stuff. This is the beginning of the real season.
And this would have been the week of an incredible Big Ten tournament in Omaha.
Outside TD Ameritrade Park, you might have had an atmosphere rivaling the College World Series. With Nebraska as the recently-crowned Big Ten champs, and an Omaha mask mandate about to expire, the crowds would have flocked downtown.
Inside, the Big Ten could have showcased five legitimate NCAA tournament teams in front of that packed house. Yes, the Big Ten Network would have approved.
The booming business that is Big Ten baseball would have been on display for the nation to see.
The league is better than ever. And still coming off a national runner-up performance by Michigan in the 2019 CWS.
It's hard to know because the Big Ten basically swept this season under the rug. Denying teams the chance to play non-conference games. Canceling the conference tournament. And thus denying them a fighting chance in the NCAA Baseball Committee room this weekend.
The COVID argument doesn't work. Not with vaccines readily available this winter and spring. And not after letting Big Ten basketball teams play non-conference games and a league tournament.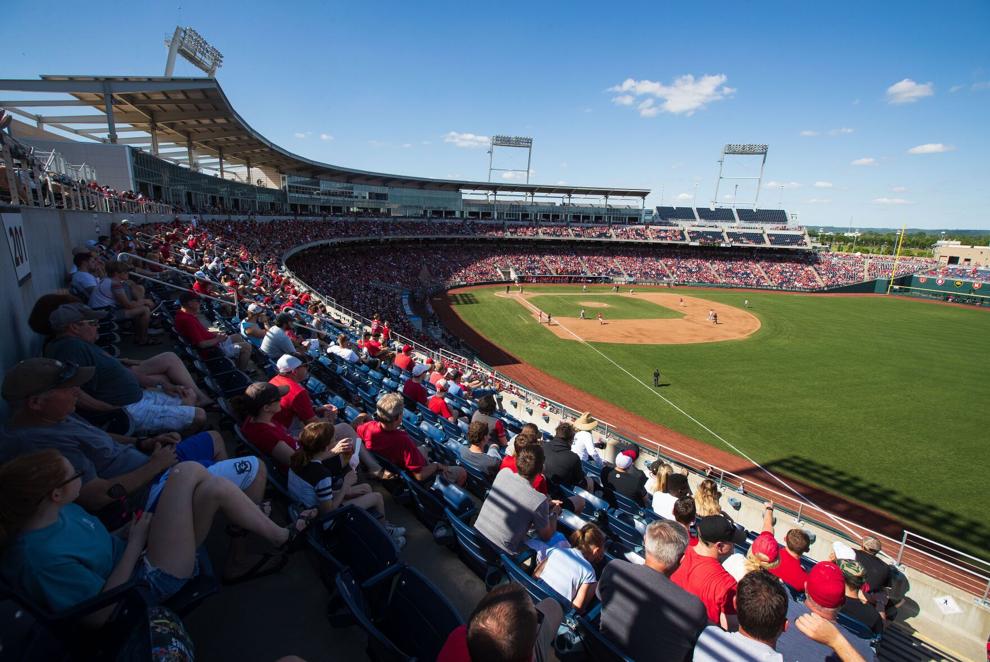 What is it with you guys and hoops, anyway?
Big Ten basketball is elite. But Big Ten baseball is on the cusp of taking giant steps in a sport dominated by the sunshine boys.
There are Big Ten teams good enough to win in regionals next week — but some of them might not get the chance. They might get left on the selection committee's cutting room floor, thanks to the Big Ten.
To have this happen after watching Michigan nearly win a national title is dumbfounding. Is it lack of awareness? Or caring?
Big Ten, you've got some good coaches in this league. Don't lose them. Pay attention. Forget the March weather reports. Look to May. Look to June.
We need to get you out of the Ivory Tower and into some fresh air. There's this little event in Omaha we call the CWS.
You'll love it. And you might just have a team there.
» Ah, there is good news this week. MECA spokesman Kristyna Engdahl said Monday that the Big Ten tournament contract with Omaha has been extended two years to 2024.
It's only right, after going two straight years without the event. The contract was set to run out after 2022.
I'm not making any promises. But the trajectory of Nebraska baseball, excitement of Husker Nation and Big Ten baseball is on the way up.
I could see another extension happening very soon.
» Speaking of contract extensions, is Will Bolt in line for a raise and extend?
I asked that question in a text to NU Athletic Director Bill Moos on Monday. His response: "…I have a history of rewarding champions…"
I'll take that as a "yes."
» I know some Husker fans are freaking out about the timing of the Texas A&M opening. Not happening with Bolt.
First, it's just too soon. Bolt just got to Nebraska and hasn't coached an NCAA team yet. Also, Bolt he's associated with Rob Childress, and Texas A&M wanted to move on from Childress.
Bolt genuinely likes Nebraska. This is his third stint in Lincoln, including a year as a grad assistant in 2005, 2012-14 on Darin Erstad's staff.
And I know Husker fans remember Dave Van Horn felt the pull of his alma mater (Arkansas). But even though Bolt is a Texas native, it's worth reminding of his alma mater.
» Manny Pacquiao announced a major fight last Friday, but it wasn't with Bud Crawford. It's against Errol Spence Jr.
What happened to Pacquiao-Crawford? According to boxing reports, Bob Arum said the money in Abu Dhabi never materialized. And Arum wasn't willing to stage the bout in the U.S., saying it was risky financially.
Meanwhile, Pacquiao-Spence will take place in August in Las Vegas.
This has to be incredibly frustrating for the Crawford camp. Will Omaha's champ get a shot at the winner? Would Crawford leave Top Rank in when his deal expires in order to get a shot at Spence?
Can anyone in boxing give Crawford the elite bouts he deserves?
Fight fans will continue to wait.
» Big return news: Lexi Sun coming back for a fifth season for NU volleyball is a game-changer. In the era of the transfer portal, what a refreshing story.
» Big return news II: Creighton coach Greg McDermott confirmed via Twitter that his top assistant, Alan Huss, will stay with the program. Huss reportedly was the target of several programs, including Illinois. That's big. Huss has developed into one of the top recruiters in college hoops.
» One more and I'm outta here: After watching one of the greatest feats in golf and sports on Sunday, it's appropriate to post this message from PGA Champion Phil Mickelson:
"I've failed many times in my life and career and because of this I've learned a lot. Instead of feeling defeated countless times, I've used it as fuel to drive me to work harder. So today, join me in accepting our failures. Let's use them to motivate us to work even harder."
Well said, well done and well played, Lefty.
Guess this means no Omaha, right?
---