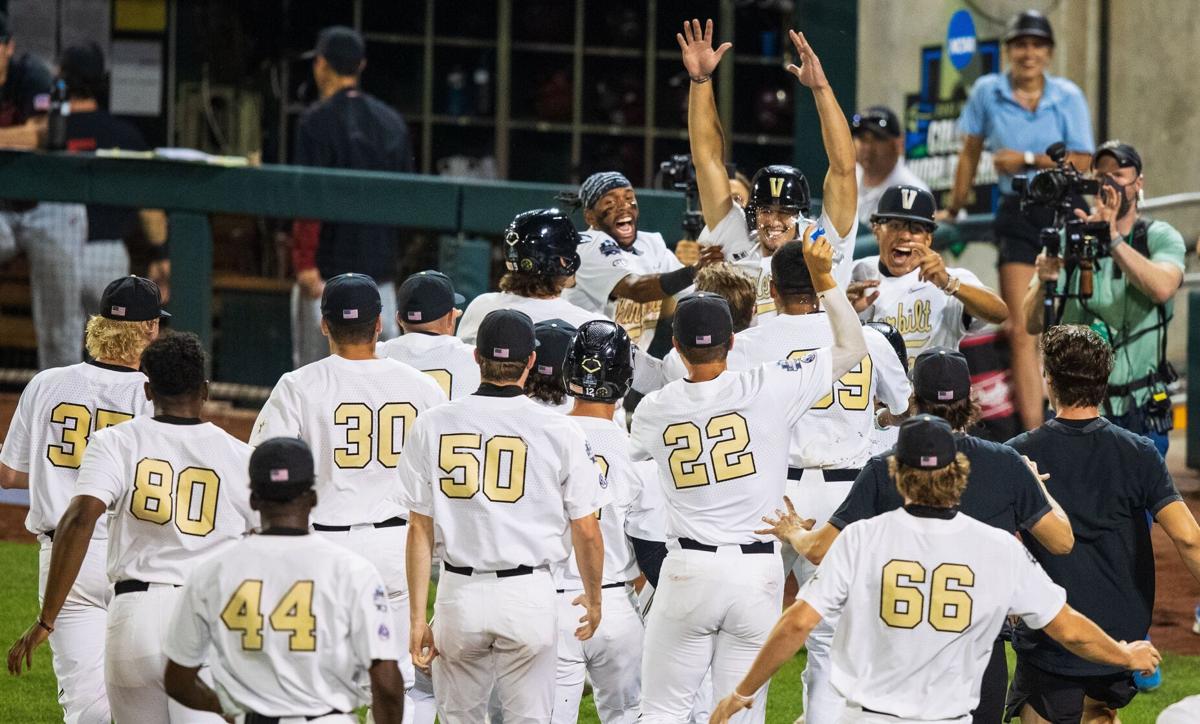 With its aces watching from the dugout, Vanderbilt's season hung by an out. It turned out the defending champs were just getting started.
And by the slimmest of margins — one strike, one hit, one rebellious pitch — they aren't done yet at the College World Series.
Trailing by a run and facing Stanford's best pitcher with two outs and nobody on base, the Commodores did the improbable Wednesday. A full-count walk. Then an infield single, with a throwing error putting runners at the corners. That set the stage for Enrique Bradfield, who jumped on a first-pitch curveball and rolled it into right field to tie the game.
One pitch later, a high 76-mph throw pounded into the backstop for the shocking walk-off winner, a 6-5 comeback that provided the most dramatic moment of this year's College World Series in front of 22,804 at a sweltering TD Ameritrade Park.
The Vandy Boys will have at least two more days in Omaha.
While No. 9 national seed Stanford (39-17) heads home, the fourth-seeded SEC club moves on to face NC State at 1 p.m. Friday in another must-win to keep its season going.
Vanderbilt (46-16) overcame steep odds to advance — the last 153 teams to lead a CWS game after eight innings had been 146-7. Stanford held a 4-0 lead in the fourth and turned to reigning Pac-12 pitcher of the year Brendan Beck on short rest in the seventh as it went all-in on the moment. The move appeared to pay off as the right-hander retired the first eight batters he faced.
But the next three reached before his 10th wild pitch of the season ended the Cardinal campaign in gutting fashion while the third-base dugout erupted.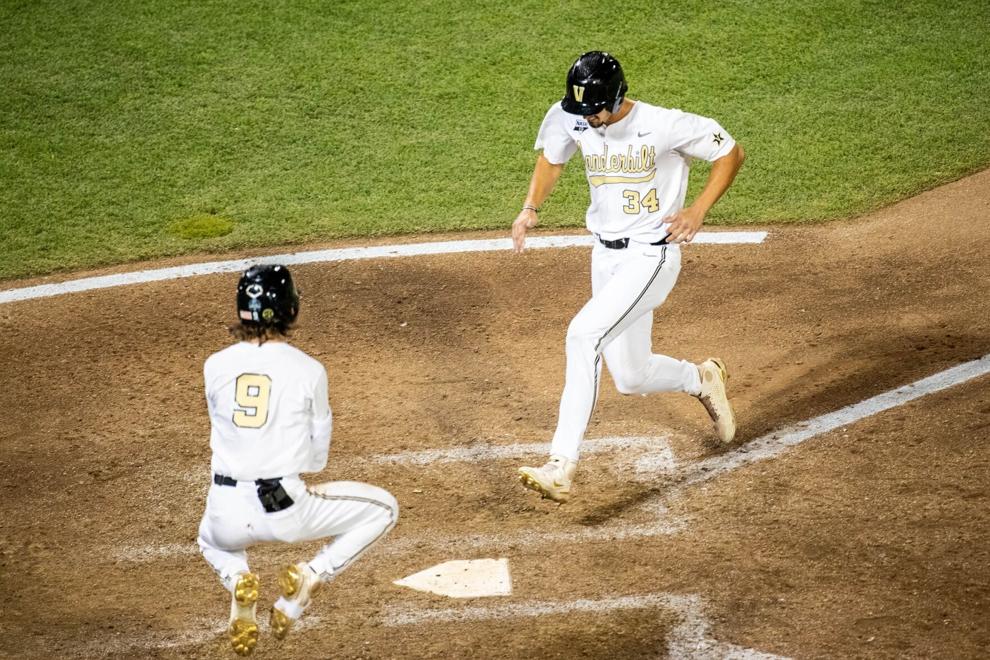 "We know we played pretty much the worst baseball in four innings both sides of the ball, defense and offensively," Bradfield said. "It was just about regrouping, getting back to what we know we could do."
Dejection on the other side led to a lengthy team meeting in right field, complete with hugs and tears. More than 40 minutes after the final pitch, multiple Stanford staffers lingered near the field and looked on, still processing what had happened.
"We deserve to be here," said outfielder Brock Jones, who collected three hits and three RBIs. "We've earned it. Just a hell of a year for us."
Stanford coach David Esquer said the Cardinal just wanted to play together for a few more games. To lose the way they did will take some time to heal, especially for the big arm who led the group all spring.
"Baseball can bring you to your knees sometimes," Esquer said. "But the learning that can come from it… (Beck) will grow from this and we'll always appreciate what a great pitcher he is in our program."
Vanderbilt began the day with a 2.34 earned-run average when top starters Kumar Rocker and Jack Leiter pitch and a 5.28 mark when they don't. With the future high first-round MLB draft picks unavailable Wednesday, the Commodores turned to 17-year-old righty Christian Little.
Little — who reclassified from the 2021 class to 2020 and joined the team in January as one of the country's top prep prospects — held his own through three-plus innings despite his defense repeatedly letting him down. A muffed squibber to third base and a single set up Stanford to begin the game. After Jones lined out to second base, Parker Noland's attempt to double off the runner at second sailed into left field to let in a run.
Vandy's young starter worked around a wind-aided Stanford double and a walk in a scoreless second. But Jones tagged him with a solo blast to right field in the third. Then the Cardinal knocked him from the game after a Nick Brueser single and Dew Bowser walk opened the fourth. Those two runners eventually came home in unearned fashion when a booted grounder to shortstop helped lead to a bases-loaded walk and Jones RBI single.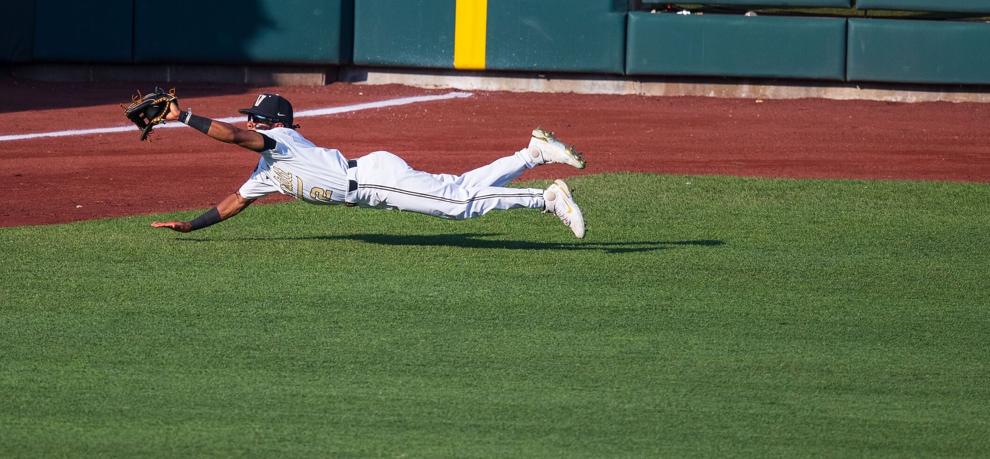 While Stanford built a 4-0 lead, sophomore left-hander Quinn Matthews kept the Commodores down early. He picked off Bradfield, the nation's leading base stealer, in the first inning and authored scoreless second and third frames after that.
Vanderbilt — which mustered just two hits while suffering its first shutout in more than two years in Monday's loss to NC State — halved its deficit in the fourth on a Carter Young walk and Dominic Keegan moon shot a few rows shy of the right-field concourse.
Jones collected his third RBI in the sixth when he sent a slicing two-out double into the right-field corner. Vandy countered with a pair in the bottom half to draw within 5-4, using four singles including run-scoring knocks from pinch hitter Tate Kolwyck and Noland.
Stanford threatened to add cushion in the eighth when it loaded the bases on two walks and a single before Vandy reliever Luke Murphy came on for a strikeout.
"We were still motivated," Murphy said. "Everyone in the dugout was thinking that we're going to win this ball game. There was no doubt about it."
Beck entered with a man on and no outs in the seventh and a man on first, then proceeded to strike out the side using an electric slider and mid-90s heat — Vanderbilt coach Tim Corbin called the movement of the breaking ball "Kopps-like," referring to decorated Arkansas reliever Kevin Kopps. Beck fanned two more in a 1-2-3 eighth as the ballpark videoboard showed Nebraska quarterback Adrian Martinez watching from the seats.
After a Vanderbilt groundout to first and a flyout to center to begin the bottom of the ninth, Javier Vaz worked a full count before taking ball four. Pinch hitter Spencer Jones — whose shirt came off in the postgame scrum — beat out a dribbler to shortstop and drew a wild throw that moved Vaz to third base.
Bradfield's tying single and the wild pitch — Young watched it tick off the glove of the Stanford catcher — completed the rally. The Cardiac Commodores continue on.
"We might not be the most talented team, but the thing that you can't deny the kids is they are tough," Corbin said. "They're tough. And every time you challenge them, they come back. And I appreciate that. I appreciate they're fighters."​
---