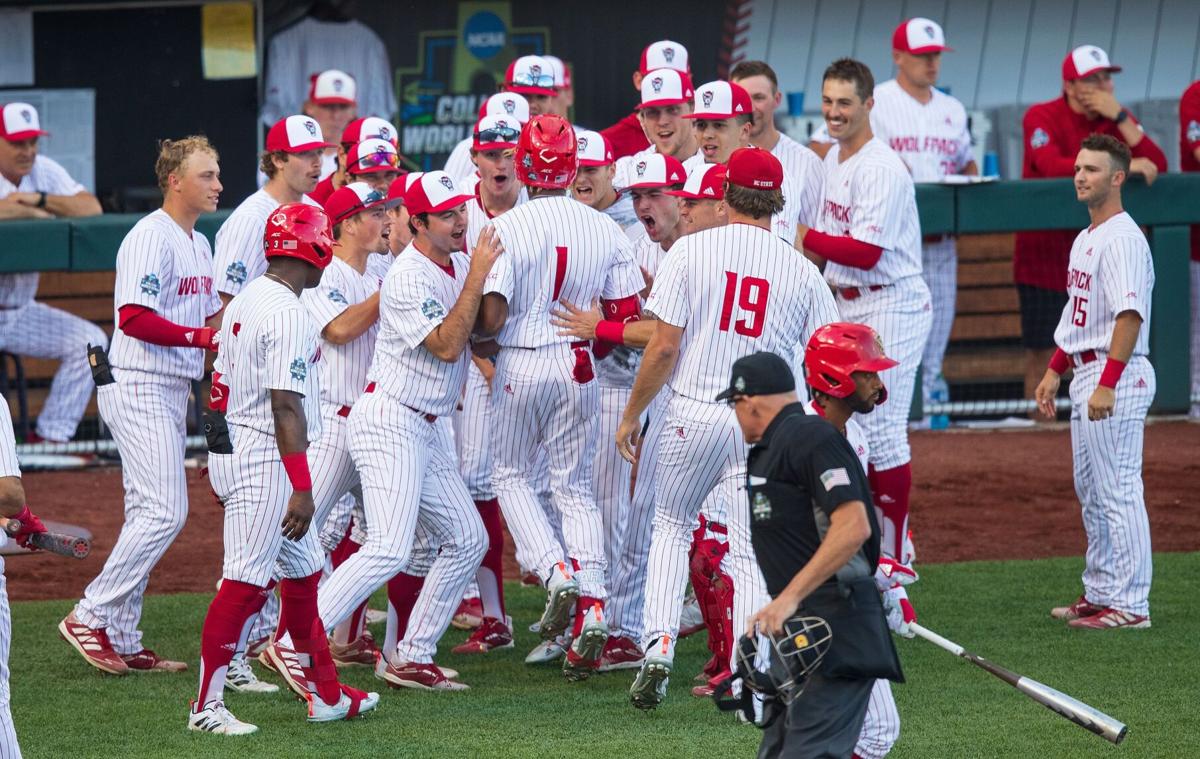 Terrell Tatum figured that a fastball was coming. If he guessed wrong, he was going to look mighty foolish against one of college baseball's best pitchers.
But there it came — a 92 mph fastball on the inside third of the plate. The left-handed designated hitter didn't miss the 0-1 offering, sending the ball halfway up the TD Ameritrade Park bleachers in right field.
"I didn't care where it was thrown — I was going for it," Tatum said.
On Monday night, it was enough. Facing future top-five MLB draft pick Jack Leiter and a Vanderbilt offense that hadn't been blanked in two years, NC State bested both in a tense 1-0 win that sends the former regional No. 2 seed into Friday still unbeaten. Tatum's deep blast backed freshman starter Sam Highfill and closer Evan Justice, who combined on a two-hit shutout in a College World Series thriller in front of 23,712.
No. 4 national seed Vandy (46-16) saw its eight-game postseason win streak end and will face No. 9 Stanford at 6 p.m. Wednesday in an elimination tilt.
"More people get pulled into the fray, which is good," Vanderbilt coach Tim Corbin said. "Brought 27 people. We're going to have to use them."
NC State (37-18) set the tone right away behind Highfill, who scattered two singles and a pair of walks over 7 1/3 innings while striking out seven on 100 pitches. Vanderbilt's Enrique Bradfield, whose 46 steals leads all of Division I this year, laid down a bunt along the third-base line, which third baseman Vojtech Mensik barehanded and threw across for the game's first out.
The Commodores wouldn't get a runner in scoring position until the seventh against Highfill, who confounded hitters with a mix of low-90s fastballs and low-80s sliders, occasionally dropping his arm angle on Frisbee-like changeups to great effectiveness. Vandy's streak of 130 games scoring at least one run ended against the second-year right-hander who grew up a Wolfpack fan.
"We've slayed a lot of giants," Highfill said. "… I knew I was going to have to be good tonight."
Indeed, NC State's run to the precipice of the CWS championship series hasn't come cheaply. Highfill beat No. 1 Arkansas his last time out. His offense has overcome superstar Hogs reliever Kevin Kopps, Pac-12 pitcher of the year Brendan Beck of Stanford and now Leiter in succession.
Leiter, the son of former major leaguer Al Leiter, appeared on track for a special night early on. He had nine strikeouts after four perfect innings, mixing a mid-90s fastball with electric breaking pitches.
Tatum ended the right-hander's bid for a perfect game and a no-hitter with one swing to start the fifth. NC State's DH smashed an inside fastball well up the bleachers in right field, with the arc of the blast bested only by his subsequent backflip. Tatum anticipated a heater after seeing just one in his first at-bat, which ended in a strikeout.
"I knew (Tatum) was a good fastball hitter, particularly on fastballs in," Leiter said. "(Catcher) CJ (Rodriguez) set up away. The ball was middle-in, and he hit it a long way and kind of made me pay for it. So, yeah, every pitch matters."
The top prospect recovered by retiring six straight. Tyler McDonough became the Wolfpack's second baserunner when he led off the seventh inning with a well-struck single to left-center, and the ACC club added a walk and single with one out before Leiter escaped the bases-loaded jam with his 13th and 14th strikeouts.
The nation's strikeout leader punched out 15 batters in all on 123 pitches, one off his season high, in the eight-inning complete game. He allowed five total baserunners (four hits, one walk).
"That was a real well-pitched college baseball game, as good as you want to see," Corbin said. "So if you're a pitching person, you like it. If you're an offensive person, you want to hit yourself over the head with a shovel."
NC State will take it, as it begins the CWS 2-0 for the first time after previous appearances in 1968 and 2013. Coach Elliott Avent said the Wolfpack would not have been well equipped to come back through the elimination bracket with a relatively thin bullpen — its staff ERA (5.08) is easily the worst among the eight Omaha qualifiers.
Dealing with a flu bug affecting much of the team, the Wolfpack will take a few days to recover. They've more than earned it.
"I just think we need rest," Avent said. "Everybody knows we don't have a deep, deep bullpen. We've battled that all year. So to go in that losers bracket would have been tough for us. But the main thing I think is the rest right now."​