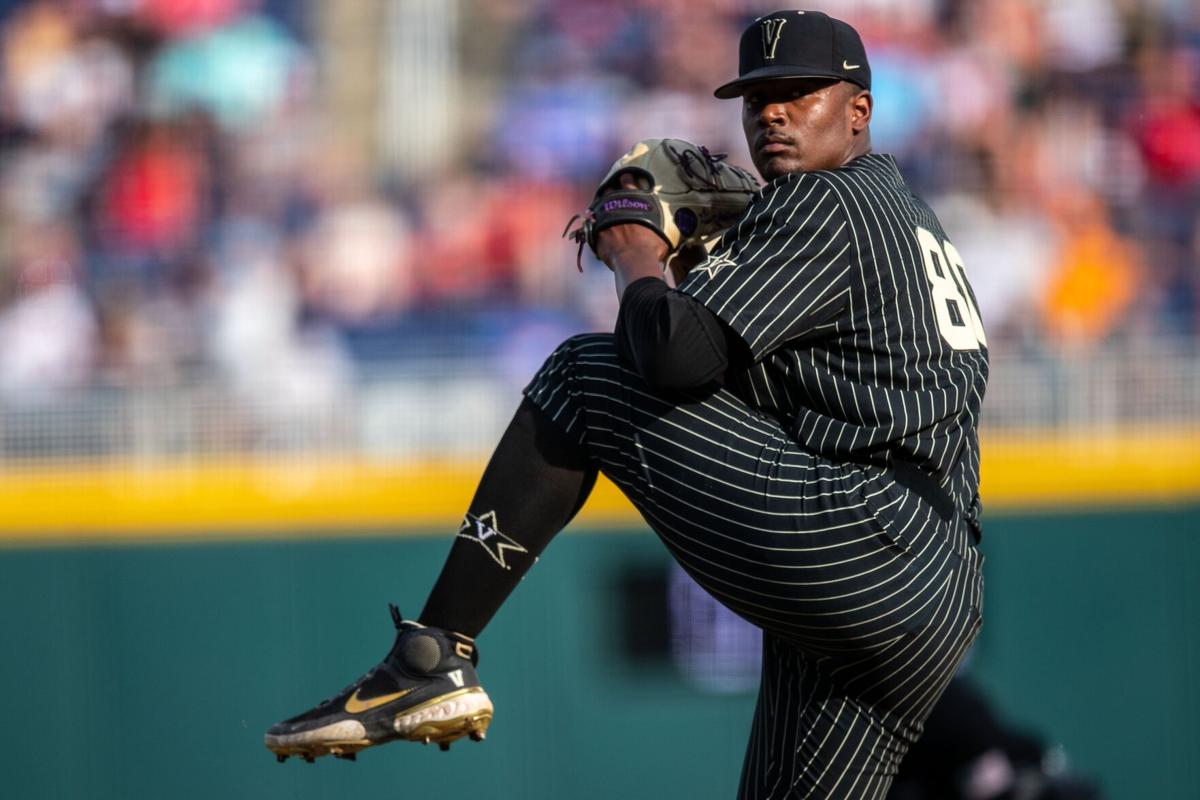 For the first time, the major league draft hasn't been a storyline at the College World Series. And that suits players and coaches in Omaha just fine.
The best players in the CWS field were previously stuck in a pickle between immediate goals and childhood dreams. Concentrating on winning a national title is harder when decisions abound about seven-figure deals and embarking on pro ball.
This summer has been gloriously free of distraction for top prospects. The draft is still a few weeks away as for the first time since its inception in 1965, it won't occur in June.
"You're able to focus on a playoff run," Vanderbilt pitcher Kumar Rocker said. "When it comes to the postseason, it's not anywhere close — even in the season — about you. It's about your team and winning each game moving forward. That's the exciting part about being here."
Rocker and fellow Vandy starter Jack Leiter are projected top-10 draft picks next month. Texas right-hander Ty Madden will likely join them in the first round. Dozens of others figure to go later in the 20-round draft that runs July 11 through 13.
North Carolina State coach Bill Avent, who coached a pair of 2014 high first-round picks in infielder Trea Turner and pitcher Carlos Rodon, said those players and others tell him their college years — especially the Wolfpack's 2013 CWS run — are still the best times of their lives. For this year's group to experience Omaha without worrying about their future livelihoods is a blessing he wishes others had.
"It's still on their mind — trust me — but it's not occurring at the same time as the College World Series," Avent said. "I think that's going to be a little better."
Every other college postseason has stories of players learning they were drafted in odd, unsatisfying ways. Five minutes after Vanderbilt played a regional game at Illinois in 2015, the team gathered along the third-base line and celebrated infielder Dansby Swanson being taken No. 1 overall. They watched on a smartphone.
"That's different," Vandy coach Tim Corbin said flatly.
On their way to a national title in 2019, the Commodores took a day off and put on a catered dinner for J.J. Bleday when the outfielder went No. 4 overall to the Miami Marlins. Vanderbilt had 13 players taken between regionals and super regionals that season.
"To have those interests split doesn't serve the kid or the team very well," Corbin said. "It's a lot (this year) because you don't have to contend with it."
Kyle Peterson, a former pro pitcher who is now an ESPN analyst, found out he went No. 13 overall to Milwaukee while he was helping Stanford with batting practice at the 1997 CWS at Rosenblatt Stadium. The sports information director came onto the field to tell him with the Cardinal on an off day between games.
Everybody got excited for a few moments, as Peterson recalls. Then he went back to helping fill ball buckets.
"I'm glad for these kids that they don't have to go through that again," Peterson said. "I think that was one of the most unfair things — the NFL draft would never have been in the middle of bowl season and the NBA draft would never be during the NCAA tournament."
The 2018 CWS included 55 draft picks while 2019 had 69 from a 40-round event. Mississippi State, back in Omaha for a third straight postseason, had accounted for a combined 17 of them.
Not only are participants not divided now, but many may be improving their draft stock as MLB scouts follow college baseball's showcase. Among the touted draft-eligible prospects to enjoy strong weeks include Virginia left-hander Andrew Abbott, Arizona outfielder Ryan Holgate, Mississippi State righty Will Bednar, Stanford righty Brendan Beck and North Carolina State catcher Luca Tresh.
A pushed-back draft leads to other complications. Deciding between playing in a summer league or attending a predraft combine has been a 50-50 call for many.
College coaches will have much less time to adjust their rosters for 2022 based on who may leave early and which high school recruits decide to go pro. The unknowns, which usually resolve themselves by early July, may linger into August.
But as the CWS plays on, many agree the answers to those questions can wait a little longer.
"You want to know what your program's like in the future but also it affects your program in the now," Stanford coach Dave Esquer said. "Not having (the draft) as a distraction, I'm sure there's a lot of coaches that are appreciative of that."
---