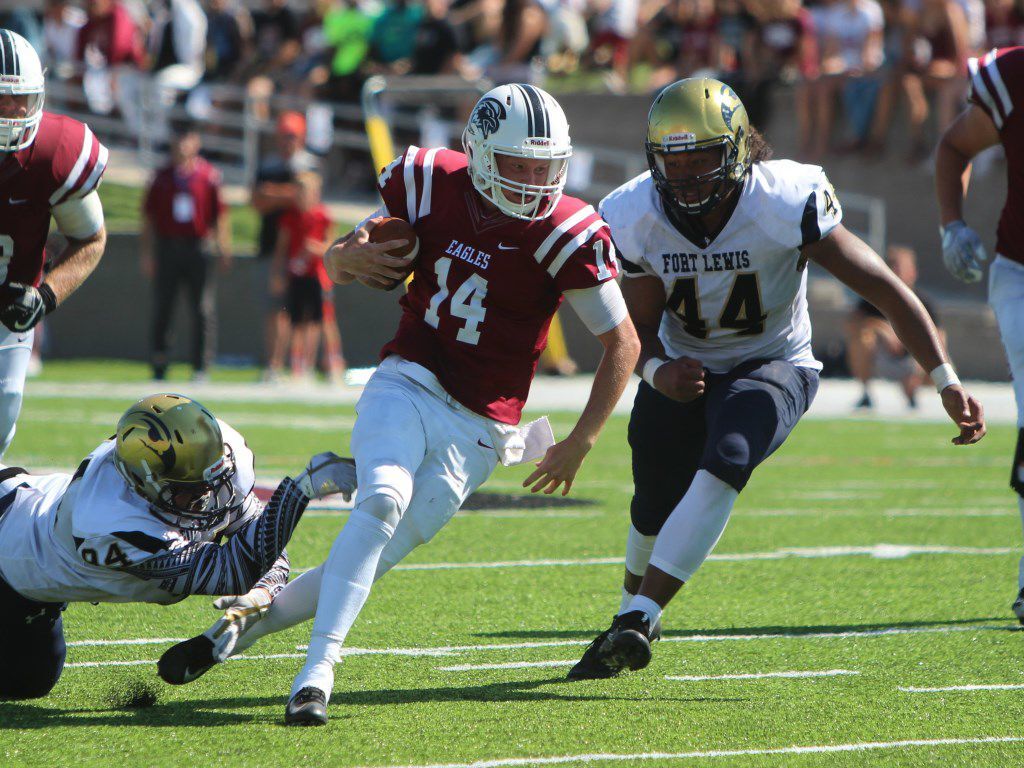 Jay Long knows all too well the uncertainty when it comes to football this fall.
"The only thing normal about this year is we get to play football games. The rest of it is we're like the rest of the world," the Chadron State coach said. "When things change, we just have to adapt."
Long said that during an interview Tuesday. Two days later, the Eagles were in adapt mode again after Saturday's game against Black Hills State was canceled because of an increased number of positive COVID-19 tests among BHSU athletes.
"Chadron State is totally supportive of Black Hills State and their decision," Chadron A.D. Joel Smith said in a release. "We know everybody has the safety of the colleges, student-athletes and communities in their minds during these times."
The Eagles' schedule has been filled with twists and turns the past three months.
In August, the RMAC, Chadron's conference, postponed all games for the fall. But in September, schools were allowed to schedule games, and the Eagles put together a six-game slate. Two of the games were scheduled against Black Hills State — the teams still are scheduled to play Nov. 14 — and two against South Dakota Mines.
"It's definitely been an interesting year," Long said.
Long's team hoped to build off the momentum of last week's 41-25 win over South Dakota Mines when the Eagles compiled 599 total yards. That's in contrast to their opener, when Chadron (1-1) scored seven points and had 266 yards in an overtime loss at Colorado Mesa.
"The biggest difference was we were able to run the football," Long said. "When we're able to run the football, it opens up our offensive coordinator's playbook."
Jalen Starks, a former UCLA back who rushed for 116 yards and three touchdowns on 17 carries, led the run game and balanced Dalton Holst's passing. He finished 19 of 27 for 361 yards and two touchdowns.
Chadron graduated three of its top four receivers from last year's 6-5 team, but last Saturday Holst was in sync with Cole Thurness (eight catches, 175 yards) and Chad Mikelson (six catches, 166 yards).
"I think Dalton has a lot of trust in those two because he's evolved with them over the last three, four years," Long said. "He has a security blanket to throw to those guys."
Long said adding to the uniqueness of this season's schedule is that most of the games are against rivals. That will include a Nov. 7 matchup against UNK, which marks the first meeting for schools since 2011.
And this week's cancellation means Chadron will play South Dakota Mines is back-to-back games, heading to Rapid City next Saturday.
Saturday's other Midlands matchups
Dordt (4-1) at Concordia (4-1), 1 p.m.: Good matchup as both teams have only lost to Northwestern (Dordt 48-40 on Oct. 3, Concordia 31-17 last week). Concordia's defense has allowed nine TDs all season, but they must contain Dordt dual-threat QB Noah Clayberg, who has rushed for 528 yards and passed for 979.
Jamestown (0-3) at Midland (3-2), 1: Midland brings a three-game win streak into a matchup with Jamestown, which averages 7.7 points a game. New Midland QB River Walker has settled in as he's thrown for 1,040 yards and completed 67% of his passes. Zach Acamo leads the defense with 10.2 tackles a game and three interceptions - he had a pick-six last week.
Briar Cliff (0-4) at Hastings (1-3), 1: Both teams were off last week and both will look for a spark on offense. Briar Cliff has scored a total of 21 points this season, while Hastings was shut out by Midland in its last game. Tyree Nesmith has scored nine of Hastings' 15 TDs this season.
Northwestern (3-1) at Doane (2-3), 1: Northwestern receiver Shane Solberg is coming off a huge game as he caught 11 passes for 267 yards against Concordia. Doane has dropped two straight and was held to 162 yards of offense by Dordt last week.
Dakota Wesleyan (1-4) at Morningside (4-0), 1: Morningside is second in the NAIA in scoring at 52.3 points a game. Wahoo Neumann grad Reid Jurgensmeier has 13 TD catches this season, 47 for his career and last week became the fourth receiver in program history to top 3,000 career receiving yards.